Believe it or not, until now, I'd never once in my life owned a set of matching underwear. In fact, I don't think I've ever even owned a 'pretty' bra. Being a big-busted girl with meager funds for underwear, it had always just been a multitude of plain T-shirt bras for me. As for knickers, I am a Bridget Jones style granny pants kinda girl – to me underwear is all about function over fashion. It's not like anyone sees me in my underwear except for Colin, and frankly when he does it's either because he's going to get lucky or because I'm going to bed (!). So really, owning a load of sexy pairs of matching lingerie has never even crossed my mind let alone been of any importance.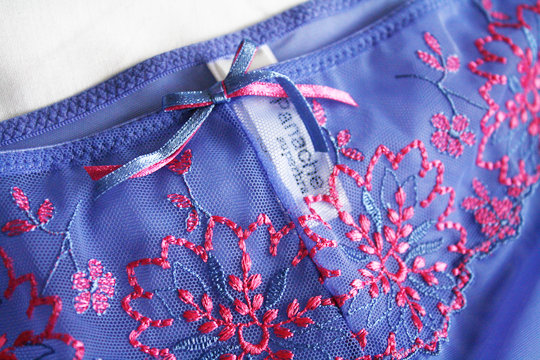 Recently though, I came into possession of a rather pretty set from Panache Lingerie. Panache's Superbra range caters for ladies with D-K cup sizes, but some of the other ranges (like their sports bras) start at a B cup. The Ariza Superbra* and matching Briefs* really are very nice to look at, and super comfortable to wear. I've become a lot less hateful of my body since I started losing a lot of weight last year, and I will openly admit to spending a good 20 minutes prancing round my room in front of the mirror when these arrived. The detailing on these is beautiful – the only thing I'm not so keen on is how see-through they are. That's just a personal preference thing though. The Superbra is very supportive of my rather heavy rack (!), with a sturdy underwire that doesn't cause any discomfort. I also really, really like that with each Panache Superbra, you're able to choose between a thong or briefs for your matching bottoms. I have an unwavering hatred of thongs (seriously, I don't see the point) so it's nice to see matching underwear sets that don't force you to cut yourself in half. Panache get points for that, for sure!
Whilst I like this set a lot and do feel very pretty wearing it, I can't say it's permanently converted me to the matching underwear brigade. The Ariza set will probably only be busted out for special occasions when I want to feel fabulous, but when it comes to the daily grind I'll be sticking to my T-shirt bras and granny pants. Besides, if I started to collect too much pretty lingerie I'd want to show it off and I'd be cracking my chest out all the time saying 'LOOK AT MY PRETTY BRA!'. I can't imagine that going down too well in 99% of situations!
What about you though? I'm sure many of you are matching underwear devotees. Tell me about your bra and brief habits – does the thought of leaving the house in anything other than a sexy silk affair send you spiralling into a panic attack?
Panache Lingerie is available from many online and in-store stockists including the likes of Figleaves, Bravissimo, Very and loads more. The stockist search is really helpful! Prices vary, but at the moment Very are doing a deal where you can buy the bra for £29 and get the briefs for free.