Frankly, I'd be nothing less than shocked and appalled if you hadn't heard this already, but juuust in case you hadn't – Escentual.com's French Pharmacy Promotion is back for the whole of March. Get in!

Last year, I got into La Roche Posay and Vichy in a big way. Their products are astoundingly good value for the results they give as it is, but throughout the month of March you can get them for 33% off. If you're interested in Eau Thermale Avène, Klorane, A-Derma, Rene Furterer or Pierre Fabre you'll be glad to know you can get their products for 25% off. Blogger favourite Caudalie is at 10% off.

One French pharmacy brand I was particularly interested in but hadn't tried before was Nuxe, whose products are also 33% off in the Escentual promotion, and now I've got my hands on a couple of the products I'm very excited about them.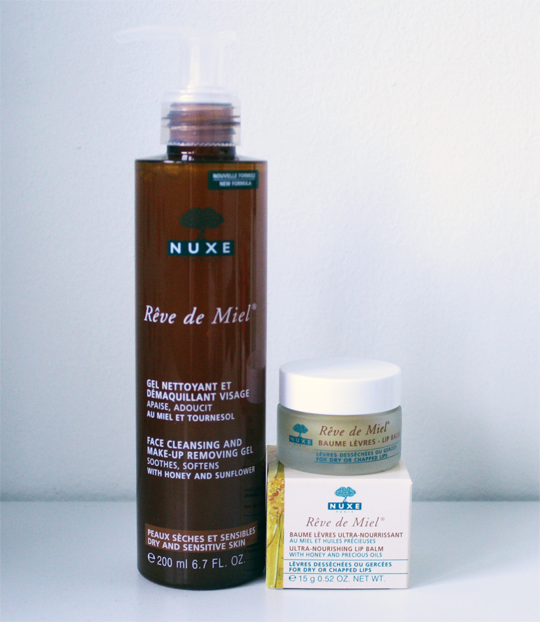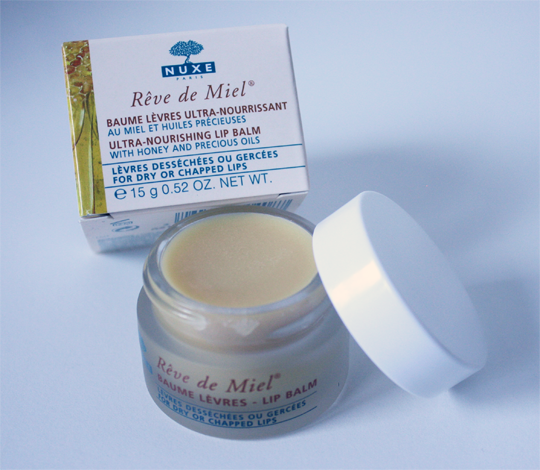 Nuxe's Rêve de Miel range seems to be quite a favourite, particularly the Honey Lip Balm* and naturally being a bit obsessed with lip balm it was one I knew I would eventually try out. Now I'm just kicking myself for not having done so sooner. I always just had this niggling thought in my head that £9.50 is TOO much for a lip balm but this stuff is delightful, and worth it. It's better to pay a higher price for a product that actually works than waste just as much, if not more, money on a string of cheaper products that don't offer the same results. The fact that one of these glorious little pots is sold every 28 seconds around the world should have told me how good it is! This is definitely my new bedtime best friend, it's rich and smooth to apply without feeling thick, greasy or sticky on the lips. Of course we all know that honey is a natural moisturiser and antiseptic, and Nuxe Rêve de Miel lip balm has it in spades, along with plant oils, shea butter and grapefruit essence which makes for a really lovely scent. Seriously, you'll love this, and now is the time to pick it up since it's just £6.33 with the discount.
I'd been looking for a new cleanser for a few weeks. My beloved La Roche Posay Effaclar H Deep Cleansing Foam seems to have stopped loving me quite so much – perhaps because that is the longest I'd ever stuck with one cleanser (!) I wonder if my skin was just getting too used to it for it to be effective any more. I was finding my skin getting drier and drier if I wasn't exfoliating every day, and that's something I don't want to be doing so I figured trying a cleanser with plenty of hydrating properties would be the way to go. Nuxe Rêve de Miel Face Cleansing Gel* fit the bill perfectly, since honey is super moisturising. This is an absolute delight to use, an amber-coloured soft gel texture that feels gorgeous on the skin and has a scent to match – mmm, sweet honey. The cleanser doesn't really lather much when using it with your hands I don't find, but it works fantastically well with my Clarisonic and also yields a little bit of lather when used with it. Overall, my skin is loving this cleanser at the moment, leaving it feeling fresh and supple without any sneaky dryness surfacing shortly after cleansing. I will repurchase this forever (until my skin gets bored of it!) because it's already an absolute steal at £12 for 200ml, but in the Escentual French Pharmacy promotion you can snag it for just £7.99. Do it now, I'm serious!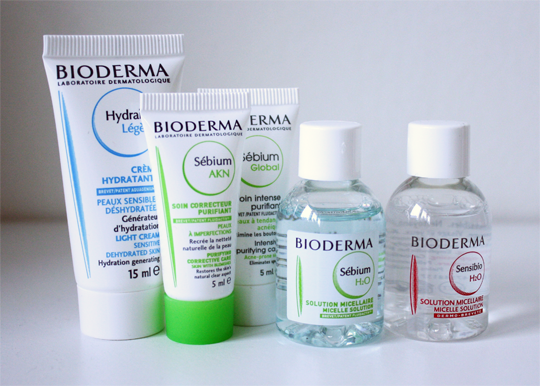 I'm sure you've also heard the news that another French favourite, Bioderma, has finally launched in the UK. Unfortunately Escentual couldn't include the brand in the promotion itself as the brand is so new to the UK, but there is a code you can use for 10% off all Bioderma products: BIODERMA10
If you're thinking of picking something up but are stuck for ideas, then along with the gorgeous Nuxe products above I also have a few favourites that I'd definitely recommend:
La Roche Rosay Effaclar Range (review here)
Vichy Normaderm Total Mat Fresh Hydrating Gel (review here)
La Roche Posay Nutritic Intense Riche (review here)
Vichy Idealia Smoothing and Illuminating Cream (haven't reviewed this – yet!)
So, are you a fan of the fabled French Pharmacy skincare brands? Is there anything I should definitely be checking out while the promotion is on?