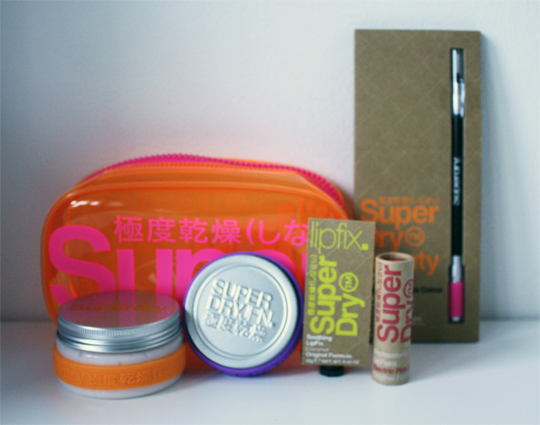 Not gonna lie; I used to despise Superdry. Last year, before I began my life-changing weight loss journey, I couldn't even squeeze into the large Men's jackets at Superdry. Obviously this was entirely my fault and not theirs! But you know, even if I hadn't lost this weight, all they would have had to do to earn my forgiveness is launch a beauty range. And that's exactly what they've done!
Let me just come right out and say it – I love this range. I love the simple, functional packaging which still manages to be hugely stylish. I love the thought that's gone into the presentation, from the crosshatch detailing on the packaging and embossed on the products themselves, and I love the neon silicone highlights. I just love it! And best of all (unlike Superdry clothing, in my opinion), it's super affordable.

This is the Thunderbolt Black Eye Pencil* (£7.50). I am an eyeliner fiend, so I can be quite hard to please but this is a good one. It's super black, although it doesn't show up quite as dark as I'd like on my waterline it's wonderful for applying on the lashline thanks to its smooth, drag free application. The smudger on the end lends itself well to creating a smudged, smokey look and whilst I personally prefer to use a brush for that it's definitely handy. It's really long too, so it'll last a good long time although probably not one to chuck in your makeup bag as I find the lid comes off pretty easily.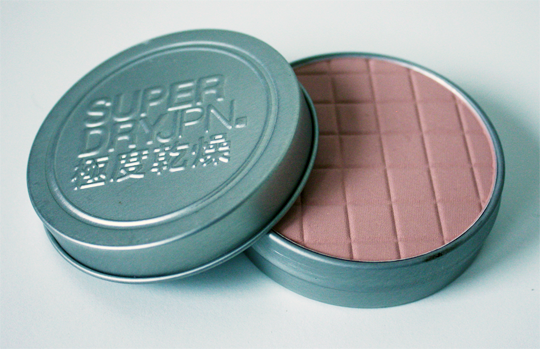 The Rapture Pink Blush* (£10) is gorgeous. Absolutely loving the crosshatch detailing! Despite the name Rapture Pink, it's a really neutral blush shade so it's sure to go well with whatever eye or lip look you fancy which makes it an absolute staple in my book. It's well pigmented, but not too easy to overdo, and the satin-y finish is really flattering. If you only check out one thing from the Superdry beauty range, make sure it's this!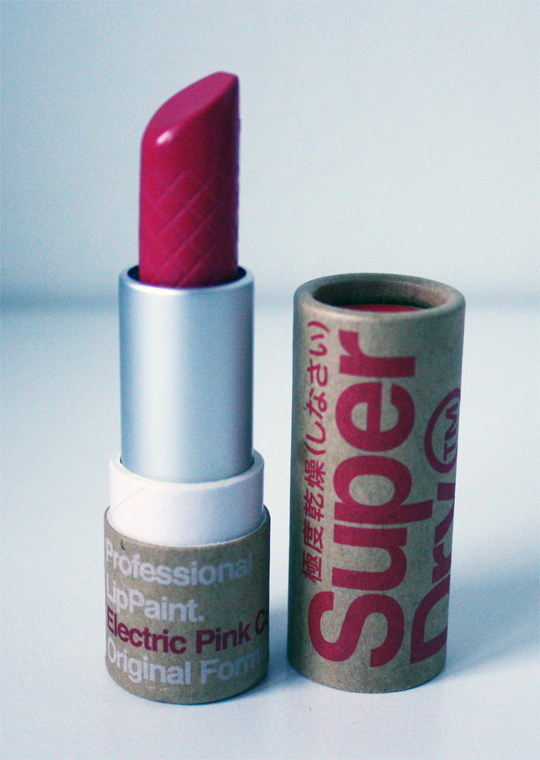 Electric Pink Lip Paint* (£8) kind of frightened me the first time I looked at it – I'm not usually a great lover of a statement lip (at least not on myself!), but I promptly fell in love. Velvety smooth, non-drying, extremely pigmented and hard-wearing – 6 hours before I needed a touch up – it's everything you could want in a lipstick. Again, love the crosshatch pattern embossed on the bullet. Although it's definitely bright, the option is there to tone it down by patting it on gently for more of a stained-looking finish, which is how I wore it in the lip swatch further down.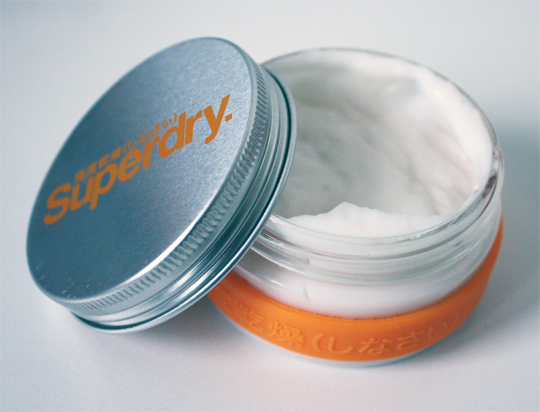 Superdry haven't just stopped at colour cosmetics – as proved by this Coconut & Shea Hand Cream* (£8.50). I've got really into hand creams over the last few months, religiously applying them before bed and after washing my hands. I am a HUGE fan of coconut so this is right up my street, although if you're not so into it there's a Rose & Glycerine version available too. It's a good one because it's lightweight, absorbing quickly into the skin (there's nothing worse than greasy, sticky hands!) but the shea butter makes it properly moisturising. If I'm being fussy I do generally prefer my hand creams in a tube but I like this formula so much I'll take it in whatever packaging they want to give us!
While we're on the subject of coconut, this Coconut Lip Fix* (£6) is also a winner. You know how obsessed I am with lip balm, and this one has been a definite go-to for me over the last few weeks, particularly overnight. It's a real workhorse, pumping your lips full of super hydration with a glossy finish in a surprisingly lightweight and non-sticky formula. You only need the tiniest little pinprick of this to coat your whole lips, so it'll last forever and it looks gorgeous slicked over lipstick for a glossy look.
There's a whole ton of other stuff available – including transparent neon PVC makeup bags (easy to wipe clean = yes please! The orange one is pictured at the top of the post), nail polishes, eyeshadows, mascara, a felt-tip eyeliner, lip glosses, a liquid highlighter, bronzer, and plenty of beauty tools like nail files and buffers, mirrors, tweezers, kabuki brushes.. it's definitely a very comprehensive range and there's a lot of stuff on my hit list so watch this space!

Swatches: Rapture Pink blush, Electric Pink lipstick, Thunderbolt Black eye pencil, eye pencil smudged out

Thunderbolt Black eye pencil smudged along upper lashline and in waterline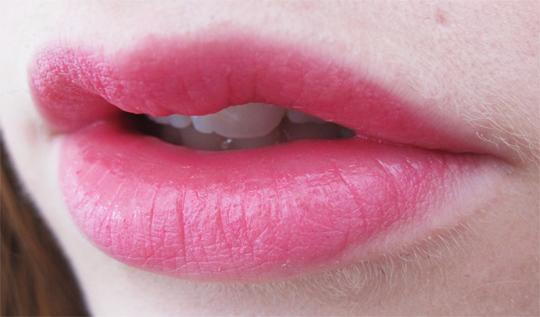 Electric Pink applied as a stain on the lips
So, tell me – is anything catching your eye? Will you be heading to your nearest Superdry store to have a look?
P.S. Sorry for the slightly dodgy photos, trying to get to grips with my new camera! Note that trying is the operative word there!