Colours In The World: Kiko Spring 2013 Collection
First of all – apologies if you had trouble accessing my blog over the weekend – I experienced a bit of downtime as a result of moving from Blogger to WordPress (courtesy of my girl Maria!). The move itself was easier than I anticipated; there's still a few little kinks I need to iron out to get everything exactly how I want it, but I really hope you like the new look! Also, with regards to the recent blogger panic over the imminent loss of Google Reader – and subsequently Google Friend Connect – I'd be super grateful if you could follow me on BlogLovin'. That's all – now let's talk about makeup! I have some bits and pieces from the Kiko Spring 2013 collection to show you. :-)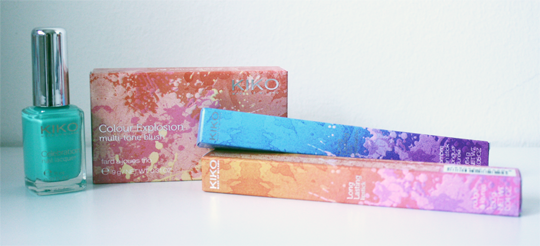 If you've been around here for a while, you probably know that I'm a big Kiko fan. Their products are consistently high quality at a really affordable price point which immediately makes the brand a winner in my book. These few bits I've been able to try from the Spring 2013 collection, Colours In The World, are of course no exception. Can I just say – look at the freaking packaging! Amazing. I'm feeling inspired to give the splatter manicure another go in some bright Spring shades after seeing this. Before even opening the products, the packaging has got me so ready for Spring. Come on, sun!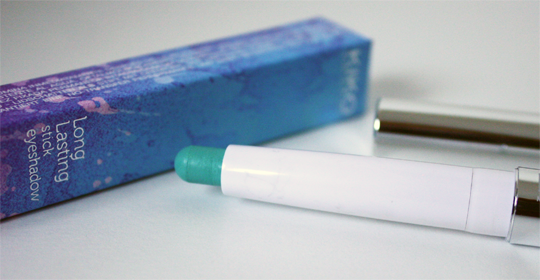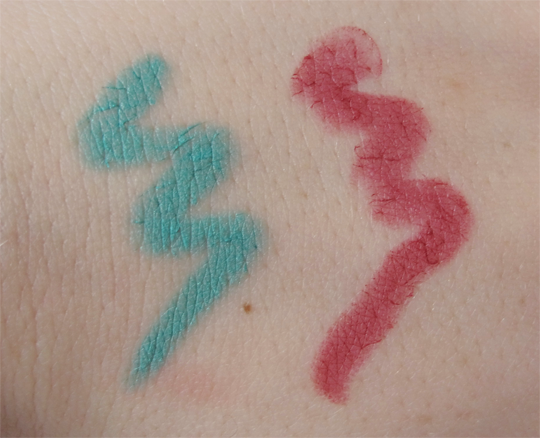 Let's start with the Long Lasting Stick Eyeshadow in Soft Green Apple (32)* (£6.90). You may already know I've got a lot of love for these, so I'm definitely happy to add a new shade to my collection. These have superb lasting power and great pigment so make a perfect base for powder shadow although they're also crease-resistant enough to wear alone smudged over the lid for a speedy look. This colour is a bit bright to be an all-over lid colour (for me at least), but I've been loving it on the lower lashline as seen above – sharp eyes may notice that picture is recycled from my recent Superdry Beauty review, shh!
Along the same lines as the Stick Eyeshadows are a selection of Long Lasting Lipsticks, I stupidly forgot to take an individual picture of Red Orchid (05)* (£6.90) but it's swatched above next to the eye pencil. These are of very similar formula to the Stick Eyeshadows, very creamy but very long-wearing. Despite its hardcore wear time, I didn't find it particularly drying on the lips which is a good sign but I can't say I'm too enamoured with the colour – not sure this one suits my skin tone.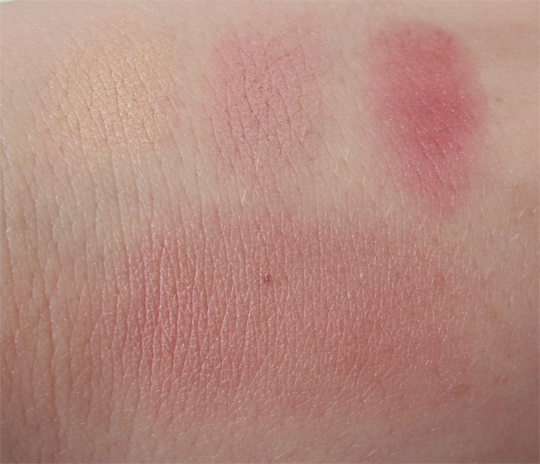 Next up is the Colour Explosion Multi-Tone Blush in Active Mauve (03)* (£11.90). This is gorgeous – just look at it! Also an absolute bargain when you consider you're getting 3 different shades in there. The sections of colour are just about big enough that you can apply them individually if you like, or of course you can swirl them all together for a stunning Spring-appropriate flush. I really, really like this and will definitely be having a look at the other shades – Quirky Pink (02) looks particularly lovely!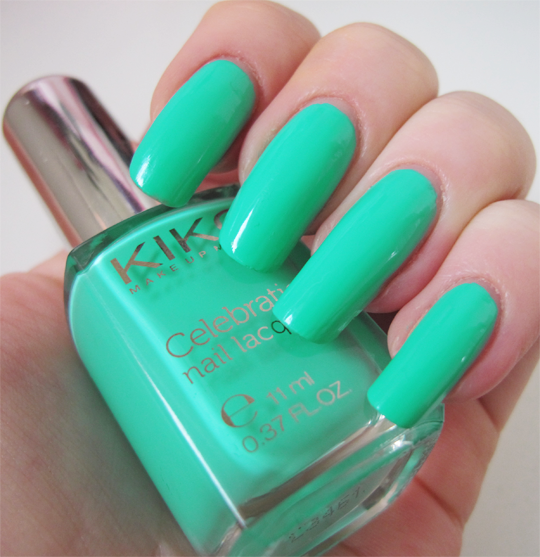 Last but certainly not least – my (obvious) favourite – the Celebration Nail Lacquer in Mint Green (422)* (£4.90). I'm already a big fan of Kiko polishes and this shade is awesome, a more than welcome addition to my collection as I don't have anything else quite like it. I wouldn't call it a mint green though, it's too bright for that I think. Whatever it is, it's beautifully bright and drew a lot of compliments when I wore it. This shade might give me a slight case of the ol' lobster hands but I don't even care because I like it so much.
So there you have it – Colours In The World is an appropriate name for a collection packed with such vibrant pigments and eye-catching shades. Thumbs up!
You can buy Kiko products in store at Westfield Stratford and Westfield Shepherds Bush, or online. Is anything tempting you to part with your cash?