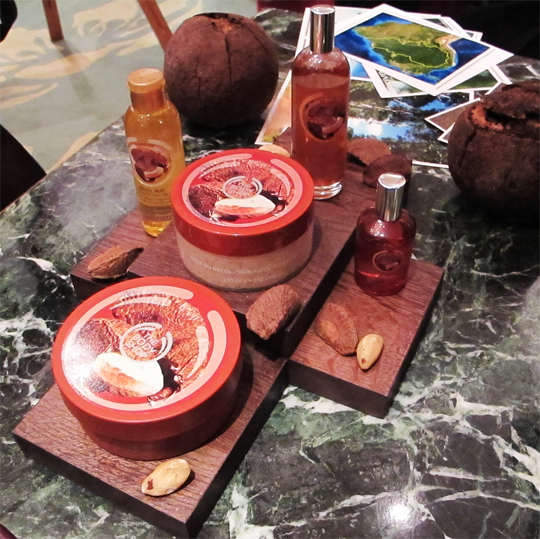 If you've been reading my blog for a while, you might remember me declaring my undying love for The Body Shop's Chocomania range. Well, I've found one I love EVEN MORE. And not just because it smells delicious, but because it has an amazing story behind it. A few years ago, The Body Shop released a Brazil Nut range and from next month, it's back by popular demand – but it is limited edition once again so be sure not to miss out.
I don't usually write about blogger events (I worry that they come across as braggy), but I just had to share this experience with you. A couple of weeks ago, I headed down to Dukes Hotel in Mayfair with just a couple of others for a small and intimate meeting with Gaston Vizcarra, founder of Candela Peru. It seems like an odd way to spend a Friday night, chatting to a Peruvian man about brazil nuts, but that's exactly what we did and I loved it.
We all know that The Body Shop are big on Fair Trade, but if you're anything like me you've probably never stopped to think about the journey that their ethically sourced products have taken on their way to our bathrooms. The journey of Candela Peru's brazil nut oil is a pretty fascinating one. Gaston first came to the UK in 1989 with just a coca-cola bottle full of brazil nut oil to sell, and today Candela Peru produce over 7000 tonnes per year via the Community Fair Trade programme for use in all sorts of products at The Body Shop. This provides employment for over 250 people, and perfectly embodies The Body Shop's Trade Not Aid philosophy that offers a fair and sustainable relationship on both ends.
Another thing I've never really thought about is the consequences of deforestation in the Amazon rainforest – if it continues, there won't be any brazil nuts left. There are two rainforest creatures that are integral to the growth and pollination of brazil nut trees – only one type of bee (a rather colourful one too) can pollinate the brazil nut tree. 14 months after pollination, the large fruit (a hard shell containing up to 24 nuts) drops to the ground. A cat-like creature called the Agouti will forage for fruit, break open the shell and eat some nuts, then bury some for later. They're forgetful creatures, so when they inevitably don't go back for the ones they saved for dinner, a new tree will eventually grow. It's a big chain and it's amazing!
The nut gatherers spend 1-2 months camping out in the forests during harvest season to make the most of the crop, before bags and bags of nuts are loaded onto river boats for a 2 day journey to the processing plant in Peurto Maldonado. Once the nuts have been dried out and de-shelled at the plant, they go on another journey, this time by truck over the Andes mountain range to Candela's plant in Lima where they are cold-pressed into oil and filtered. And the journey's still not over at this point – then they have to make their way to The Body Shop's factories in order to become part of their well-loved products.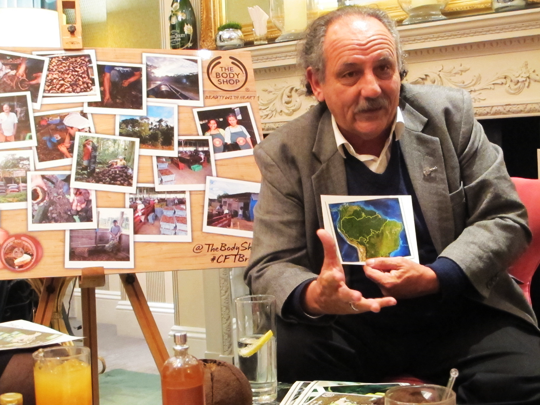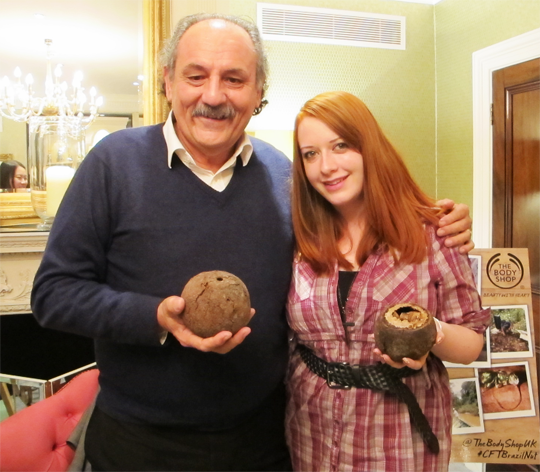 This story was an absolutely fascinating one to learn, and frankly I could have listened to Gaston's stories all night. He was an absolutely charming and inspiring man and thanks to him, I know never to set foot in the rainforest without a torch and a machete (!). Oh, and wandering into a tiger's den probably isn't the best idea either.
The revamped Brazil Nut range* hits stores on 23rd April 2013 and comprises a Body Butter (£13), a Beautifying Oil (£9), a Body Mist (£7.50), a Shower Cream (£4.50), an Eau De Toilette (£8.50) and a Cream Body Scrub (£12.50) – and of course, they all smell absolutely wonderful. The brazil nut scent really comes through but it's so creamy it almost smells like decadent milk chocolate. My top picks are the body scrub, filled with crushed brazil nut shells for an exfoliator that really means business and the Eau De Toilette – whilst it doesn't last that long on the skin, it's an absolute steal so you won't feel guilty topping up your scent. Don't forget that these will be limited edition so snap them up quick – but rest assured that Candela Peru will still be providing plenty of brazil nut oil to The Body Shop for inclusion in many favourite products like the Hemp hand protector and Shimmer Cubes!
If you've got a spare 5 minutes (after reading my bloody essay!), you should definitely give the video below a quick watch – a wonderful insight into what I've spoken about above, with less waffling – and the promise that by buying Community Fair Trade products, you're doing your bit to protect the rainforest. How very conscientious!
So, will you be looking at your products from The Body Shop in a new light from now on? I know I will!