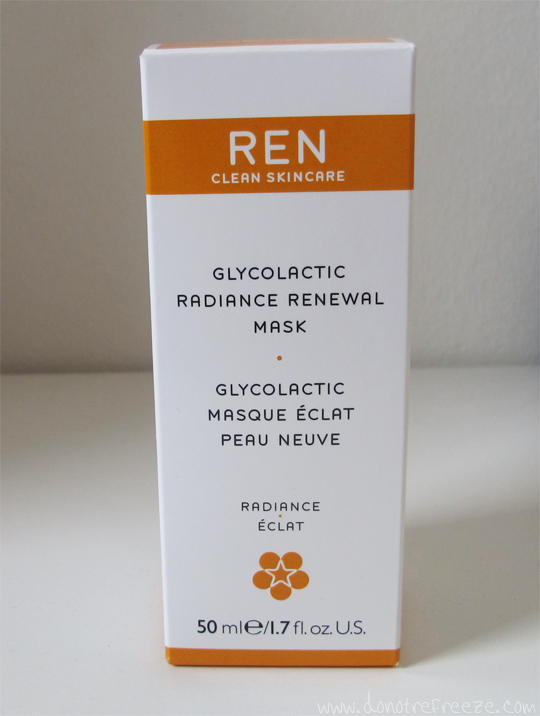 In our old place, the bathroom was situated in the middle of the house – so there were no windows. The nasty yellow cast from the lightbulb ensured I never spent more time in there than I had to – certainly no extravagant pampering. In our new place, the bathroom might be a little smaller but at least it's bright, with a big mirror! This means that I've been getting way more into my skincare routine, and the latest addition to that is REN's Glycolactic Radiance Renewal Mask*.
This potent peel mask is designed to renew the complexion, reduce the appearance of fine lines (although I'm lucky enough that I can't vouch for that yet!), and dramatically improve the skin tone. To summarise its efficacy into one sentence: YES IT DOES.
I was a little perturbed by the product itself the first time I pumped it out. It's thick, sticky, transparent orange with a distinctly – but not overpoweringly – citrus smell. Still, I followed the instructions and smoothed a good amount of the stuff all over my face and neck and left for 10 minutes. I kept expecting the consistency to change, but every time I poked my face impatiently it was still the same thick, sticky texture. The packaging also warns that you may feel a slight tingling sensation with the mask on; after my 'slight tingling' experience with GlamGlow Mud I was expecting pain in the name of beauty. I didn't feel a thing though, which did make me think that this sticky orange gloop was doing nothing for my face.
After 10 minutes, I washed it off with the included muslin cloth and warm water… and crikey. My skin was really bright! I actually looked radiant, as opposed to greasy like I usually do. I was pretty impressed, especially considering my initial misgivings the first time I wore it. My willpower has had a serious workout in trying not to use this more than once a week as directed, but I've used it for 3 weeks in a row now and every time I am just blown away by the fresh appearance of my skin.
I'd definitely recommend it – a bit of a treat at £30 for 50ml, but since you're only meant to use it once a week it should last a fair while. As far as I'm aware, REN skincare is available from Selfridges, SpaceNK and online – if you know of anywhere else, please do let me know because I definitely need to check out some more of their products!
Have you tried the Glycolactic Radiance Renewal Mask?