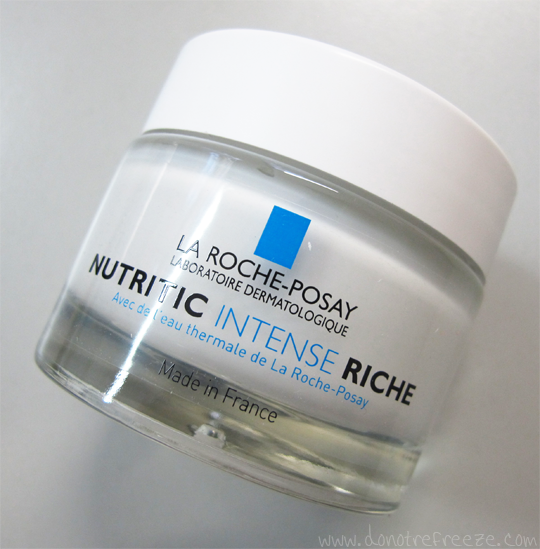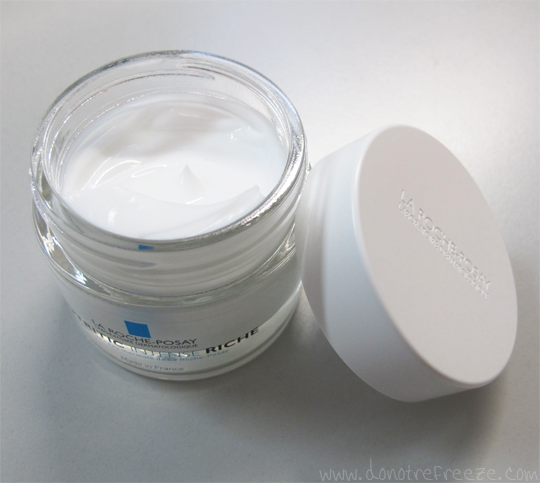 I feel like every time I write about a skincare product, I regurgitate the same old description of my skin even though I'm sure most of you probably know my skin type as well as I do these days! But, just for the benefit of anyone who doesn't know, my skin has a HUGE sebum production yet I get dry, flaky bits all over the place. This means that for me, moisturisers need to offer hardcore hydration to my dry bits, without exacerbating oil production.
La Roche-Posay is a brand whose skincare I've really got into in recent months, but La Roche-Posay Nutritic Intense Riche* frightened me a bit when I first opened it, not gonna lie! It's thick, like a creamy balm type texture but it becomes fluid on contact with the skin so it's very easy to apply. Whilst it's not unpleasantly heavy, it's too much as a daytime moisturiser (for me, anyway) so I've been using this one before bed – but not every night simply because I haven't needed to. The hydration is so intense that I can still feel it a couple of days later. I probably use it once every three days, with a lighter one on the days in between (usually La Roche-Posay Effaclar H, if you're interested!).
Without getting too science-y on you, it would be wrong to share this product with you and not give a little bit of background info on the formulation. Nutritic Intense Riche contains new active ingredients in the form of MP Lipids. These complex lipids are able to stimulate the formation of proteins, enzymes, ceramides and cholesterol which are all required for the generation of new skin so you are essentially making it softer, smoother and more supple layer by layer. It makes sense then, that Nutritic Intense Riche is mainly aimed at people with very dry and sensitive skin that causes irritation and discomfort – I'm lucky not to count myself in that category, but it is an astonishingly efficacious moisturiser. I can't imagine it disagreeing with anyone to be honest, especially since it's paraben free and hypoallergenic with only minimal preservatives.
One more thing worth mentioning – it's in a jar. I normally really dislike products in jars, it's less hygienic and less convenient than a tube; but La Roche-Posay are one step ahead (as per usual!). The thick, balm like state of Nutritic Intense at room temperature means that it wouldn't flow very easily from a tube, so a jar is really the only option. It's common sense that products in jars usually require a higher concentration of preservatives because the product comes into contact more frequently with skin and air. La Roche-Posay have avoided doing exactly that by reducing the number of free water molecules (these are where bacterial contamination occurs) and added the active ingredients in their lipidic state rather than their aqueous one as this is more protective against contamination. Clever! Why don't all companies do this for all products in jars?!
Well, I've never met a La Roche-Posay product I didn't like and this is certainly no exception. If you need some help shifting the miserable winter dryness from your skin, this will sort you out in no time. Nutritic Intense Riche costs a very reasonable £16 for 50ml and if you're lucky, you'll be able to find it in Boots. It was released just a few days ago on the 28th January, so it should start showing up on the usual online retailers soon enough.
Does this sound up your street? Are you a La Roche-Posay fan?