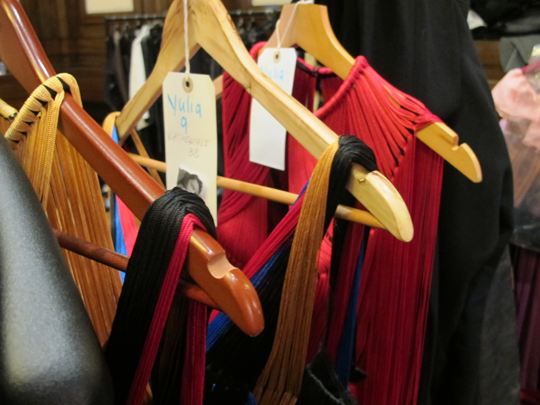 I've never been much of a fashion follower, but since I started losing weight I definitely have more of an interest in clothes in general (sigh… another thing to spend money on!). Whilst I did a few things around London Fashion Week last season, on Saturday I actually had my first ever catwalk show and backstage experience as a guest of The Body Shop. And you know what – I bloody loved it!
I headed down to the Freemason's Hall in Covent Garden for the always highly anticipated Fashion Scout Ones To Watch show on Saturday morning, and spent a good long while taking in the hot, heady, hectic atmosphere backstage – dozens and dozens of makeup artists, hairstylists and impossibly beautiful models crammed into too-small spaces getting everything just-so. I have found a huge respect for the people who work on these shows for the sheer amount of work and effort that goes into it – the snaps below might give you a bit of an idea!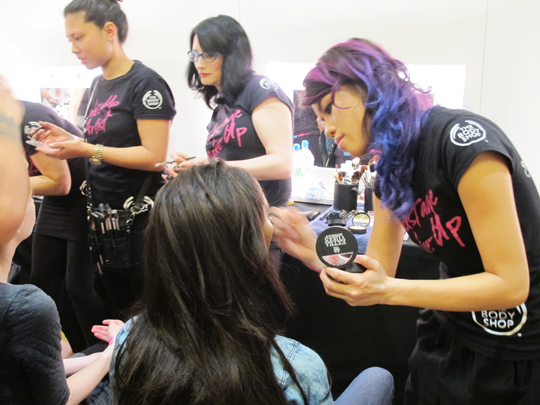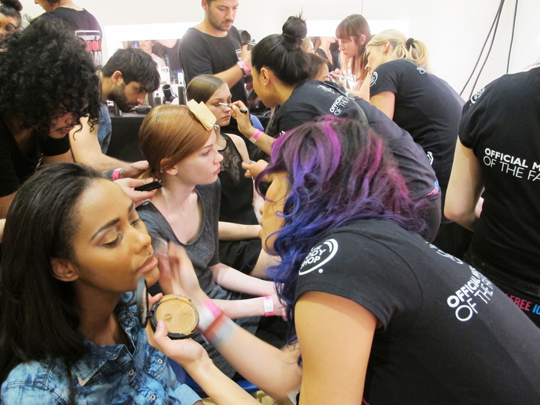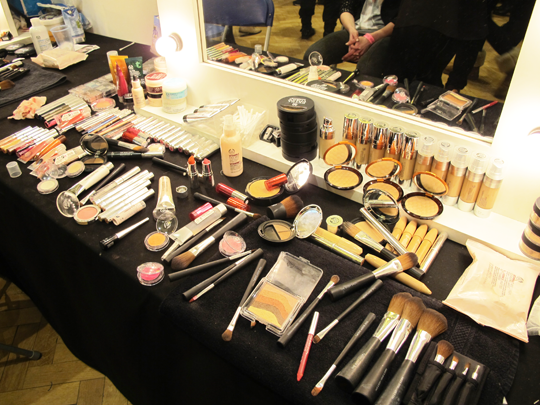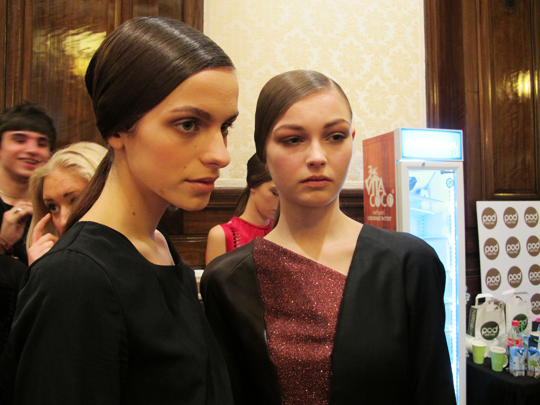 It was an absolute honour to meet Lan Nguyen, who for the record is one of my favourite artists, and watch her at work. She explained that the look she and her team of The Body Shop MUAs were going for with the Ones to Watch show was fresh and modern with flawless yet natural-looking skin (using The Body Shop's BB Cream, keeping everything dewy and radiant with Vitamin E Mist). Some neutral shading around the sockets, working with each model's natural contours, adorned the eyes. This polished look was complimented by the sleek, straight hairstyles created by Toni & Guy, pulled back into a low ponytail with two little twists for a bit of subtle interest. I loved my backstage experience and would definitely like to see some more behind-the-scenes action next season!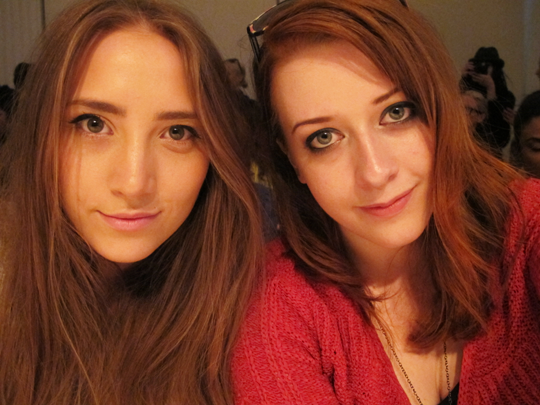 Chillin' in the FROW, babay!
Imagine our surprise when Jessica and I went to take our seats at the catwalk later, and found we were in the front row. Awesome – my first fashion show ever, and an entirely unobstructed view. Couldn't have asked for more! Maria kindly let me borrow her camera for the show as mine would have been nowhere near quick enough to capture the action. I massively enjoyed the show!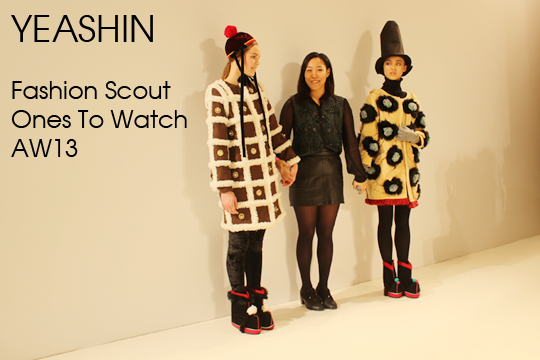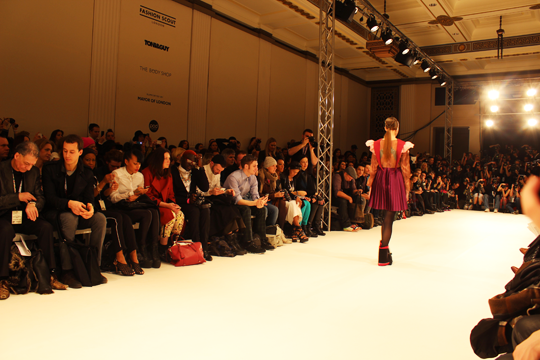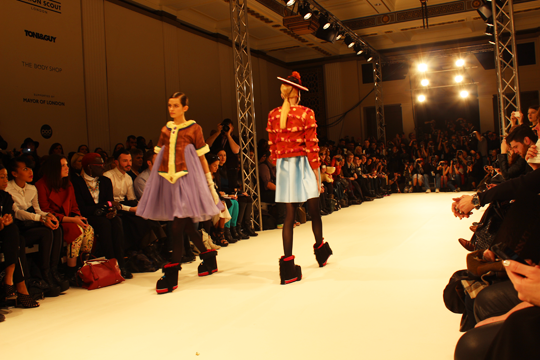 South Korean designer Yeashin has been on the fashion world's radar for some time, having been selected by Vogue as one of the best fashion graduates of 2011 and being awarded the Most Creative Student at the WGSN Global Fashion Awards. Creative is certainly right, and although her designs were a little too on the haute couture side to be enjoyable for me I appreciated the influences of traditional Korean outfits fused with 1960s England. Very interesting!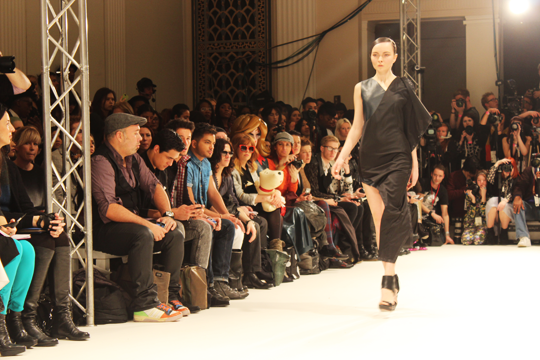 Up next was Patrick Li, a Chinese born and London based designer with experience under Viktor and Rolf. Patrick's collection was beautiful, and probably my favourite of the three – glamourous eveningwear outfits with a crisp, fresh style created with bold lines, a variety of textures and of course, a bit of glitter. Gorgeous, modern and elegant. Loved it!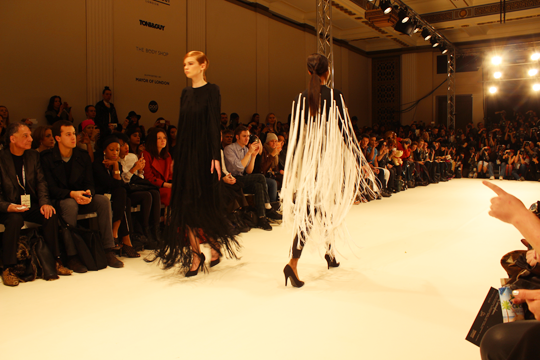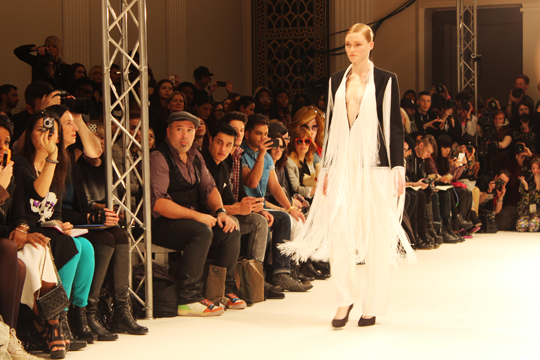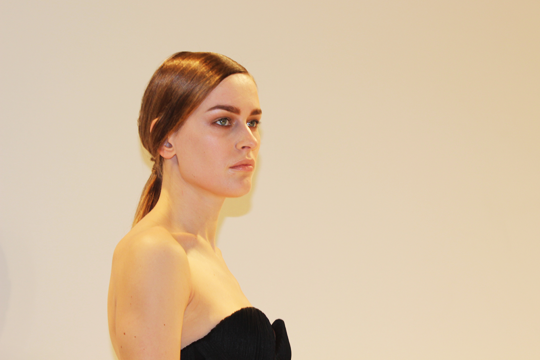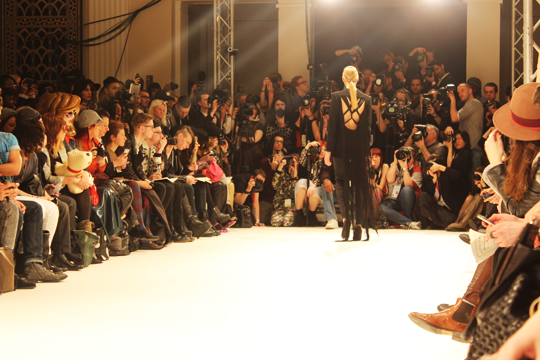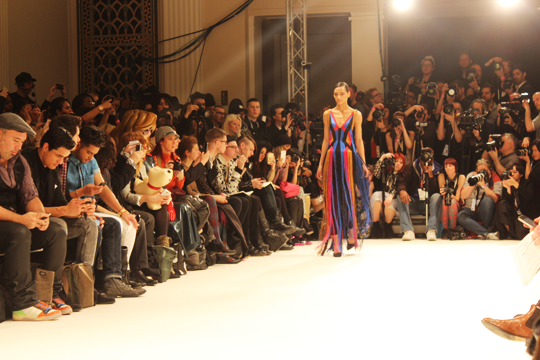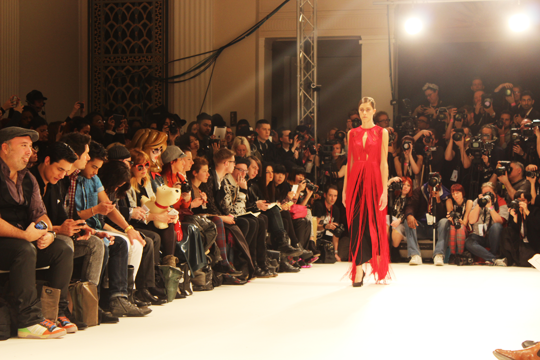 Last but certainly not least, Central Saint Martins MA graduate Yulia Kondranina's collection appealed to me with it's subtle gothic flavour. Every piece was very intricate and elegant, and the movement in it as the models sashayed down the catwalk was stunning. There was a certain romanticism in the way the fabric swayed to and fro. Quite the opposite of the stark, stiff lines of Patrick Li's designs, and again, I loved it.
Overall, I absolutely adored my first proper London Fashion Week experience and definitely want to relive it all next season. I met lots of cool people, and networking was easy thanks to my gorgeous new business cards (above) from Instantprint! Thanks guys!
I want to say a massive thank you to The Body Shop for a wonderful experience that I am so, so grateful for. :-)