Last but certainly not least, an overview of my favourite skin, hair and scent products of 2012!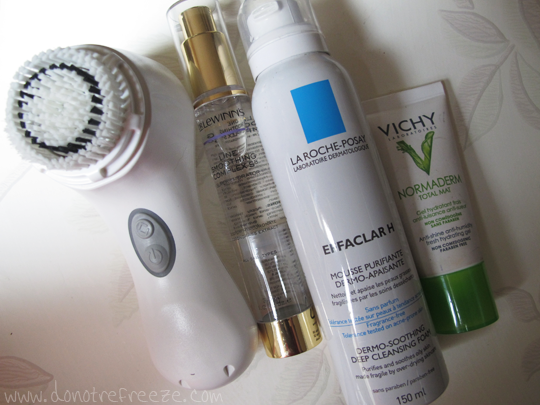 :: Clarisonic Mia 2 – This was my birthday present from Dad, and it totally revolutionised my skincare. I don't know how I lived without it. I won't babble on here, but be sure to check out my full post here.
:: Dr Lewinn's Line Smoothing Complex Super Hydrator* – Serum is something that I only started using this year and it's made such a difference to the moisture levels of my skin. I had a mini facial at a Dr Lewinn's event in the summer, and my therapist described this product as 'like a drink of water for the skin' – and it really is! It feels barely more viscous that water, but it leaves my skin feeling so hydrated for hours and hours.
:: La Roche Posay Effaclar H Deep Cleansing Foam – I love this stuff, it makes my face feel so clean but never stripped of moisture. LRP's Effaclar H range is designed for people with naturally oily skin who have damaged it by using products that dry it out, so this has helped to restore much needed moisture to my skin after I ignorantly dehydrated it.. It also works great with the Clarisonic, so this will be a definite repurchase.
:: Vichy Normaderm Total Mat* – I've already raved about this, so I won't repeat too much – but suffice to say that if you struggle with oily skin and shiny-ness, you need to read the full post and try this out for yourself. Works as an excellent primer too!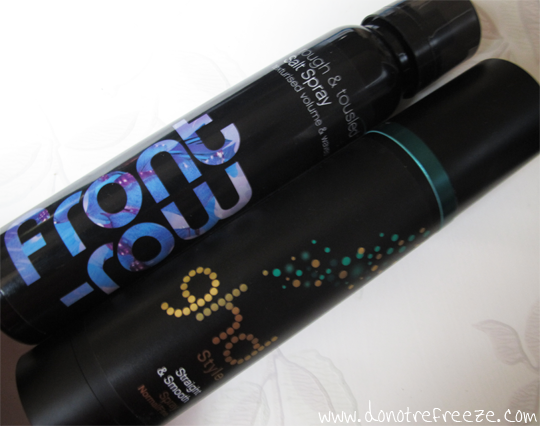 :: Charles Worthington Front Row Salt Spray – When I leave my hair curly, I like to give it some texture with a salt spray. I've tried many different ones over the last few years, but I always come back to this. It smells gorgeous and never leaves my hair feeling dry and crispy like many other salt sprays do. Couldn't go without this!
:: ghd Straight & Smooth Spray* – There's not that much you can say about a heat protection spray – but it works and it smells lush. It also makes my hair straighter than any other product, which you can see in this post. Can't ask for much else, can you?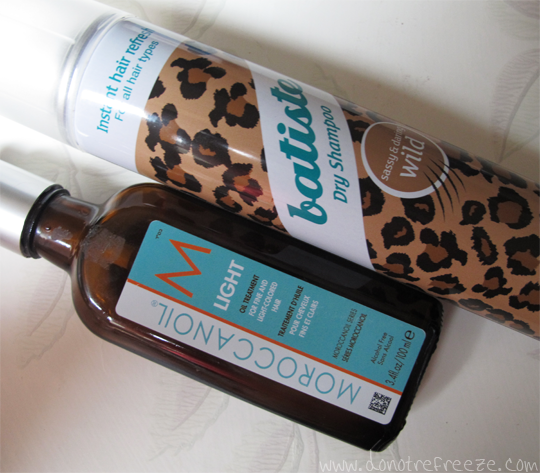 :: Moroccanoil Light Treatment – Very almost run out of this, but I've been using it more or less every other day for a good 8 months or so which means it's lasted really well and I've definitely got my money's worth. I couldn't go without an argan oil treatment after washing my hair any more – the odd couple of times that I've forgotten this I've found my ends so ratty and disgusting. I've got a bottle of Macadamia Healing Oil Therapy to crack open once this is all done, just for a change – maybe that'll be in my 2013 favourites!
:: Batiste Wild – I honestly couldn't live without Batiste. My hair is so long and thick that washing it every day would be FAR too much of a chore, so I wash it every 2-3 days. Since my hair is oily, and so is my skin, my hair only stays looking non-greasy for one day after washing. Particularly at the front, where my hair touches my nasty oily forehead.. but a quick burst of Batiste on the in-between days sorts me out. Wild is my favourite scent, and the leopard print can is just a bonus. It's got quite a noticeable cocoa scent, which I love.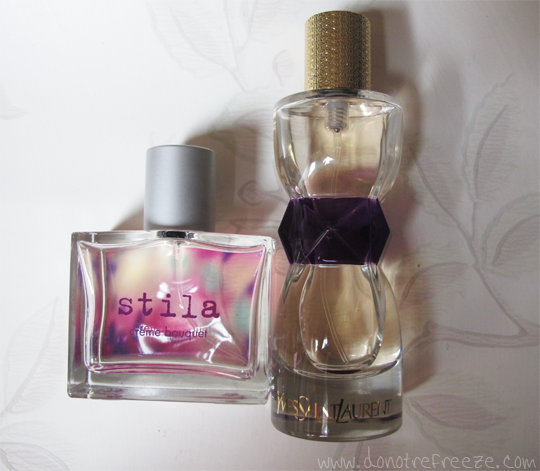 :: Stila Creme Bouque Eau de Parfum* – This is such a simple composition but it's so effective. Avoid at all costs if you don't like vanilla, but if you love it half as much as I do you'll love Creme Bouqet. Vanilla is the predominant scent in here with just two other notes of pink lilac and lily of the valley to soften it and give it a floral edge.
:: YSL Manifesto Eau de Parfum – Possibly my single favourite perfume of the year. The top notes are really green with a hit of bergamot, and although I'm not usually a huge fan of jasmine, which is quite prevalent in the heart notes of this, it's softened by lily of the valley and something creamy. The base notes are what makes this a real winner for me, with cedarwood, sandalwood, vanilla and my all time favourite scent tonka bean. This is SO lush.
:: Marc Jacobs Dot Eau de Parfum – Arguably one of the year's most hotly anticipated and popular scents. There's a few fruity notes but it's mostly a floral, so it's not the kind of thing I'd usually go for but there's something about it that I really love. It might be the vanilla and musk in the base – but everything works really well together. I love the red berries and honeysuckle in the top notes, and I have a nose for coconut so the coconut water at the heart really stands out to me.
:: Rihanna Rebelle Eau de Parfum – Not usually a fan of celebrity fragrances in the slightest (by the way, can we just take this opportunity to discuss how disappointing Lady Gaga's Fame was?! Rubbish!), but this is right up my street. Top notes of strawberry, ginger and plum make it smell good enough to eat before the dry-down even begings which is when it gets really good. The heart notes are so sweet and sumptuous with heliotrope, vanilla and cocoa before it dries into sultry base notes of musk, coffee, patchouli and amber. SO me!
So, tell me – what were you slathering on your skin, working through your hair and spraying on your pulse points in 2012?