Goooood morning, and Happy New Year! It's back to work today for most of us today, I don't know about you but I'm SO not ready for that yet! Hopefully none of you have an epic two-day hangover and spent yesterday fully recovering from the festivities :-)

To kick off 2013, I want to shine a spotlight on my very favourite products of last year. To prevent it getting too long, I'm going to split it across 3 posts – today will be nail polish, Friday will be makeup and Sunday will be skincare, haircare and fragrance. Just a heads up, the nail wheel swatches below are rubbish and do no justice to the sheer beauty of these polishes so I highly recommend clicking on the links to see posts where they're featured in much better light. Let's go!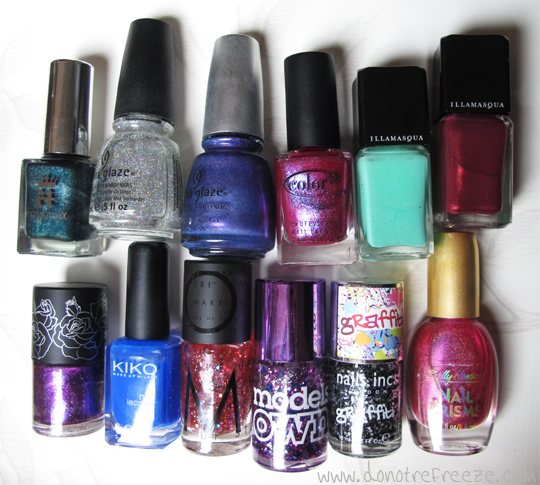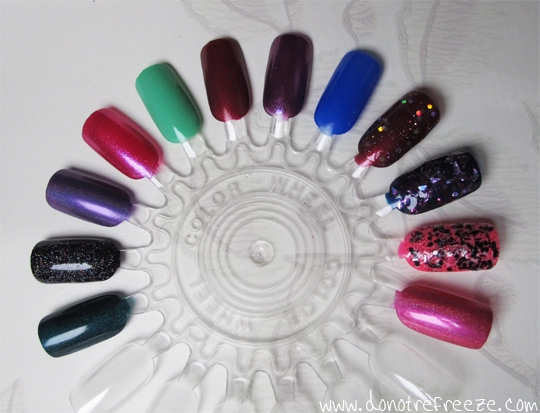 :: a-england Saint George – I built up quite a nice collection of a-england polishes throughout 2012, and it took a long deliberation but I think this one is my favourite. I mean, it's a deep teal and it's holographic. Hellooo! Full post here.
:: China Glaze Fairy Dust – I honestly couldn't live without this stuff. I owned their Wireless Holographic topcoat before I got this, but Wireless is pretty hard to get hold of these days so I thought Fairy Dust might make a good substitute. Turns out, I actually like it even more! I often chuck a layer of this on over whatever polish I fancy for some extra sparkly goodness (swatched above over black).
:: China Glaze LOL – Ahhh my precious! You know that holographic finishes are my favourite, and you know how obsessed I am by the long discontinued OMG collection by China Glaze. I nabbed this one on eBay for a disgusting £20 but I'm just super glad I own it now. Perfect linear holographic purple. SO awesome. It has its own post here, and I also used it in this insanely cool holographic splatter manicure.
:: Color Club Ulterior Motive – This is SO beautiful! Pink is one of my favourite colours for nail polish, and this is one of the best of the best if you ask me. It's a stunning glass flecked fuchsia pink that really glows. You really need to see it in the sunlight for the best effect, so make sure you check out the full post.
:: Illamasqua Charisma* – Do you remember Scarab from Illamasqua's A/W10 collection Art of Darkness? It was a deep, sultry red shimmer. Charisma was released as part of this season's Generation Q collection and is exactly what I wanted Scarab (which I found too brown toned) to be. Charisma is brighter with a more raspberry tone and it's lovely. I used it in a half moon manicure with Creator from the same collection, and also with Prism layered on top – amazing!
:: Illamasqua Nomad* – Shades like this often leave me with lobster hands, and I'm not convinced that this one doesn't either but it's SO pretty that I don't care. Super creamy, super saturated light jade green – luvverly. I used it in a manicure with Stance, both from SS12′s Human Fundamentalism collection.
Kat von D Wonderchild – The finish of this is quite similar to Color Club Ulterior Motive in that it seems to glow from within thanks to the light-catching glass flecks. It has subtle hints of deep pink and blue duochrome to it which just makes it extra special. Full post here.
Kiko 336 – Phwooarr! Bright, eye-catching, sexy cobalt blue creme. I think this might be a dupe for Nails Inc Baker Street (aka that blue polish that Beyonce was spotted wearing and suddenly everyone wanted it). I might be wrong, but even so, it's bloody lovely. I used it as a base for my patriotic jubilee manicure and, even though it wasn't 2012, here's a post from the end of 2011 with green flakies layered over it just because it looks awesome.
:: Make Up Store Asun – Another brand I only discovered in 2012 and another one I instantly fell in love with. This stuff is like sequins in a bottle, it's swatched here over China Glaze Skate Night. I love how the hex glitters almost look round. Amazing polish, a full post on which you can see here.
:: Models Own Boogie Nights – The Models Own Mirrorball collection was seriously my favourite polish collection released in 2012, and Boogie Nights is my favourite. There's just nothing not to like about it if you like a lot going on in your nail polish. Check out the full review here (swatched over OPI Russian Navy).
:: Nails Inc Brick Lane – This is SO COOL. If you're familiar with the indie polish scene, you might be aware of a certain brand that shall remain nameless and a rather spectacular polish they once made called Connect The Dots, containing black and white hex glitters and bar glitters in a clear base. Another indie brand, Cover Band, came out with a 10x better version called Sticks N Stones, but it's still an utter pain to get hold of. When Brick Lane was released, I HAD to have it just in case it was a dupe for Sticks N Stones. It wasn't, but I still love it! My favourite way to wear it is over my all time favourite pink polish, Illamasqua Collide, as swatched above.
:: Sally Hansen Nail Prisms Ruby Diamond – Another hard-to-find eBay purchase (although this one was a bit of a bargain, I think it was about £7), another stunning linear holo. Ruby is a bit of a misnomer as it's definitely pink rather than red, but who cares? It's beautiful. Check it out in the sunlight!
What were your favourite nail polishes of 2012?