Part two… My very favourite makeup products of 2012!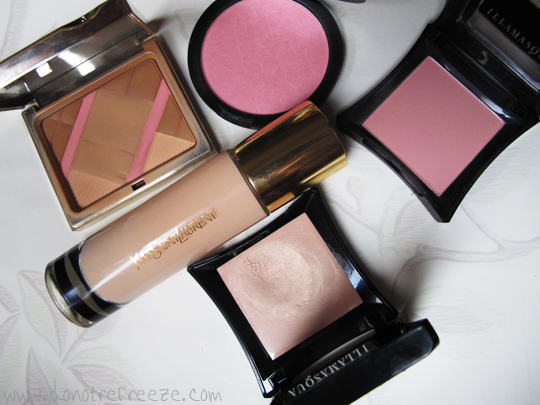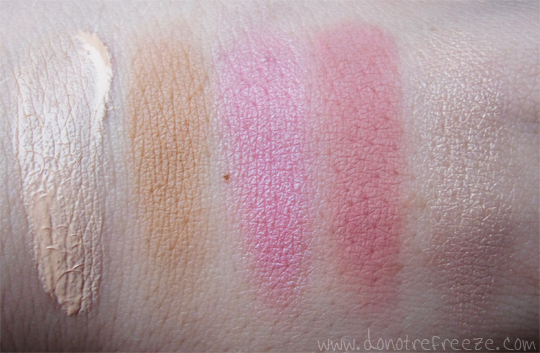 YSL Le Teint Touche Eclat (BR10), Clarins Ombre Minerale Face Palette, Dainty Doll blush in My Girl, Illamasqua powder blush in Naked Rose, Illamasqua Gleam in Aurora
:: YSL Le Teint Touche Eclat Foundation – I'm surprised at myself that I haven't posted about this yet; you know I love getting my butt nekkid face out for foundation reviews! I promise I'll do one soon, as I've been using this religiously for months now. It's got me well back into foundation territory, my tinted moisturisers haven't had a look in for ages!
:: Clarins Ombre Minerale Face Palette* – I never thought I'd find a replacement for my beloved but discontinued Illamasqua Rumour blush which I've used religiously for more than 2 years as a contour. This gorgeous powder from Clarins has been a good stand-in (I save Rumour for special occasions these days!) but annoyingly, it's limited edition so it'll be time to say goodbye to this one too eventually… Sigh.
:: Dainty Doll blush in My Girl – I tried a few Dainty Doll products from my fellow casper-face Nicola Roberts' makeup line and the results were quite hit and miss, but this one was definitely a hit! Super pretty baby pink with enough subtle shimmer to lift the cheeks, really flattering on my skintone and it's a huge pan too so I can't see myself ever running out despite frequent use.
:: Illamasqua blush in Naked Rose* – The Naked Strangers capsule collection that Illamasqua released in the middle of the year was so subtle and wearable in comparison to their usual products, but I think it helped a lot of people to get acquainted with the brand so it's no bad thing. This blush is the most neutral toned pink I own so it gets used an awful lot – if I can't decide which shade of blush will work best with my eye look on any given day, Naked Rose is the perfect choice as the neutral undertones means it goes with anything whilst giving the cheeks a super natural looking flush.
:: Illamasqua Gleam in Aurora – I've already raved about this but I'll say it again – BEST. HIGHLIGHTER. EVER. It really melts into the skin and is just so flattering. Gorgeous creamy consistency, stunning light reflection for the high points on your face. There's nothing not to love about this and I seriously think everyone in the world should be supplied with one of these. LOVE.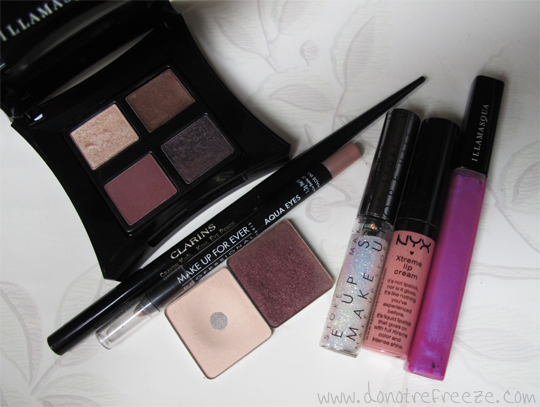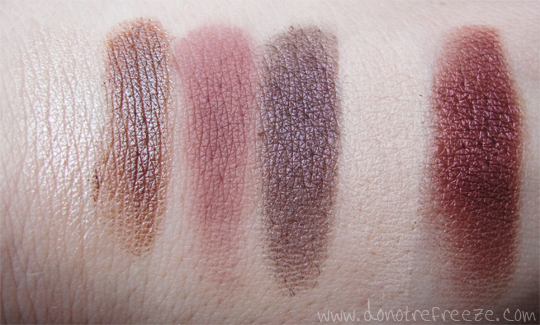 Illamasqua Slink, Focus, Forgiveness, Queen of the Night (Complement Palette), Inglot 353, Inglot 452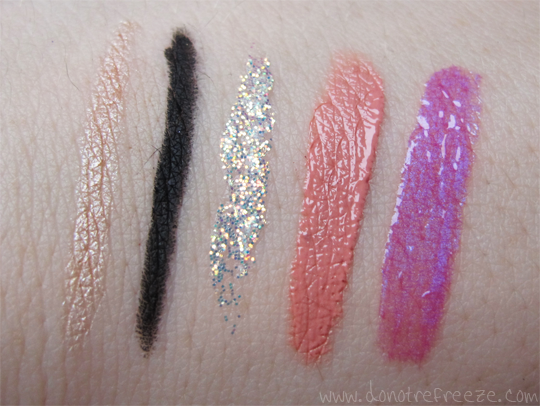 MUFE Aqua Liner 23L, Clarins Kohl Pencil, Make Up Store glitter eyeliner in Queen, NYX Xtreme Lip Creme in Nude Peach Fuzz, Illamasqua intense lipgloss in Boost
:: Illamasqua Complement Palette* – These are so my sort of colours! They're really flattering to my skintone too which doesn't hurt. The combination of colours and textures in this palette is nothing short of perfect, it's so fun to play with and it's a really cool twist on your standard neutrals. Well deserved rave review here!
:: Inglot Eyeshadows (353 & 452) – I wasn't going to include all my Inglot shadows (even though they are definitely my most used shadows of the year), but I had to include these two. 353 might be pretty 'boring' but its an absolute staple for me – I can't bear shimmery eyeshadow used as a brow highlight so this is what I use every day. They're such a bargain so I know I'll be repurchasing this when I run out. 452 is just such a stunning shade, I'm really into red tones for the eyes. You can see it in this smokey autumn eye look – love it.
:: Make Up For Ever Aqua Pencil in 23L – Another staple! I use this around the tear duct area of my eyes more or less every day in an effort to brighten them up and help myself look more awake. I can't say this pencil is a miracle that makes me look bright-eyed and bushy tailed, but bloody hell it's pretty.
:: Clarins Kohl Eye Pencil* – Good lord I do wish this wasn't limited edition. It might be expensive (I think the RRP was £20) but it's SO black and lasts an awfully long time in my waterline which is no mean feat. When it's gone for good and you can't get hold of it anymore, Avon's Supershock gel pencil is a fantastic substitue.
:: Make Up Store Glitter Eyeliner in Queen – You all know I am a glitter fiend, and glitter doesn't come much prettier than this. The perfect sparkly, eye-catching addition to pretty much any eye look when you just need that extra little something to finish it off. Awesome product, full review complete with moving video swatch here!
:: NYX Xtreme Lip Creme in Nude Peach Fuzz – I'm not much of a lip colour person these days. I think a lot of it is due to my love of eye makeup and its hard to find a lip colour that doesn't make me look hugely overdone when I've got a lot of eyeshadow on. I really love this one though – a light, neutral peach that lasts for hours and hours and looks wonderful with a smokey eye. I have a few shades of the Xtreme Lip Cremes but this is definitely the most versatile for me, be sure to check out the post about them.
:: Illamasqua Intense Lipgloss in Boost* – I'm really, really not a fan of lipgloss. I always get my hair stuck in it and I can't bear the feeling of it on my lips. I make an exception for this though as its such an usual shade and I absolutely love the way it looks on. A fuchsia leaning more towards the purple side, with a strong blue duochrome. It's SO cool. You can see it on in this post, and this one.
Et voila! Do you own and love any of these products? What were your favourite makeup products of 2012?