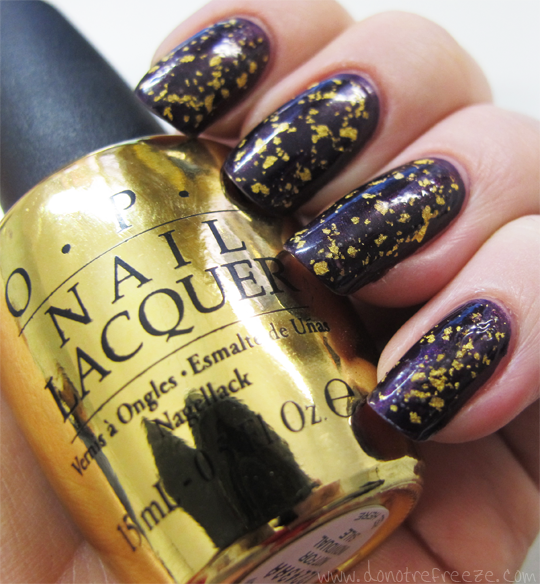 Alright, alright, that's a god-awful title. Don't hate me. One of the many beautiful products I received from Danielle in our Christmas swap was the much-lusted-after OPI The Man With The Golden Gun 18k Gold Leaf Topcoat. Amazing! I never would have bought this for myself as I think it's way too expensive, but Danielle is a sweetheart and surprised me with it anyway. Thank you! ♥
Despite my insane desire to swatch this over basically every polish I own, I've restrained because the damn stuff is worth its weight in gold – quite literally. It applies beautifully, a nice even distribution of the gold leaf without any effort on your part. Gold and purple make such a stunning colour combination, so I had to layer it over my favourite purple of all time – Illamasqua Baptiste. Can you believe this is being discontinued? *sob*. I'm also itching to try it over my favourite blue (OPI Russian Navy, if you're interested). What colours would you layer it over?
So I've ended up unexpectedly falling rather madly in love with The Man With The Golden Gun. It's such a mouthful though – surely I can't be the only one who thinks they should have called it Goldfinger?