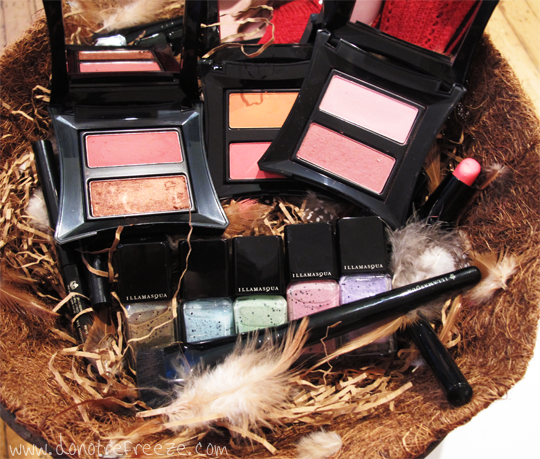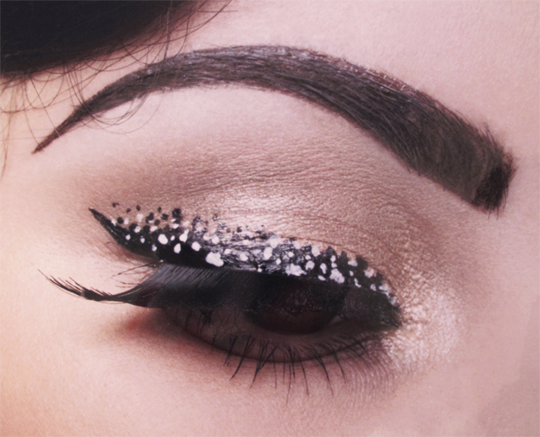 You should know by now that Illamasqua are literally my most favourite brand of all time, and naturally they have not disappointed me. As if they ever would! The Spring 2013 I'mperfection is not only a clever play on words but, as always, a challenge to the norms of the beauty industry. The equivalent of two fingers up at the status quo. I'mperfection picks up where Generation Q left off – this time less about age, gender and race and more about the things that make us truly unique and individual. Freckles, birth marks, moles, gap-teeth. Why is it that society sees fit to make us feel as though we need to cover these things up, that they're somehow shameful? The entire beauty industry is aimed at 'correcting', at concealing the very things that make us stand out so we all essentially become carbon copies of one another. Illamasqua, in their signature non-confirmist way, seek to change that with I'mperfection, encouraging us to highlight these perceived 'flaws' and celebrate them, and the way in which they make us different from everybody else. As always, they've used real people as their models for the campaign – this time we are treated to the unique beauty of Amy, Jo and Frankie who all 'suffer' with perceived beauty 'flaws' – but three girls who are honestly absolutely beautiful and are admirable for embracing them despite the superficial pressures of society.
You know, this is something that until now only my family and Colin knew about, but I have a mole on the underside of one of my breasts. Like, a full on, big, sticky-out mole. It looks like a Coco Pop, I kid you not. For years I wanted to get it removed – although I've always felt very lucky that it's somewhere that's hidden rather than on my face. I'm not sure what the catalyst was, but a couple of years ago Colin asked me if I still wanted to get rid of it one day. 'Nope', I said, cool as a cucumber. I don't know when or why, but at some point I just stopped caring about it. It used to really plague me but now, honestly, I actually kinda like it. I mean, lots of people have big boobs like I do, but I have big boobs with their own little accent. Who cares? I know this is nothing like having a large birthmark across your face but it follows the theme of accepting an 'imperfection'.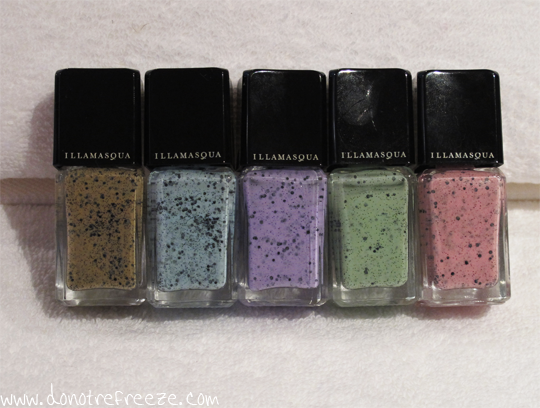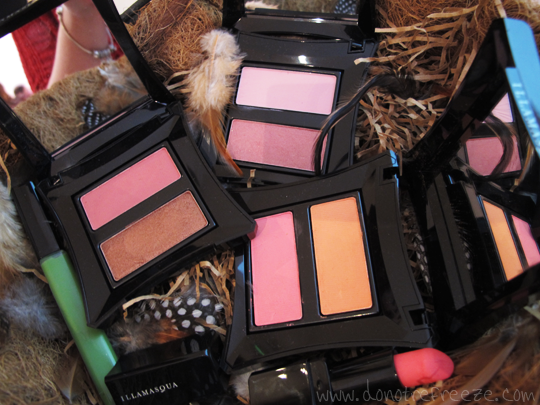 Well, that's the story behind I'mperfection, and I'm sure you want to know about the products that were born from the inspiration. There is a brand new Nail Varnish innovation in the form of the Speckled Nail Varnishes. They're quite hard to explain, but it's essentially small black hex glitters and black microglitters suspended in pastel creme polish. It blows my mind how they've managed to formulate them – they're perfectly opaque in two coats but somehow the glitter doesn't get covered up. They look exactly like Cabury's Mini Eggs. LOVE! These are limited edition though, so I seriously recommend getting them while you can. On to lips, there's a new bright pink in the form of Immodest Lipstick, and at the other end of the scale a bright grassy green in the form of Shoot Intense Lipgloss. Lastly, focussing on the cheeks are three Blusher Duos and the Blush Up Brush. It's a very 80′s-inspired cheek look in the collection, with the unique shaped Blush Up Brush designed to create a strongly contoured look with eye catching colours. The black and white Precision Inks (Abyss and Scribe) are repromoted in the collection for the striking speckled eyeliner look – which I LOVE and will be recreating as soon as possible!
Speckled Nail Varnish (£14.50)
Fragile – pastel blue Mottle – pastel spring green Freckle – pastel nude brown Speckle – pastel lilac Scarce – pastel tea rose
Blusher Duo (£26.00)
Lover & Hussy – matte apricot peach and matte candy pink Katie & Ambition – matte pale pink and neutral pink shimmer Beg & Bronzerella – matte dusky rose and deep bronze shimmer
Blush Up Brush (£28.50)
Lipstick (£16.00)
Immodest – bright hot pink
Intense Lipgloss (£14.00)
Shoot – bright grass green
Precision Ink (£17.00)
Abyss – black Scribe – white
This post has turned out way longer than I intended it to, so I'll leave you with some quick skittle swatches of the beautiful Speckled Nail Varnishes and a promise to share some of the products in more detail as soon as I can! :-)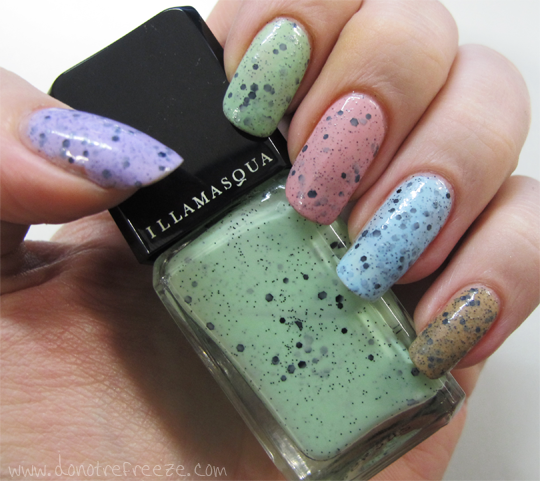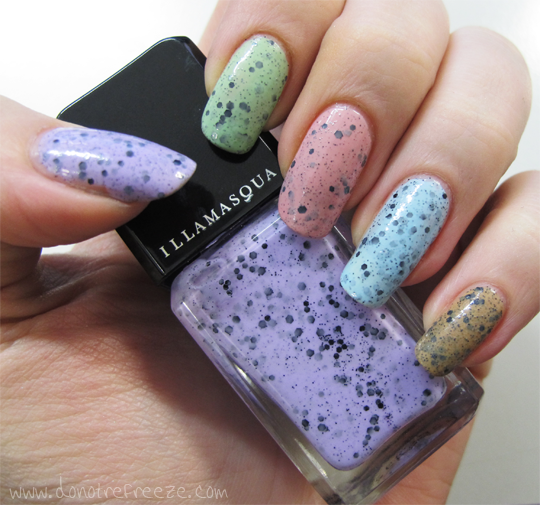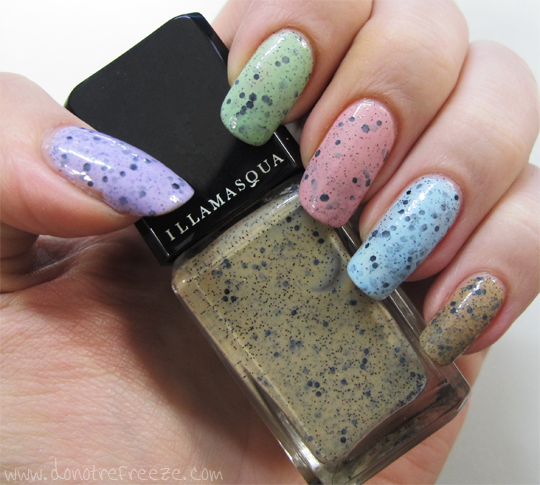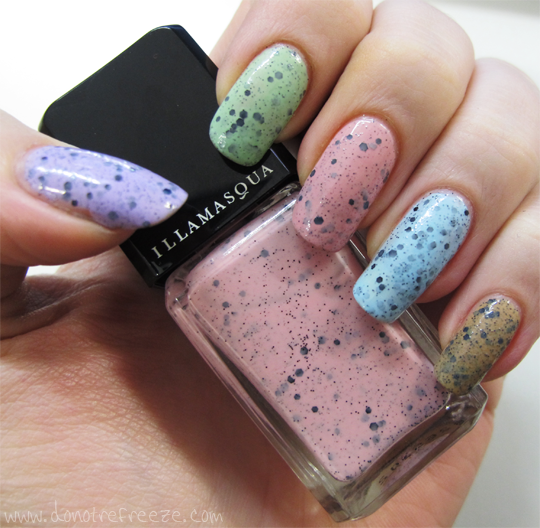 What do you think of the I'mperfection collection? What perceived flaws of your own will you be championing now?
The Illamasqua I'mperfection collection is released on 31st January 2013