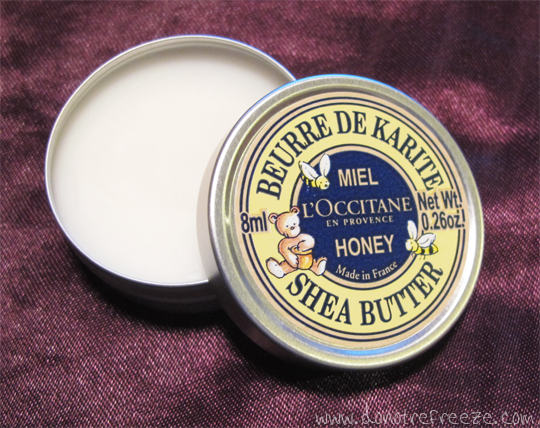 I don't know about you, but January always seems to be the month that my immune system goes on holiday. Mid-January, pretty much every year without fail I get struck down with the head cold from hell; you know, the kind that blocks your sinuses so bad that you have to sleep with your mouth open so you wake up with the sorest and driest mouth ever. The kind that makes you go through 6 rolls of loo roll in 3 days because you're blowing your nose so damn much. Well, I was in the throes of this extremely unwelcome annual visitor, trying to force myself through a day of work even though my constant sneezing was making me dizzy (and probably spreading those lovely germs to my colleagues too..) when this cute little pot fell into my hands. And I'll tell you what – it totally saved me.
It's L'Occitane's new limited edition Honey Shea Butter*. Shea Butter is an important ingredient in lots of L'Occitane products for its moisturising properties, and here it's been mixed with healing Honey and adorned with the sweetest illustration to match. So how did it save me? Well, you know when you've been constantly blowing your nose during a cold (how can one person even produce that much snot?!), the skin around your nostrils gets all dry, flaky and frankly disgusting? This repaired it literally overnight. My usual moisturisers were stinging the raw, sore skin around my nose too much to slather them on thick for an overnight fix, but the purest and simplest of ingredients in the L'Occitane Honey Shea Butter felt nothing but soothing to my poorly schnozz. I slapped it liberally over my lips and nose – disappointed that I couldn't smell it at the time! – and went to sleep. When I woke up the following day, the first thing I noticed was the faint scent of honey followed by a completely smooth and flake-free nose when I looked in the mirror. Still redder than Rudolph's, but at least it wasn't dry, flaky and sore.
It's safe to say this is now an absolute staple for me and now that the cold has passed I can really appreciate the scent – subtle, natural honey without a dozen sweet synthetic fragrances, it's really lovely. Although the nose problem is out of the way, I've still been using this delightful little tin as my overnight lip balm every night – and that's where it will stay, as it's not the best one to carry around in your handbag as the lid is a little loose.
I'd definitely recommend picking this up, it's a generous 8ml for £7, a price I would gladly pay 10 times over to fix up the dreaded flaky nose in record time! It's out now, and is available in L'Occitane boutiques and online – but remember, it's limited edition so be sure to snap it up quick.