I've always admired indie polish brands from afar, but have never actually bought any. This is something I hope to change in the new year, as indie polish creators have some amazing ideas and we've even seen big name brands duping nigh-impossible-to-find indie polishes recently which suggests that the tables are turning. I don't know about you, but I want to be all over that!
I recently got the chance to try out my first ever indie polishes, from HJ Manicure. HJ Manicure launched their boutique nail care range in 2009, created by London based manicurist and model Helen J (hence the HJ!).
First of all, I think it's really important to point out their USP; each shade is sold in full 15ml and mini 5ml sizes. I think this is such a great idea – if you travel or are just on the go a lot, 5ml sizes are ideal and let's face it, when do we ever use up an entire bottle of nail polish? But then there's the option, if you really like particular shade, to get yourself a full sized bottle. Personally I always prefer full size bottles over minis but I love that the choice is totally up to you with HJ Manicure.
I also really like the website, it's nice, neat, streamlined and there's some really nice imagery on there (although the pictures of the products themselves leave a little to be desired).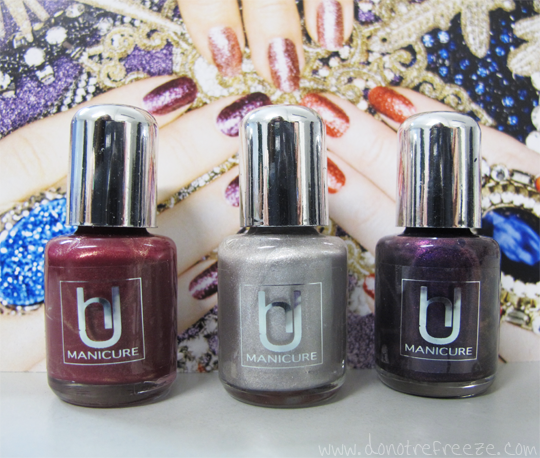 I tried out three of the shades from their Festive Collection*, so take a look at the swatches below and see what I thought.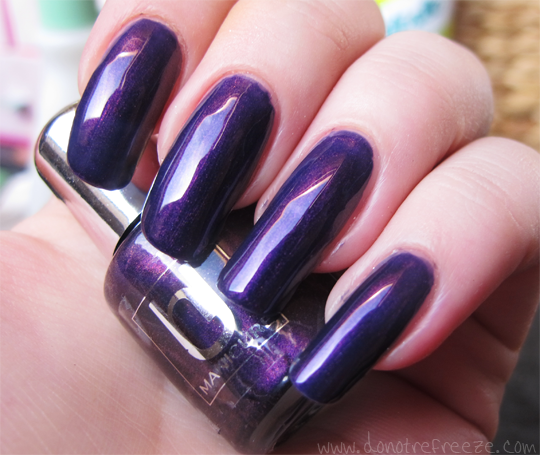 Tinsel is a gorgeous shimmering purple. This is totally my kind of colour, and applies very similarly to other colours of this nature – quite sheer on the first coat, but apply the second coat and BAM, glorious (hard to accurately photograph) purply goodness. The shimmer has subtle flashes of pink and red, it's a really rather pretty polish and it dried quickly.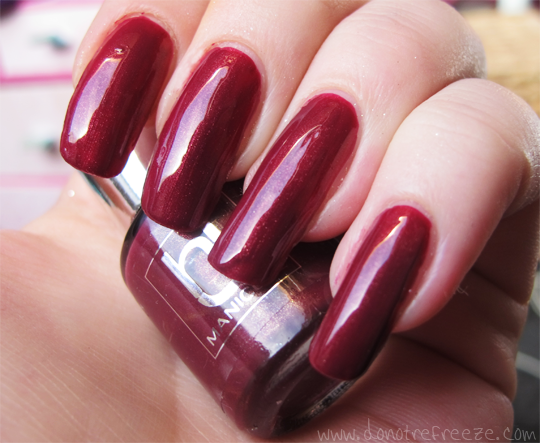 Ribbon is a warm pink with a nice amount gold shimmer through it. It's definitely very warm toned so maybe something to avoid if that doesn't play well with your skin colour, but otherwise very pretty. Like Tinsel, it dried pretty fast and the first coat was quite sheer, but the second coat makes it look like a whole different polish.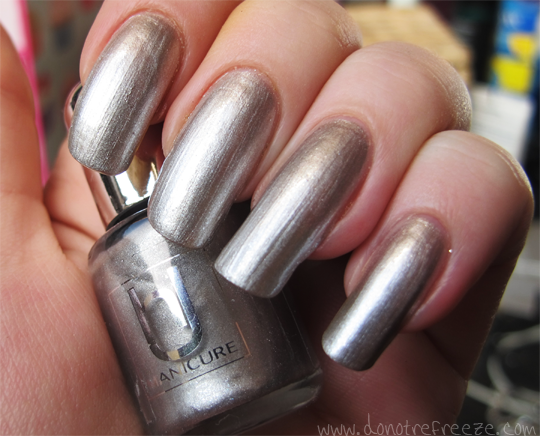 Ice. Is your standard metallic silver. Actually, not quite standard as I feel it's not as 'icy' as most silvers. It's almost sort of warm toned, do you see what I mean? It's more of what I would consider to be a platinum colour than a pure silver, but it's quite unique in my stash so that's always a good thing. I've not seen a silver quite like it. As you would expect with a metallic silver, it does leave brush strokes but these can be minimised with careful application.
Overall, nice colours and nice formulas but not anything that had me bouncing in my chair with excitement. I still love the idea of the choice between full size or mini bottles, although I must say that I REALLY didn't like the bottles for the mini sizes. The bottles feel and look cheap and nasty. This isn't reflective of the products inside, which are actually pretty good, and I know that the bottle shouldn't matter really but it feels a bit of a shame to put such nice polish in crap bottles.
In better news for packaging, you can order a luxury gift box for £3.50 (seen above) to house the polishes in if you're giving them as a gift, which looks MUCH nicer than the actual bottles.
HJ Manicure polishes cost £9.50 for 15ml or £4.50 for 5ml.
Have you tried any indie polish brands before? Anything I should check out? How about HJ Manicure – anything taking your fancy?