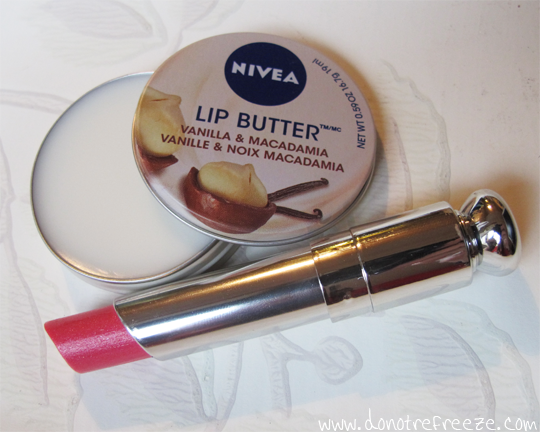 So, how are you planning to celebrate the New Year? For the last few years I haven't done an awful lot to celebrate it – in fact, for the last 2 years I've been struck down with a dreaded post-Christmas cold and haven't felt up to much at all! I think we'll be keeping it pretty low key tomorrow as well, maybe just a couple of drinks at our local and watching the fireworks from our window (there's always something good to see!).

Nivea are celebrating in a different way – attempting to break a world record with the longest kissing chain on Twitter. What exactly is a kissing chain? Well, you'll have to follow @NiveaUK to find out and be a part of it!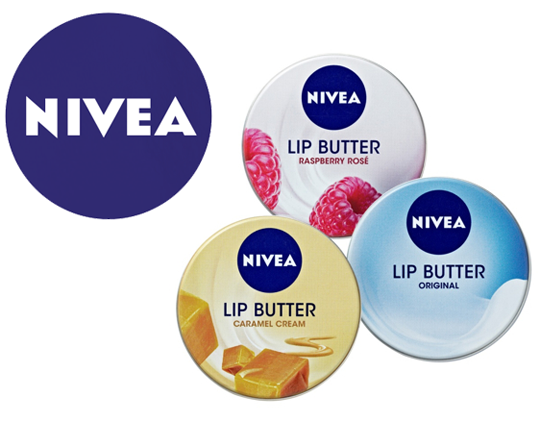 Now, it goes without saying that kissing is no fun at all with nasty dry lips, which is something that many of us suffer from in the cold winter months. You can keep that pesky flakiness at bay with Nivea's Lip Butters – containing their own unique and innovative ingredient Hydra IQ which supports the skin's own water channels to enhance natural moisturisation. Add that to those classic hero ingredients Shea Butter and Almond Oil and you've got yourself a winning formula that promises to provide intensive, long lasting moisture.
I picked up the Vanilla & Macadamia flavour in Boots quite some weeks ago and I've been LOVING it – I generally prefer to use stick lip balms when out and about during the day but this has been my favourite bedtime balm as it never fails to leave my lips feeling smooth and soft when I wake up the next morning. With a hugely generous 16.7g of product in one cute little tin, it's fantastic value too.
Nivea Lip Butters sink into the lips pretty quickly, which makes them the ideal lip prep product to slather on before you start doing your makeup. By the time you get round to applying your lipstick at the end, your lips will be perfectly soft and supple without a flake in sight to spoil your favourite lipstick. Which lippie will you be wearing tomorrow night?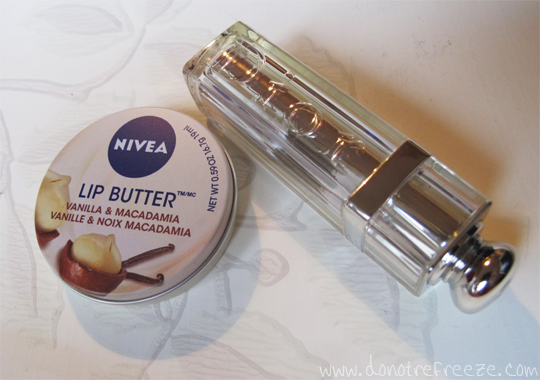 As I said, my celebration tomorrow will be pretty chilled out so I'm not going to go mad with my eye makeup. Probably a light neutral matte eye, some winged black liner and of course, the star of the show will be the lipstick. I'm thinking Dior's Addict lipstick in Paris will be perfect – one of my favourites for its gorgeously flattering pink shade and glossy finish. And of course, having used my Nivea Lip Butter to prep my lips beforehand means I'll be safe in the knowledge that Colin won't have to suffer any gross dryness when the clock strikes 12!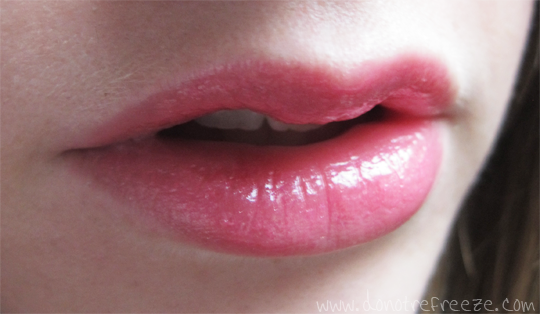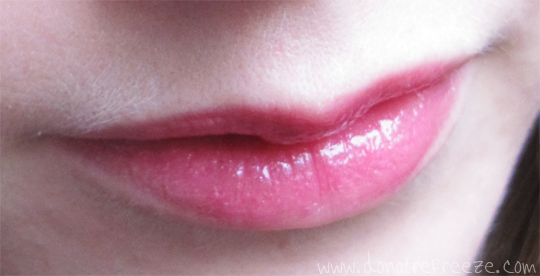 Nivea have kindly offered Do Not Refreeze readers the chance to win a set of their very own Lip Butters – take a look at the Rafflecopter widget below and don't forget to keep an eye on the @NiveaUK Twitter page tomorrow to be part of that record breaking Twitter kissing chain!

a Rafflecopter giveaway
So tell me – who would you #DareToKiss on New Year's Eve? How are you celebrating, which lipstick will you be wearing? Comment below or tweet me (@donotrefreeze) with the #DareToKiss hashtag and let me know!
Sponsored post – the Nivea Lip Butter and Dior lipstick were bought with my own money. Giveaway is UK only, sorry!