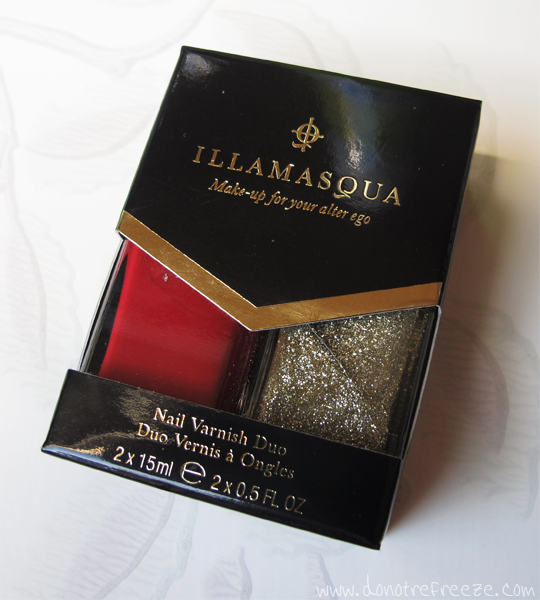 You know how much I love Illamasqua. Favourite brand FOR REAL, guys. So it was pretty much inevitable that I'd love all the offerings in their Christmas gift shop. I was very kindly sent this gorgeous Nail Duo in Throb & Spartan*; both luckily and surprisingly I didn't already own the two shades so this is a very welcome addition to my collection!
I'm generally not a huge fan of red cremes as I feel they don't really suit me and they are always SUCH a pain to remove – they stain my fingers like no one's business and frankly I think there's much more interesting colours out there that are worth a painful removal over a red creme. Throb is a little less hardcore than your basic pillarbox red creme though, I find it a bit dusty and muted by comparison to a primary red, but this works excellently when teamed with Spartan! Spartan is quite an opaque gold glitter gold glitter – it's not common to find a glitter in a clear base that can be opaque in two coats but Spartan is one of them. In fact it's so opaque that it was quite a challenge to sponge it onto the tips of my nails without it becoming too dense!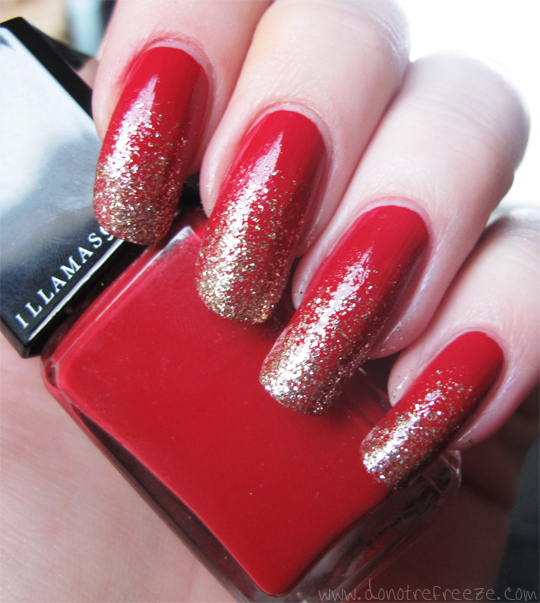 I really like these two polishes paired together, it's definitely a Christmassy look! I'm dying to get my hands on the Viridian & Glitterati Duo next – I already have Viridian but Glitterati is brand new and I feel like I need to get it in case it's never available again! Sad, much? The Blush Duo in Lover & Hussy is also gorgeous but alas, I already have Hussy! What are you loving from Illamasqua's Christmas shop?
Illamasqua Christmas nail duos cost £24 and are available online, at Illamasqua counters and in freestanding stores.