Regretfully, we finally come to the end of the Models Own Mirrorball series! You can see reviews of the other Mirrorball polishes here: Boogie Nights, Hot Stuff, Freak Out and Dancing Queen. For now, say hello to Disco Inferno!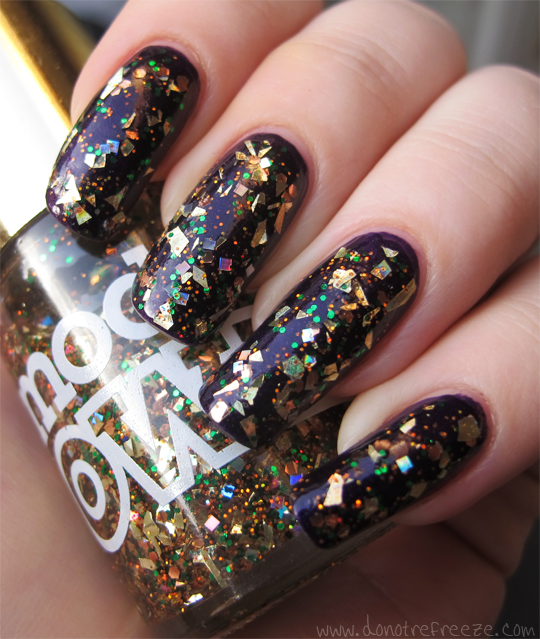 So, we've seen quite some variation among the Mirrorball polishes with how easily (or not) they apply. The fact that there's so many elements to these polishes means some – particularly Boogie Nights and Hot Stuff – are quite the pain in the arse to apply evenly. Some of them are easier – like Dancing Queen – and luckily Disco Inferno falls into that category. Again, I think it's because the holographic shards are a fair bit smaller so they lay better and are easier to brush on rather than 'dab' on.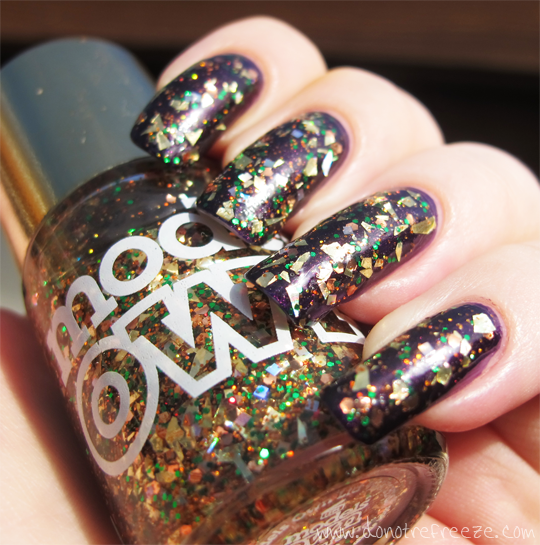 In terms of the 'ingredients', we have holographic gold shards, small gold squares, small orange hex glitters, smaller green hex glitters and teeny tiny orange hex glitters. I chose to wear it over Illamasqua Baptiste, a deep purple shimmer which I think really complements the colours of the glitters. I like the colours in here a lot – I actually thought this one was going to be my least favourite but now I've tried them all, I like it a lot.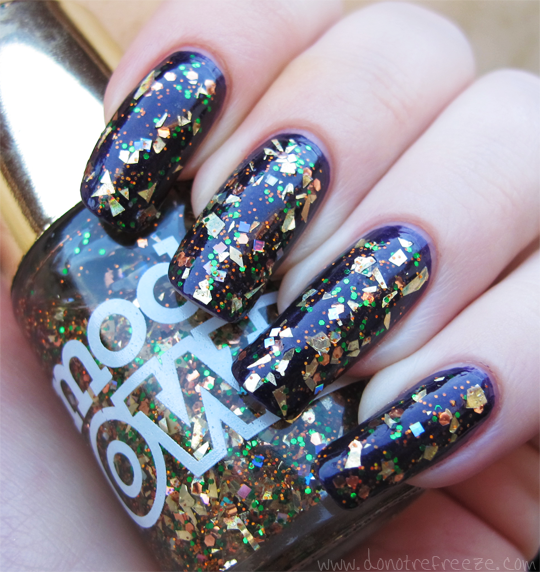 I don't think I could put them in an order one to five, but I can safely say that my favourite Mirrorballs are definitely Boogie Nights and Dancing Queen. I'd be interested to hear what yours are!
Overall, I think the Models Own Mirrorball collection has to be one of the best nail polish collections to be released this year – and most certainly THE best one from a British brand. If you haven't got any of them yet, then I highly recommend doing so – in fact, sod it, get them all! They're a seriously cool addition to any polish collection.
Models Own nail polishes cost £5 each, available online, in Boots stores and at the Models Own Bottle Shop at Westfield Shepherds Bush. They are also available in a box set (with a 3 in 1 clear polish) online and at the Bottle Shop for a bargainous £20.
Huge high five to Models Own for an awesome collection!