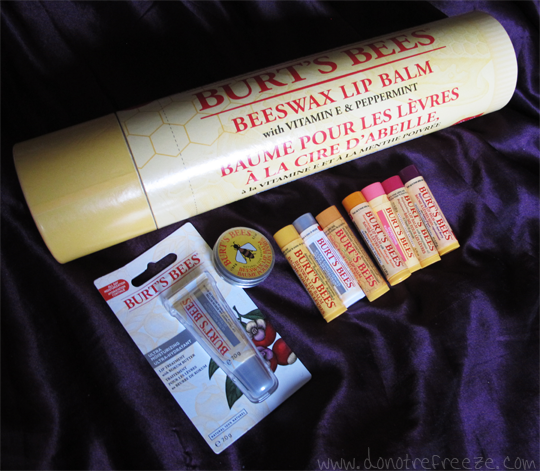 On more than one occasion (more like fifty million), I have professed my undying love for Burt's Bees lip balms. They are my absolute favourite, and I know I'm not the only one who is obsessed by lip balm – so this frankly amazing gigantic Limited Edition Lip Balm Tube* would make the perfect Christmas gift for anyone of a similar persuasion!
This whacking great cardboard tube (a massively scaled up version of the original Beeswax lip balm tube) is filled with almost every lip balm that Burt's Bees make – 9 products in total, with a total saving of nearly a tenner. It's pretty fantastic – it'll give you enough products to make sure you have a lip balm in every bag, on your bedside table and on your desk at work so you never have an excuse for dry, chapped lips. Especially helpful in the biting winter weather! So what's in there?
:: Original Beeswax Lip Balm Tube – This is Burt's Bees most popular product for a reason. It's loaded with coconut and sunflower oils along with good ol' beeswax to lock in all that moisture, with a cheeky hit of peppermint oil for a touch of a tingle. I love using this one just after brushing my teeth for extra minty freshness!
:: Original Beeswax Lip Balm Tin – Exactly the same formula as above, just in a tin rather than a tube. Personally I prefer tubes of balm because of my long nails, but I've been a fan of this one for quite some time as a cuticle balm. Give it a try!
:: Honey Lip Balm – This is the ultimate choice for those with a sweet tooth thanks to the inclusion of real honey (and shea butter, and cocoa butter, and almond oil…). It doesn't have all that much of a flavour but the distinctive honey scent is delicious.
:: Rejuvenating Acai Berry Lip Balm – Acai berry is hailed as a Superfruit, packed with antioxidants to fight free radicals and vitamins A, C, B and E. It's a rich, sweet scent (with a hint of flavour) that's not too dissimilar to blackcurrant. Lush!
:: Nourishing Mango Butter Lip Balm – Another fruity delight, this time with deliciously sweet mango butter. It definitely reminds me of summer, which is always welcome in this crapola weather.
:: Replenishing Pomegranate Lip Balm – You KNOW that this is my all time favourite. I've mentioned it several times, and I've also mentioned more than once that I bought TEN backups of this when I was in America last year (it's cheaper there!). The pomegranate scent has an almost herbal undertone, I just love this SO much and can never get enough of it. You NEED this.
:: Refreshing Pink Grapefruit Lip Balm – This is another super summery one thanks to it's seriously citrussy scent. It almost smells juicy, if you get what I mean, it's gorgeous. There's plenty of vitamins C and E too thanks to the tropical Pink Grapfruit Seed oil in there.
:: Ultra Conditioning Kokum Butter Lip Balm – This one's something pretty special. No special flavours or fragrances (which makes it hypoallergenic), but it's clinically proven to give 4 hours of moisturisation with one application. There's more butters and less wax in here than the other ones, so it's super hydrating. I usually apply lip balm constantly throughout the day – this one recently became my balm of choice for my work desk and I find myself needing to slap it on far less often. It's amazing!
:: Ultra Moisturising Lip Treatment – This is the one in the cute little squeeze tube. From what I can tell, it's pretty much the same as the Kokum Butter one above but in a squeeze tube instead. I often use this one at bedtime for serious overnight hydration.
So yeah, as you can probably tell, I absolutely LOVE this. I would be over the moon at receiving this as a gift so it's definitely one to keep in mind. The price is great too, at £24.99 for a whopping 9 products. It has a value of £34.51 so it's a nice saving for sure. It's also a great way to get them all for yourself too, if you're a big Burt's Bees fan too! It's available online from the Burt's Bees website. Don't miss it!