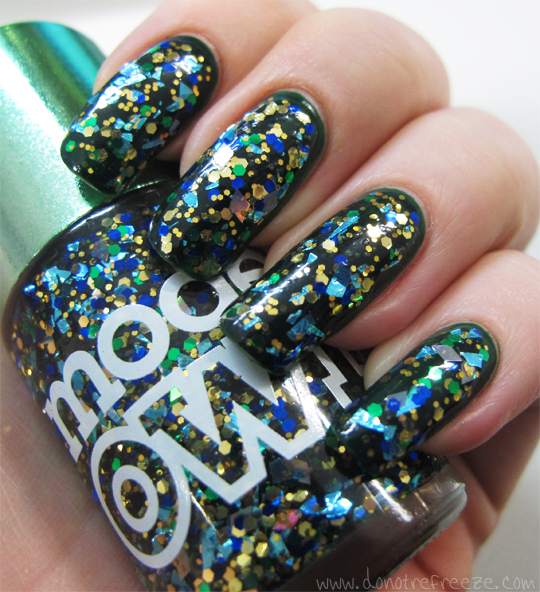 BAM! Say hello to the return of the Models Own Mirrorball series!
I have previously posted about Boogie Nights, Hot Stuff and Freak Out – so be sure to check those out.
In these photos, I'm wearing two coats of Models Own Dancing Queen over two coats of Illamasqua Rampage. I LOVE this look! I initially thought that Dancing Queen would be quite Christmassy – which it is – but the blue pieces in it keep it from being a polish that only feels right to wear at that time of year.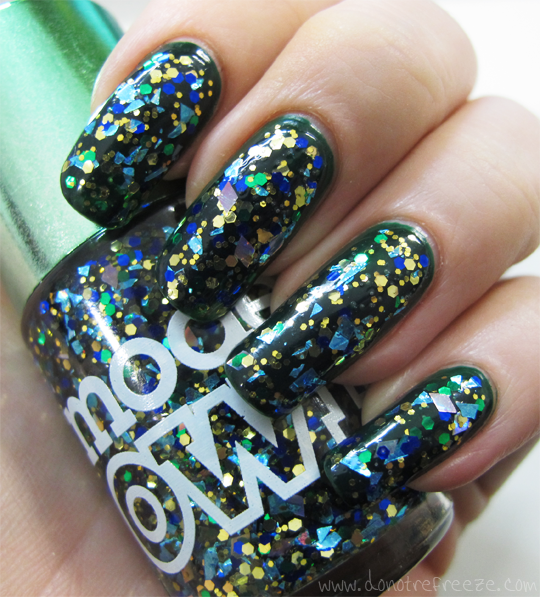 In terms of contents, the Mirrorball trademark holographic shards are a light blue colour, but I did notice these shards are smaller than the shards in the other shades I've tried. There's some holographic silver diamonds, green hex glitters, gold hex glitters and some teeny tiny gold hex glitters. I REALLY like the way this looks on the nail.
In terms of application, this one has to be my favourite so far. It was SO easy to apply – much less dabbing required than with the other shades, it painted on relatively well with a good distribution of the different pieces, and it lays much nicer on the nail than the other shade do. If I run my fingers over the surface of my nails, I can only feel one piece sticking up on one of the nails which is insane in comparison to the others. I think this is down to the fact that the holographic shards are smaller, as these were the problematic pieces in the other colours. Because they're smaller, they're easier to conform to the curve of your nail.
All in all, LOVE this. Whilst I still like the appearance of Boogie Nights the best, the application of this one is on top. Also, I am a MASSIVE Abba fan. And what?
Four down, one to go!