WHERE HAS THE YEAR GONE?! Literally can't believe it's November already. Remember when you were tiny and your next birthday/Christmas used to feel like it took about a million years to come around? *sigh*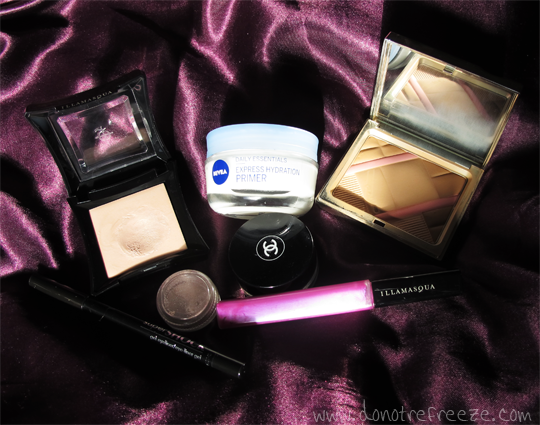 Avon Supershock Gel Pencil* – Can't get over how much I love this. Black pencil is probably the single most essential item in my routine; I can't go a day without lining my waterline with black. I can't be dealing with pencils that don't show up well on the waterline, ones that do show up but fade after an hour, ones that are hard and scratchy… luckily, this is none of those things. It's SO soft, it's the blackest of blacks and lasts for hours (the only thing that can outlast it is a Clarins pencil, but that's limited edition and £20). I also love smudging it along my upper lashline for a smokey liner. For £6, this is an absolute steal and you NEED it.
Chanel Illusion D'Ombres Mirifique – My babe Kim gave me a Selfridges gift card for my birthday this year (Thanks! ♥) and I'd been toying with the idea of getting one of the Illusion D'Ombres for a while, so what I'd spend it on was a no-brainer really. I went for the shade Mirifique, a massively pigmented black packed to the rafters with silver sparkle. It makes an absolutely insane smokey eye by itself, but I also love to use it as a smudged out liner with a ton of sparkle. Not an everyday colour even by my standards, and not an everyday price point either (£23) but highly recommended as a payday treat!
Clarins Ombre Minerale Face Palette* – I'm really pleased I got the opportunity to try this as I probably never would have chosen it for myself, especially since it's £30. As it turns out, I love it! At first glace the colours appear to be ones that wouldn't particularly suit me but whilst pigmented, it's quite subtle. I love to use it as a bronzer, or sometimes with a more precise application as a contour. I've used this pretty much every day since I got it in mid-August so it's safe to say I'm a big fan. It's limited edition though, so if you want it you'd better snap it up quickly.
Fyrinnae Te Amo eyeshadow – This is so beautiful! I really do love Fyrinnae's eyeshadows but I don't use them as often as I should since loose powders just don't offer the convenience I need on an everyday basis. I've been trying to make an effort to use the ones I have though, and this one makes a subtle but unusual everyday lid colour. I'm not sure how I'd describe the colour, I guess it's a light plum-gold duchrome? I don't even know, but I do know that it's stunning.
Nivea Express Hydration Primer* – I spoke about this quite recently so I won't repeat myself too much, but please do refer to the full review because this stuff is insanely good. If, like me, you're not a fan of silicone based primers you must check this one out.
Illamasqua Gleam in Aurora – Again, I spoke about this just a few days ago but I'll reiterate – this is my most favourite highlighter EVER. The formula is beautiful to work with and it will flatter absolutely every skintone. If you only had £18 left in the entire world, I would urge you to buy this instead of food and a lottery ticket. It's that good.
Illamasqua Boost lipgloss* – Not generally a fan of lipgloss, in fact I don't wear a lot of lip products in general but lipgloss has always been a bit of a bastard for me because I can't be dealing with my hair getting stuck in it. Worst, thing, EVER. I do make a special exception for this though, as it's so unusual and so beautiful. A purple-ish magenta with blue duochrome (yes, blue) – it's a headturner, in a good way. My teeth are pretty yellow (thank you, tea and nicotine addictions) and you'd expect a colour like this to amplify that tenfold, but luckily it doesn't. It doesn't make them look any whiter mind you, just no more yellow. And that's a good thing in my book.

Clarins Ombre Mineral face palette (all colours swirled together), Illamasqua Aurora, Fyrinnae Te Amo, Chanel Mirifique, Avon Supershock pencil, Illamasqua Boost
So what have you been loving lately?