You learn something new every day, don't you? For example, as stupid as this might seem, before September's London Fashion Week, I had NO idea that UGG made boots other than those frankly fugly (but admittedly cozy looking) Classics and Baileys etc.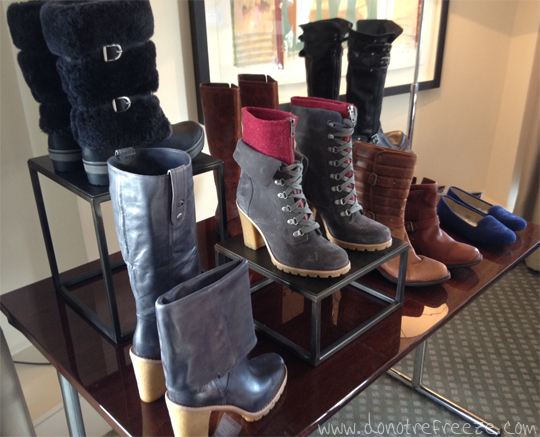 I'm all for comfortable footwear, but it has to look nice too. I bought a pair of boots from Primark earlier in the year for £18 – everyone's got them, you know, the ankle boots with a little heel and studs all over the back? I've been wearing them to death because they're gorgeous and they are SO comfortable. But I never wanted a pair of Classic UGGs because I think they're so, SO ugly. They look okay if you've got skinny little matchstick legs but if you're a chunky monkey like me, they just make your legs look short and fat and gross.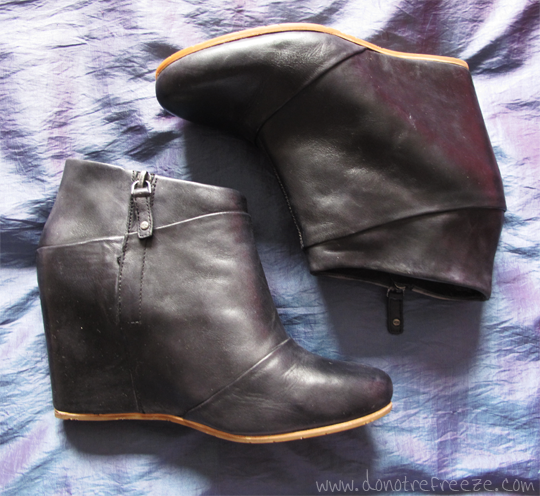 Anyway, imagine my surprise when I was introduced to a beautiful range of footwear by UGG when they visited the Handpicked Media suite at LFW! I was lucky enough to waltz off in a brand new pair of Carmine boots* – these killer ankle wedges have a 3.5 inch heel and go with absolutely everything. They cost more than I've ever spent on one pair of shoes before, but they're so worth it because the quality and craftsmanship is outstanding and, like I said, they go with everything so I get plenty of wear out of them. The first time I wore them, I thought my feet were going to fall off (despite the snug signature sheepskin insole). This was because the heel is really quite steep and I'm not usually used to wearing heels, especially not so high, so I wasn't used to that much pressure being on the balls of my feet. I picked a day involving lots of walking too, which wasn't the most sensible thing to do with boots that hadn't been broken in but I soon got used to them and they don't hurt at all now. I shouldn't imagine that you'd have any problems even on the first wear if you're used to wearing heels. The Carmine boot comes highly recommended from me!
The minute I walked into the suite that fateful day in September, the Fabrice boot caught my eye. Since then, I have slowly but surely fallen in love with them. I've been perving at them on the UGG site at least a few times a week. I am absolutely in real, proper, passionate love with the Fabrice. I love the utility style of these, and the whacking great 4 inch heel. Despite their height I think they're perfect winter boots thanks to their thick rubber tread – no danger of slipping over on soggy leaves or icy patches! I'm also loving the double layer collar, so you can fold the outer layer down to show off that gorgeous burgundy red layer. Ugghh I just love them – and whilst I haven't got £200 to drop on them right this minute, I suppose I could ask old Father Christmas very, very nicely…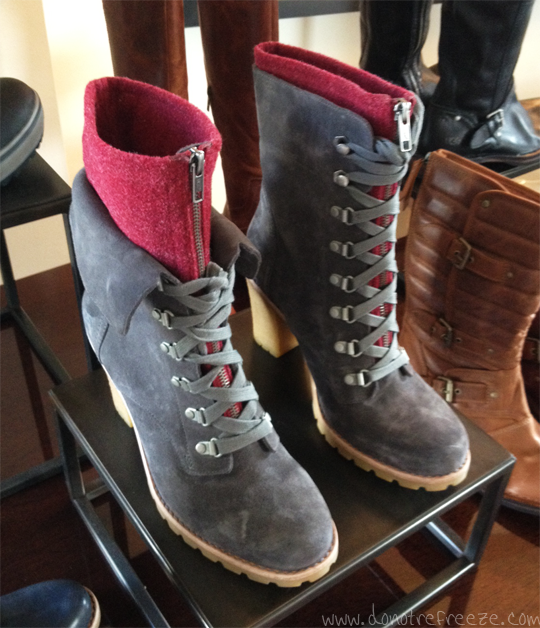 What footwear are you loving this season? Anything from UGG's new arrivals catching your eye?