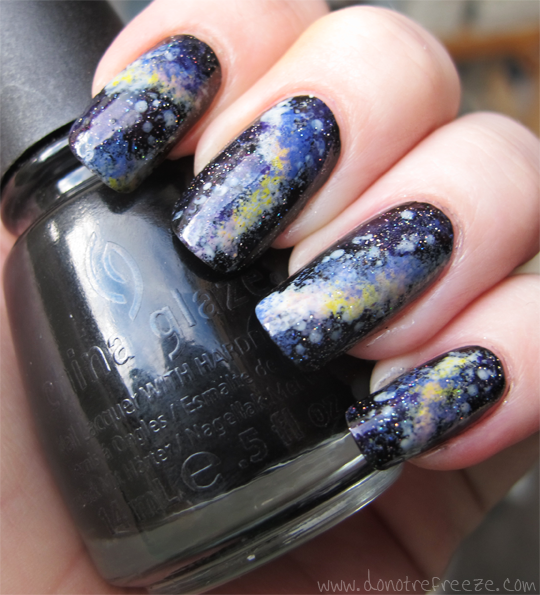 Galaxy nails are something I've been intending to do FOREVER. I'd just always put it off because it looked complicated and intricate. I am now kicking myself for having taken this long to try it, because as it turns out the real beauty of it is its sheer simplicity! It's surprisingly quick to do as well, I think it took me about 30 minutes for both hands start to finish.
If you want to try out galaxy nails for yourself, start off by gathering the following bits and pieces together:
Clear base coat
Fast drying topcoat
Black creme polish
White or off white creme polish
Yellow creme polish
Muted pink creme polish
Medium blue creme polish
Deep purple shimmer polish
Holographic or glitter topcoat
Small piece of kitchen sponge
Tweezers
Dotting tool or cocktail stick
Clean up materials (e.g. angled brush and acetone)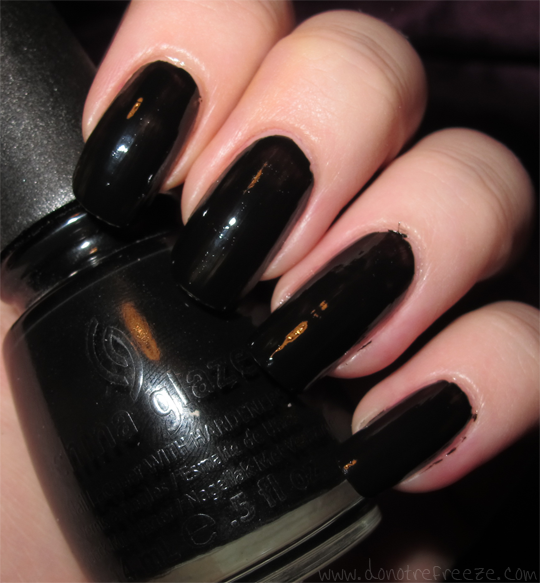 So, first thing first: apply your clear base coat and paint your nails with your black base colour (China Glaze Liquid Leather). Wait for this to dry before creating your galaxy – speed it up with a fast drying topcoat if you want.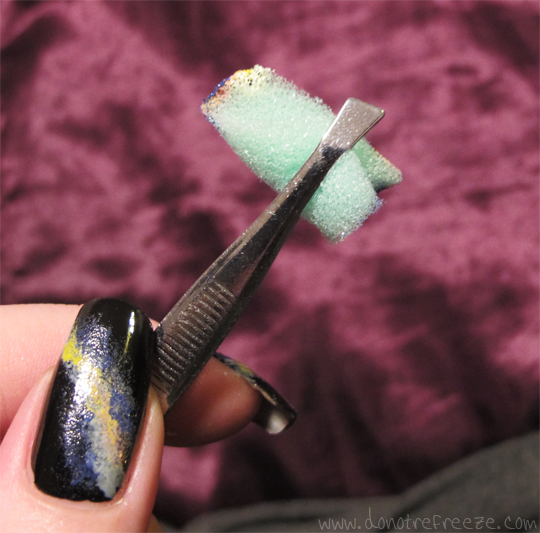 Once the black base is dry, get your small piece of kitchen sponge and wedge it between the arms of a pair of tweezers. This will save your painted nails from getting the spongey smudges you would if you held it directly.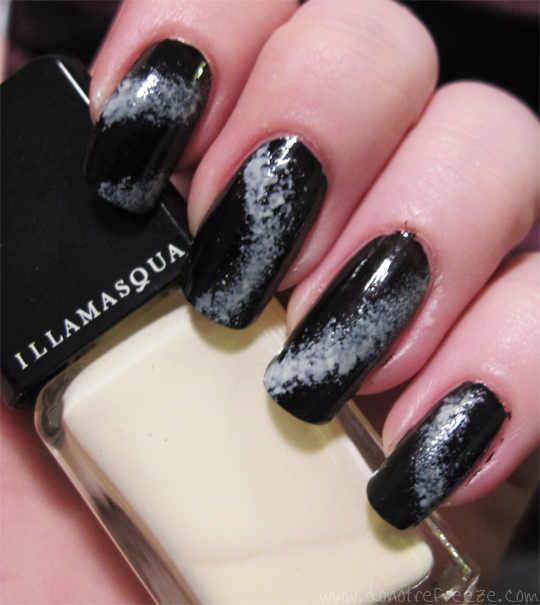 The shapes of your galaxies are entirely up to you, but varying it across the nails gives it a more organic look. Take your white or off white polish (Illamasqua Load*) and apply a drop to a piece of paper. Dip your sponge piece in the polish and sponge on the basic shape of each galaxy across all of your nails.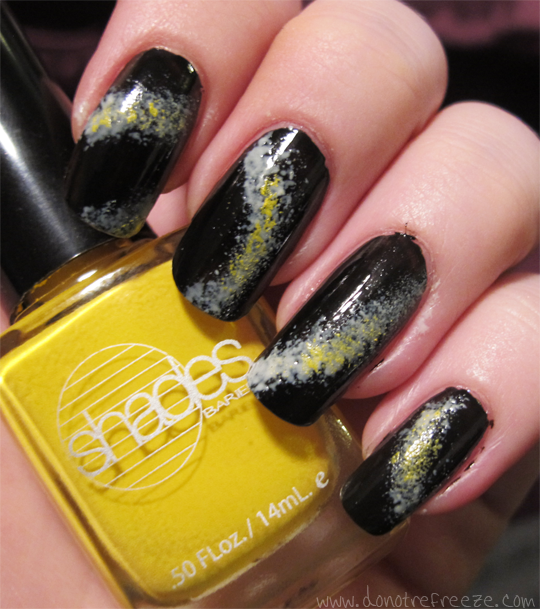 Do the same with your yellow polish (Barielle Lemon Drop). The next few steps are mostly a repeat of the previous one, but you don't want to be applying each of the following colours right over where you applied the white – be selective, keep each colour near the centre of the galaxy, overlap the edges, etc. You can continue to use the same piece of sponge throughout this design as it helps the colours meld together nicely.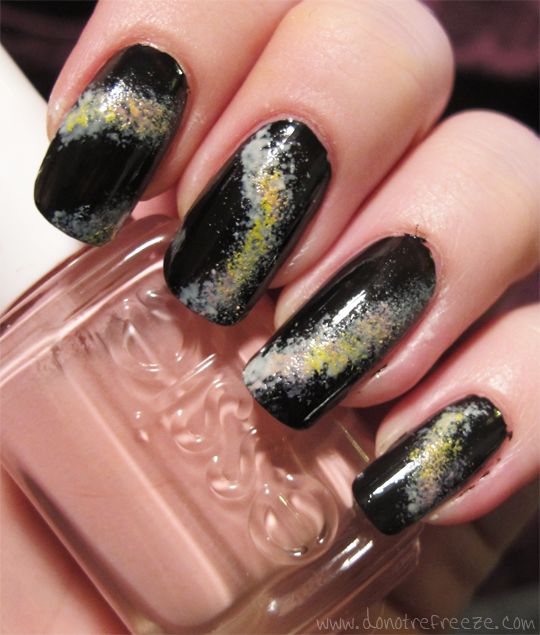 Add a little muted pink… (Essie Flawless, the bottle is totally colour inaccurate in this photo!)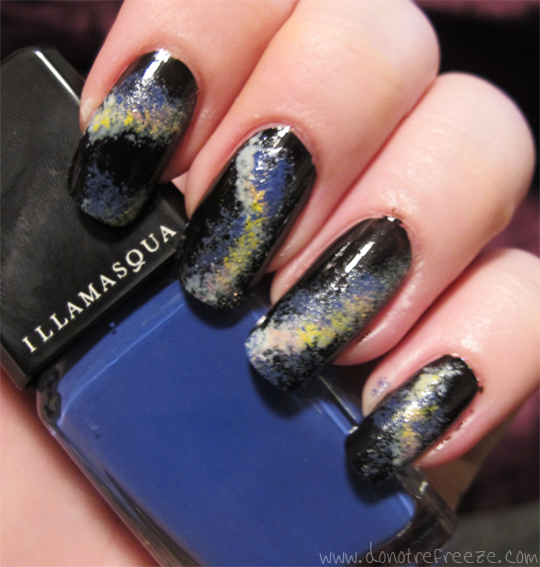 Add a little medium blue… (Illamasqua Force)
At this point, I felt that the galaxies were standing out a little too starkly against the plain black background so I sponged some deep shimmery purple (Illamasqua Baptiste) over the black areas.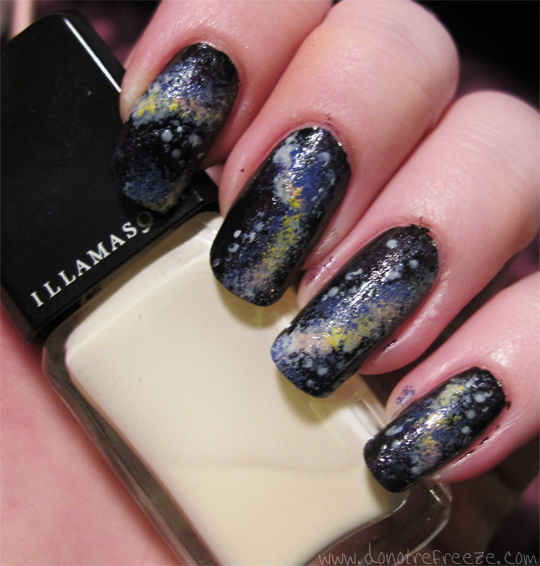 Take the white/off white polish again and a dotting tool (or cocktail stick if you don't have one). Apply some dots of this near the edges of your galaxies – dot it on to each nail rapidly, and just use as much polish as you have on your tool without re-dipping it in polish. You don't want them to be perfectly round, opaque dots, because stars aren't perfect!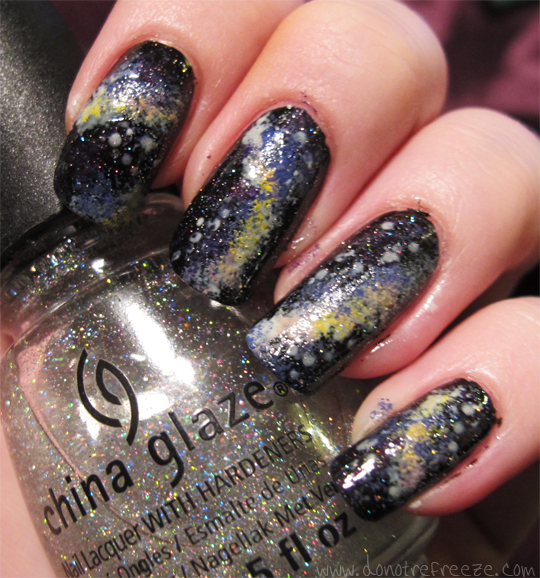 Use your holographic or glittery topcoat over the black areas of the nail only – avoid the galaxies! Now all that's left is to finish with a quick-drying topcoat and to clean up the messy edges. Et voila! Galaxy nails!
See! How easy is that?! Told you so.
Will you be giving this a go?