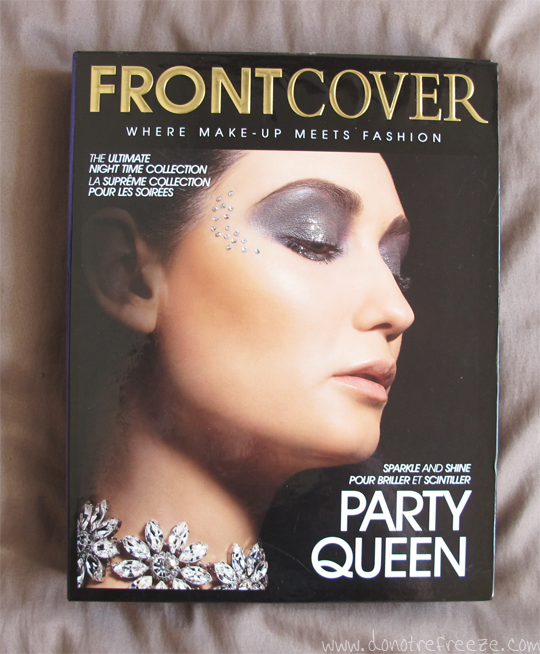 Life is about the little things, and I'm sure we all have little things about Christmas that make us super excited. One of my favourite things about Christmas is the arrival of Frontcover's Autumn winter collection – although I would always just admire from afar until Boxing Day, and then buy all the ones I wanted at half price from Boots! Sadly, that's not going to happen this year since Frontcover is no longer sold in Boots (that's a story for another day, which I will definitely be telling!). If you want to get your hands on any of Frontcover's kits this year – and let's face it, you probably will because there's some absolute crackers – you can get them directly from Frontcover online, through QVC and from Sephora, if you're lucky enough to live in a country in which Sephora exists!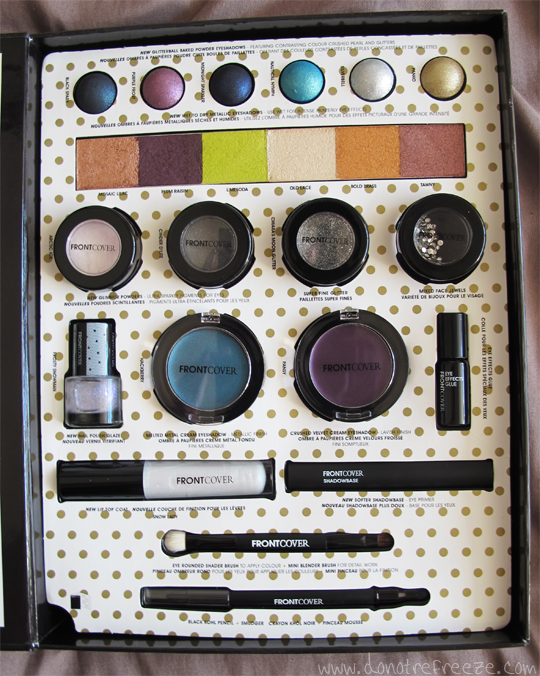 Anyway, less rambling – for the last couple of weeks I've been playing with the Party Queen kit* (£35) and I just have to share it with you. Having seen all of this year's kits, this one is hands down my favourite and if you're into your eye makeup like me, you'll love it too!
As always, the back and inside cover of the box are packed with ideas and inspiration straight from the catwalk trends that the kit was created around. But I'm more interested in the lovely products on the inside!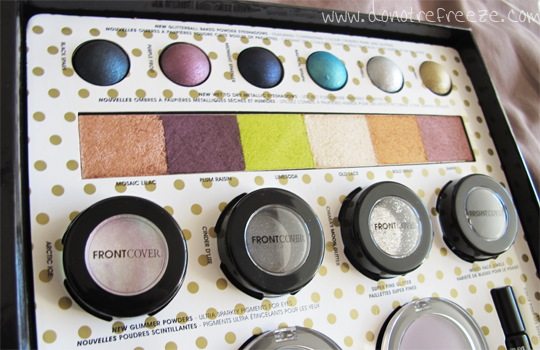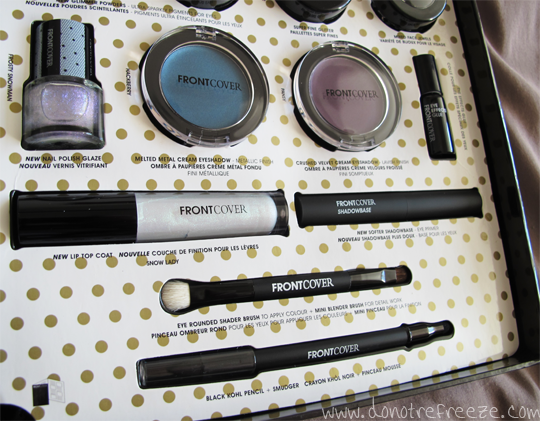 Let's work from top to bottom. The top row of shadows are called Glitterball Baked Powder Eyeshadows – and fortunately we can get these out of the way first. I've never been a particularly big fan of baked eyeshadows as I find them so dry and I really don't like to apply things wet if I can help it. Below you can see them swatched dry over Frontcover Shadowbase, but the pigmentation isn't much improved when applied wet. If you like baked eyeshadows – and glitter, it's important that you like glitter! – you'll probably get on just fine with these, but I find that baked eyeshadows in general just take too much work to get a decent colour payoff.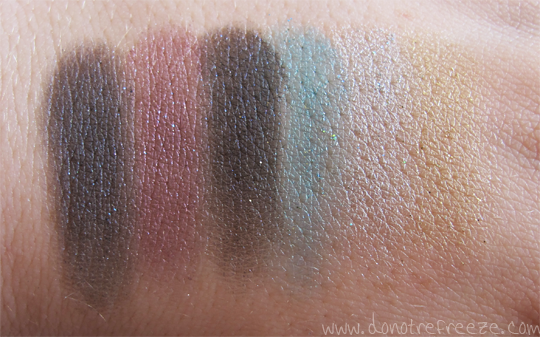 Glitterball Baked Powder Eyeshadows L-R: Black Spark, Purple Frost, Midnight Sparkler, Nautical Nymph, Silverbell, Panko
The second row of shadows is MUCH more like it! They are Wet to Dry metallic eyeshadows, but honestly their formula and pigment is good enough that you shouldn't need to use them wet. Very buttery soft and easily blendable – I like these a lot. Loving all the colours too; although I'm a little wary of Lime Soda!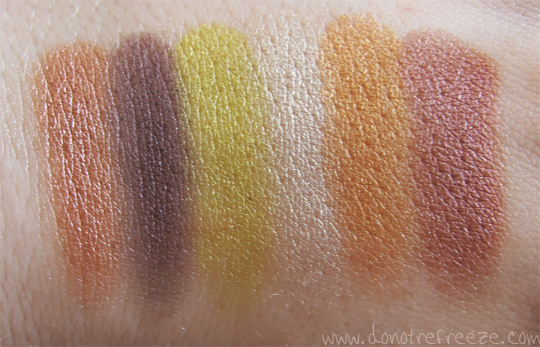 Wet to Dry Metallic Eyeshadows L-R: Mosaic Lilac, Plum Raisin, Lime Soda, Old Lace, Bold Brass, Tawny
If you're not a fan of glitter and shimmer, you should probably steer well clear of the Party Queen kit. On the next row down are 4 pots of glittery loveliness, not for the faint of heart. The two Glimmer powders are lovely, with stunning duochrome, one light and one dark. An absolute delight to pat over your eyeshadow look for that finishing touch of Christmas sparkle! The third pot is a full on sparkly silver glitter – a little gritty feeling in comparison to the Glimmer Powders but super festive nonetheless. In the fourth pot is a handful of sparkly diamantes, just in case you're feeling really brave!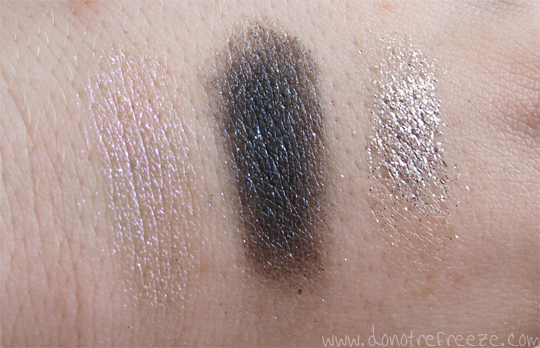 Glimmer Powders L-R: Artic Ice, Cinder D'Lite. Super Fine Glitter: Chiaras Moon Glitter
Ahh, the next bits are the stars of the show for me. Cream eyeshadows! These are absolutely BEAUTIFUL, so so ridiculously pigmented and they honestly don't crease for hours and hours. They make the absolute perfect base for the powder shadows in the palette. The feel of them is much drier to the touch than other cream shadows, it almost feels like suede but it glides onto the lids like an absolute dream.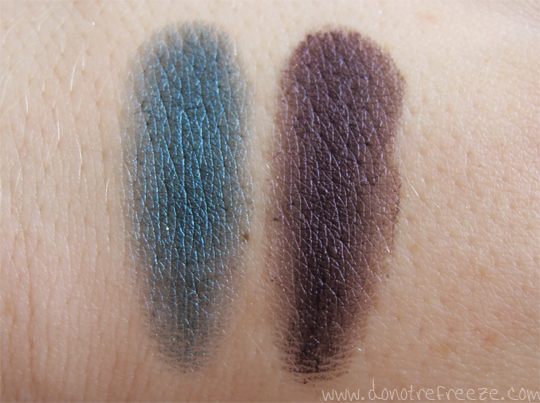 Melted Metal Cream Eyeshadow in Hackberry, Crushed Velvet Cream Eyeshadow in Pansy
Also included in the kit is some lash glue to affix the diamantes, Frontcover's famous eye primer Shadowbase, a double ended shadow brush, a black kohl pencil with a smudger on the end, a shimmery duochrome nail polish topcoat and a duochrome lipgloss. Phew! As you can see, you're getting an awful lot for your £35 but if you're into your eye makeup, I would definitely recommend.
My only slight gripe with Frontcover is the packaging – I love it and all that, but it's always big and a little cumbersome. I wish I could take the shadows out and put them in my own palettes as I'd be much more likely to use them regularly. Luckily the cream shadows are removeable, so I've taken them out to make sure I get tons of use out of them because they are gorgeous
For the below look, I used the dark purple Pansy cream shadow as a base and applied Purple Frost on top. I also added a bit of Nautical Nymph, and I also wore that on the lower lashline. I used Old Lace on the inner corner, and the Glimmer Powder in Arctic Ice was patted over the top of for super sparkly shimmer. Add a bit of eyeliner and mascara, et voila!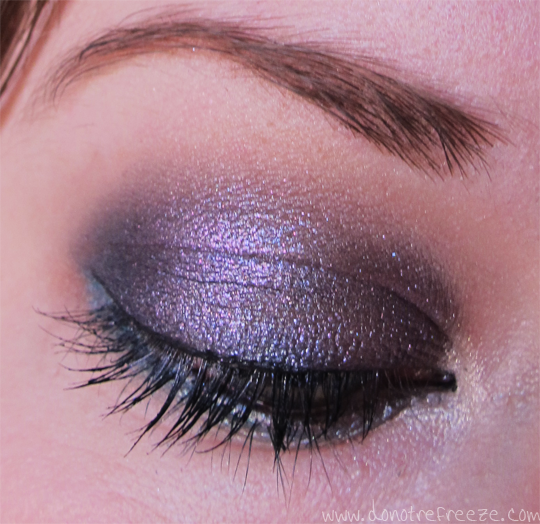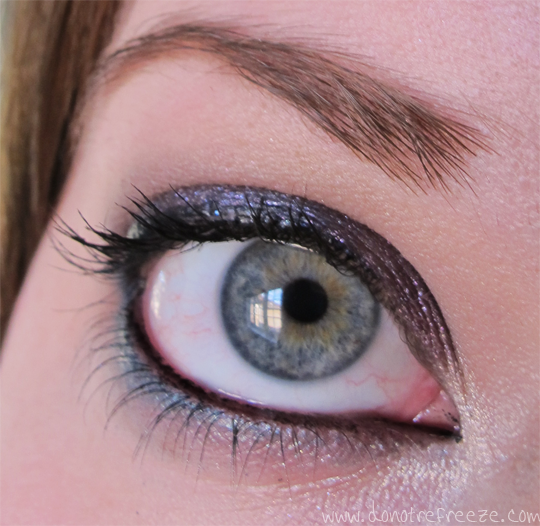 So, what do you think? Will you be picking up the Party Queen kit to get you through the festive season? P.S. Yes, I know my eyebrows need some serious seeing to! Shhh.