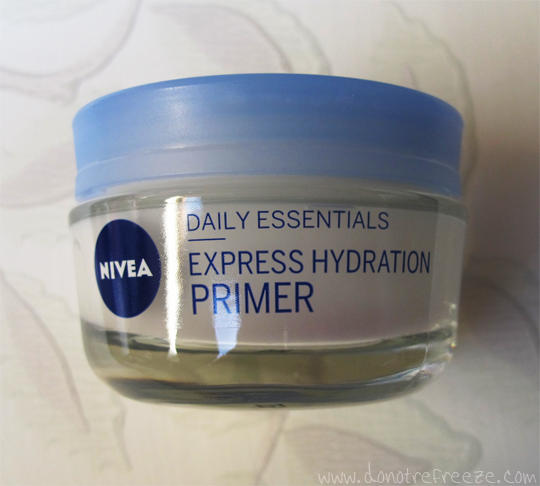 Before I tried this, I don't think I'd used any Nivea products in my life apart from the lip balms, and even those I haven't used since about 2006. I've got to say though, I'm absolutely loving this Nivea Express Hydration Primer*.
This new product is described as a gel-cream formula, which I agree with but there's no hint as to how light, cool and liquid it feels on the skin. It's so nice to use, and that's only amplified by the fresh cucumber like scent. Oh, and it's foil-sealed which is a plus in the hygiene stakes.
I hope you can get the gist of the texture of this from the pictures – it feels like a really, really lightweight moisturiser but a little goes a really long way and it sinks into the skin immediately. Even though it sinks in right away (which means you can apply your foundation over it pretty much straight away), your skin really does feel hydrated and refreshed, and just smoother and nicer, for want of a better word.
I really need to use a primer, because foundation tends to look really patchy around my nose where it gets dry, but in recent months I've developed a real dislike for silicone primers as I feel like all they do is clog my pores up so this is an absolute godsend. Silicone free, super light, and ugghh I just love it. It performs consistently well with all the foundations I've tried with it (including GOSH BB Cream, YSL Le Teint Touche Eclat, Kryolan Ultra Fluid and Illamasqua Light Liquid) – it makes application easier, it makes my base look smoother and more flawless, it makes my base last longer – there's honestly nothing not to like about it. The only slight issue I have is that it's in a pot. It's a nice pot – sturdy glass and all that – but I hate stuff in pots because it always gets under my nails. I've taken to dipping the handle end of a makeup brush into it rather than using my fingers! If it was in a tube, it would be just *perfect*.
Wanna know the best part though? It's RRP is a measly £4.99. I know, right?! I don't think I've been so enamoured with such a bargainous product in a long time. As far as I can tell, it's currently only available in Tesco and Superdrug – and Superdrug are currently selling it for £3.99 so GET IT. Seriously, get it. It's awesome.