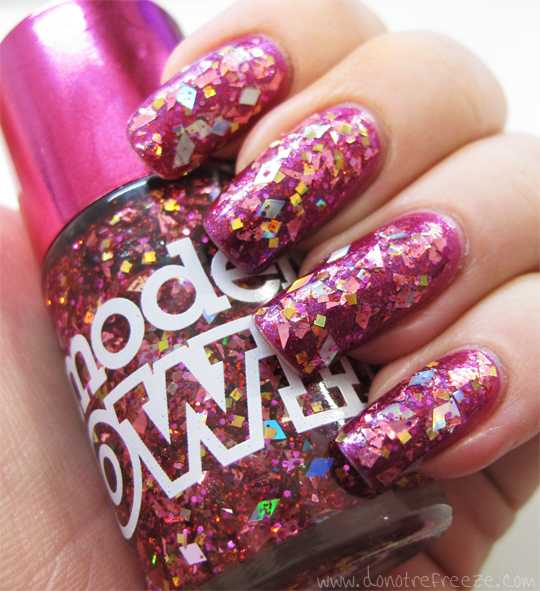 Cheeky bit of Donna Summer for you this time! I recommend hitting play on the video below and listening while you read this post ;-)
This is Hot Stuff, the second of five Models Own Mirrorball collection nail polishes. In the pictures, I'm wearing two coats of it over Color Club Ulterior Motive.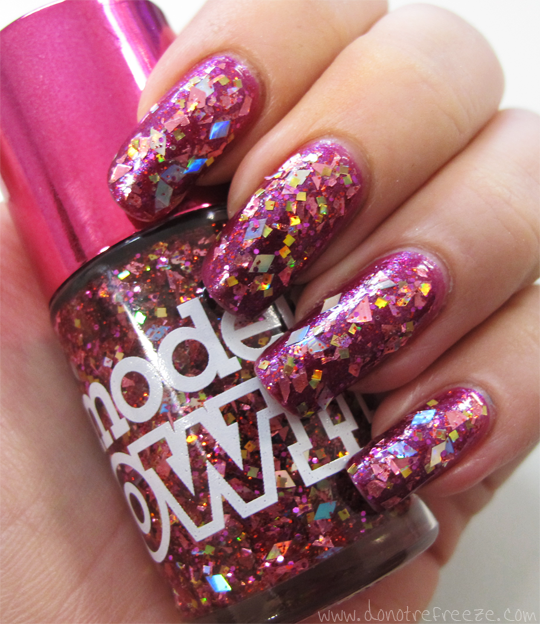 There's even more going on in this one than there is in Boogie Nights, which I posted about a couple of weeks ago. Like Boogie Nights, Hot Stuff has some randomly shaped shards of holographic glitter, but these ones are predominantly a rose gold sort of colour and they're a little smaller than the shards in Boogie Nights. Then there's some silver holographic diamond shaped pieces of glitter, which are actually bigger than the shards.
There's also some smaller square shaped pieces of gold holographic glitter, then some tiny fuchsia hex glitters, and even tinier red hex glitters. So yeah, like I said, there's a LOT going on – it did take me a little while to decipher and differentiate between all the different elements in it!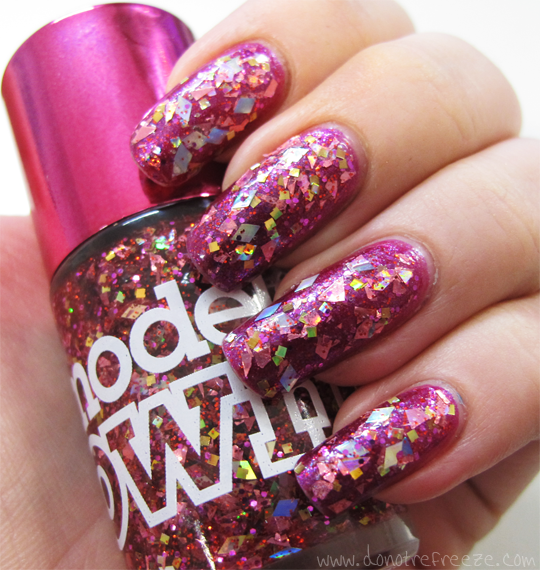 I found that Hot Stuff was a little trickier to apply than Boogie Nights – but if you're a frequent wearer of glitters and are used to having to 'dab' certain polishes to get an even distribution, you shouldn't have much trouble with this. The shards and the diamonds in particular do pose the little problem of sticking up a bit if they're at an angle where they can't lie flat, because they're stiff and won't conform to the curve of your nail. With some careful placement though, you can mostly eliminate this. It's a bit of a topcoat eater too, which Boogie Nights wasn't!
Thanks to all the different holographic pieces, this is really rainbow coloured when you look at it because the light bounces off of everything so effectively. It's really quite a sight! Very sexy stuff. Although, I have to say, I think I prefer Boogie Nights. What do you reckon?