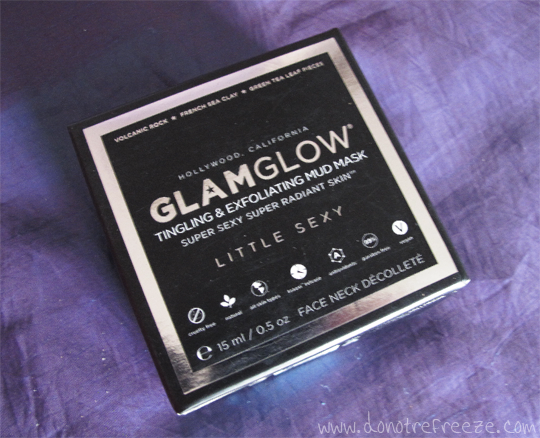 I was super excited about trying Glamglow Mud*. I'm sure you've heard of it – the Hollywood miracle, the Superman of face masks – a volcanic rock, French sea clay and green tea mask that promises a glowing complexion in 10 minutes.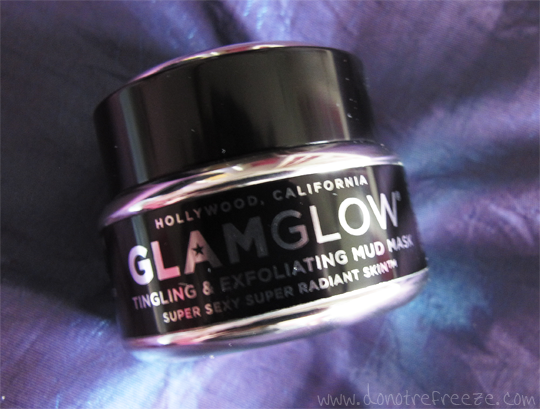 It's not cheap – the full size 50ml pot costs £50. The one I have (had!) is smaller, at £22.50 for 15ml. Glamglow say that one application is about 5ml, so you'd only get 3 uses out of the small one (aka Little Sexy) and 10 out of the larger one (aka Very Sexy) – so that's £7.50 per use on Little Sexy, and £5 on Very Sexy. I will say, I actually managed to get 5 uses out of Little Sexy. Even so, for a price like that, you want it to REALLY perform.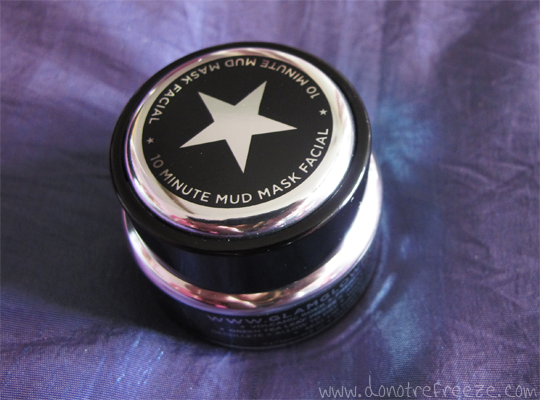 It makes some seriously bold claims. "GLAMGLOW is unique. It doesn't just take care of one skin concern, it delivers everything you need for great skin, whatever your skin type". It sounds like a long shot – I mean, that's why there are different skincare products for different skin types, because each needs to be handled differently. "GLAMGLOW delivers both instant and cumulative results and leaves your complexion revived and glowing for 3 days after each application" is an equally big claim to measure up to.
I was prepared for some tingling, since it does say 'tingling and exfoliating mud mask' on the packaging – but Blimey O'Reilly, I wasn't expecting it to hurt. The first time I tried it, it really stung my face. I don't have sensitive skin at all, so that was really quite alarming. Sheenie said it hurt her as well, but that she'd cleansed just beforehand so it could have been because her pores were open. That made sense, as I'd used my Clarisonic about half an hour before I used the mask – I probably wouldn't have done, but I forgot I was planning to try it that evening until after I'd cleansed. So, when I tried it again a few days later I didn't cleanse properly beforehand, just took my makeup off with a wipe. It stung a lot less, but it still tingled a LOT. Much less uncomfortable than the first time though – so if you try it, DO NOT cleanse before you do!
So, about its claim to address all skincare concerns. I think it's a bit of a silly claim – it can't possibly. But I was more interested in the radiance aspect. I have my everyday skincare products to address my skin concerns, a mask is a more infrequent treat so I don't expect it to fix everything that's wrong with my skin, I just want it to be enjoyable to use and not cause issues afterwards, really. Am I alone in this?
Anyway, I'm digressing – the radiance. I leave the mask to dry and tighten for 10-15 minutes, then jump in the shower to wash it off. I love the exfoliating process of removing clay masks, and the green tea leaf pieces make it extra lovely. When I got out of the shower, I definitely noticed my skin looked plump and glowing. I didn't get too excited though, assuming it would be all gone the next morning. Nope – I was still fairly radiant, noticeably more so than any other day. I was really happy about that, but I didn't notice it the next day. When I used it the second time, I was nice and glowy on the day after using it again, but it had gone by the second. The third, fourth and fifth times my skin seemed to look generally nicer, and although it's been a week since I finished it it's still looking quite good (aside from one thing that I'll mention in a moment). So, I didn't find it gave me 3 days of radiant, glowing skin after each treatment, but I would say that the effect is cumulative like it says.
After I'd used it for the fifth time, I got up the next morning to discover an angry red spot on my cheek – which is somewhere I never get spots! I wasn't pre-menstrual at the time, and I hadn't been trying any other new products on my face, but I can't quite decide if I think it was Glamglow that caused it. I'd used it four times previously, the first of which was over a fortnight earlier, so surely if it was going to give me any spots it would have done so before then? I guess it could have been stress related, or a random hormonal imbalance, or god knows. Do you reckon it was the Glamglow or not?
This is getting a bit wordy now, so I'll finish on a super flattering Instagram pic!
Overall, I really like using the mask – once you get over the initial tingle, it becomes quite pleasant – and I love the way it leaves my skin looking and feeling. However, I don't think I would repurchase, at least not for some time. It is expensive, and since we're saving for a mortgage at the moment I really can't afford to be splashing out on something that I'll only get a few uses out of. Perhaps I'll ask for a tub for Christmas?
If you've got the money, and you don't have sensitive skin, I would definitely recommend giving this a go. It might not live up to every single claim it makes, but I do really like it. I would suggest avoiding at all costs if you have sensitive skin, it would probably melt your face off!