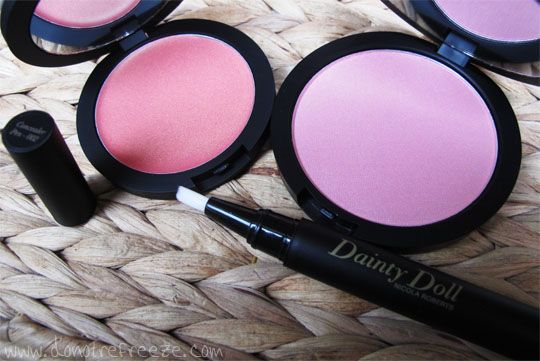 As a bona fide Casper face, Dainty Doll was always a brand that I intended to try but never got round to. Nicola was always my favourite from Girls Aloud too so it was a bit of a no brainer, but I guess the brand just totally slipped my mind for a long while after my initial interest. I'd never seen it in store before, so when I came across it MONTHS ago in Boots at Westfield Shepherds Bush, and it was on 3 for 2, the time had obviously come for me to try it! I'm loving the outer packaging as seen below – but I'm not loving how the actual product packaging doesn't have the names of the products on! I had to dig out the boxes to remind myself of the product names for this post – bit of a pain.
I picked up the cream blush in Orange Country Girl (£13.50), the powder blush in My Girl (£13.50) and the click pen concealer in Light (£12.50). Let's start with the concealer and get it out of the way. I HATE THIS. I chose the shade Light as it seemed the best match for me (Very Light is literally almost white), but when I swatched it at home I noticed it oxidises almost immediately. In the swatches at the bottom of this post, you can see it. I swatched it, and by the time I'd swatched the blushes next to it, it had got about fifty million shades darker. I added another layer on top and snapped the picture straight away, but you can still see the dark, oxidised layer underneath. This has rendered it absolutely useless for me so I can't even offer a verdict on how it wears. :-(
The cream blush in Orange Country Girl is nice enough. Definitely more of a summery colour than one for this time of year – a stunning golden coral peach with a good amount of gold shimmer to really lift the face. It's lovely, but I'm not sold on the formula – I find it a little stiff and dry for my tastes, I like cream blushes to be properly creamy. The colour is worth it though!
Luckily I do have some praises to sing – the powder blush in My Girl has become one of my most loved blushes ever! A beautiful pale pink with the perfect amount of shimmer. Well, it comes across more satin-y than shimmery which is wonderful. The shade compliments my skintone excellently and it goes with more or less any eye look which is an important factor for me in a blush since my eyes are always the focus of my look. The formula is gorgeous – so soft and silky, really blendable and very pigmented but without the risk of the dreaded Aunt Sally look.

L-R: Concealer in Very Light, powder blush in My Girl, cream blush in Orange Country Girl
So to sum up, I definitely recommend the powder blushes and will probably be checking out the other shades for myself. Whilst I'm not madly in love with the texture of Orange Country Girl, it's worthwhile for the beautiful colour. Sadly, I can't recommend the click pen concealer at all thanks to the awful oxidisation issue.
Have you tried any Dainty Doll makeup? Anything I'm missing out on?