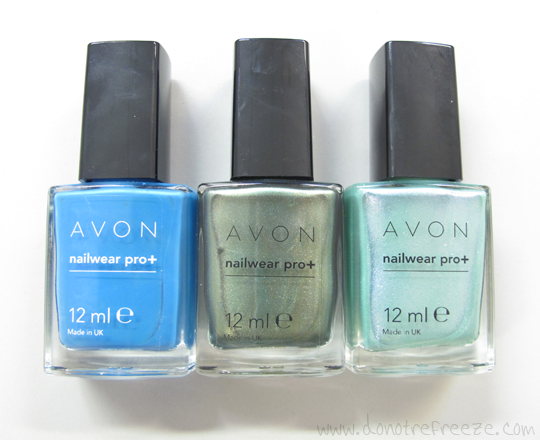 A couple of weeks ago I spoke about the eyeshadow palette from Avon's Arctic Goddess Christmas collection, but naturally I was most excited about the Arctic Goddess Nailwear Pro+ Polishes*. In keeping with the look and feel of the collection, I used all three of them to create a really subtle gradient nail with a frosty, shimmery finish. I quite like it!
The base colour was Arctic Waters, a lovely mid-toned blue creme with some really subtle blue shimmer running through it. It's not a shimmer polish – it's definitely a creme with a bit of shimmer in it. Really nice, really opaque – recommended!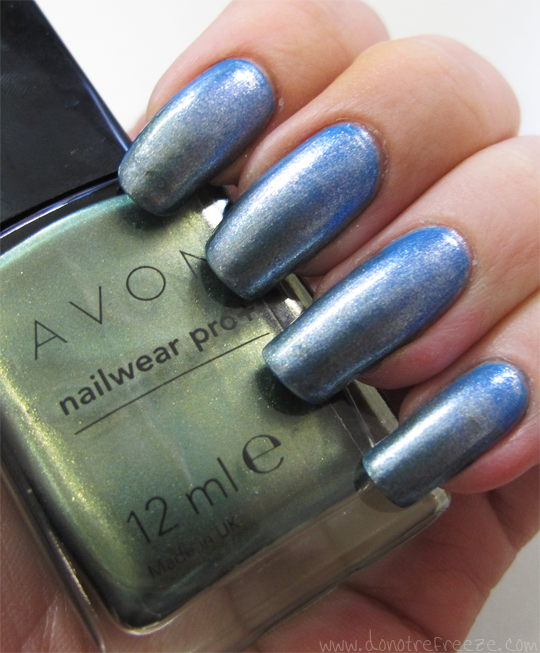 The second colour, the one I used to create the gradient, was Green Goddess. This one is a proper metallic finish, I haven't used it for a full manicure but judging by the opacity when I was sponging I reckon it would take 3 coats. Beware of brush strokes with polishes with this finish!
I used the third colour, Chilling Teal, as a layer on top of the gradient to blend the colours together more seamlessly and add a frosty, shimmery finish perfect for winter. This is quite a sheer one – it didn't really detract from the colours underneath, it just made them a shade or two lighter so I can imagine this one would take a bit of building up for a full manicure but it makes a great layering polish.
I really liked the formula on these. The brush is a good size and shape for quick and easy painting, they dry quickly and seem to last a fair while. Although Green Goddess and Chilling Teal aren't super opaque they were the perfect shades and finishes for this wintry nail look – and I would recommend Arctic Waters any day of the week.
What do you think to my cool-toned gradient? I'm a bit annoyed at the pictures actually, whilst the gradient was subtle it was much more noticeable in person than the photos would have you believe. Have you ever tried Avon's nail polishes?