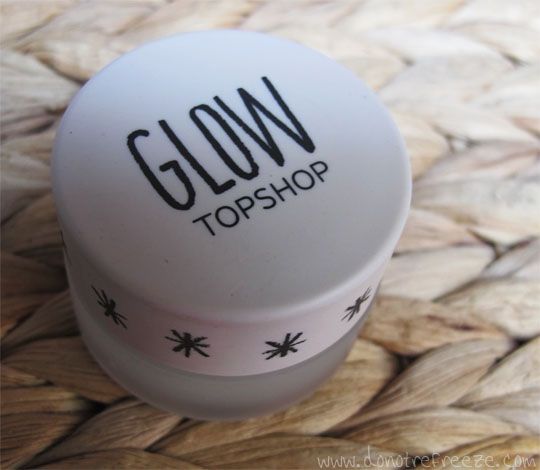 A good highlighter can completely transform your makeup. I am a sucker for highlighters, and generally prefer cream ones to powder ones. When I saw this Glow highlighter in Topshop some months ago, I was instantly drawn to it and thought it might be an even nicer version of Eyeko's old Extra Glow cream. I still love the Eyeko one but it's quite a silvery colour. This Topshop one is a beautiful pinky gold colour, so I knew I had to have it.
I absolutely loved it when I swatched it in the store, and have used it quite frequently since but I'm not 100% sure that I love it as much as I wanted to. The colour is BEAUTIFUL, don't get me wrong, and you only need the tiniest little bit for a gorgeous finishing touch to your cheekbones, browbones and what have you.. but I don't love the formula. I'm not sure how I didn't notice in the shop, but it's quite sticky. Not like, unbearably so; it's still workable, just a bit of a pain and not as smooth and blendable as I would like. I've tried using several different brushes to apply this but it's just not happening, the only way I can blend it in properly is with my finger. I suppose because it's quite thick and a bit sticky, the heat from your fingers helps to melt it a little so you can work it into the skin more easily. With a brush, it just becomes a patchy and sticky mess. Below you can see it swatched heavily, then blended out.
I do quite like mixing it with foundation or tinted moisturiser for a really illuminated finish. Usually, if I mix something with my base, I tend to mix it with the handle end of a thin brush brush, and buff it into the skin with a good dense brush. I have to use this a little differently though because of the stickiness – I'll mix it on my hand with my finger, and apply to my face with my fingers before buffing it into the skin with a brush. Again, this helps to melt the product a bit and make it a bit more workable. I think it's worth the extra effort though because I love the look it gives.
Overall, super pretty but the formula is a pain. If you can be bothered to put it in a bit of extra effort for that elusive glow, you can get this from Topshop for £9.