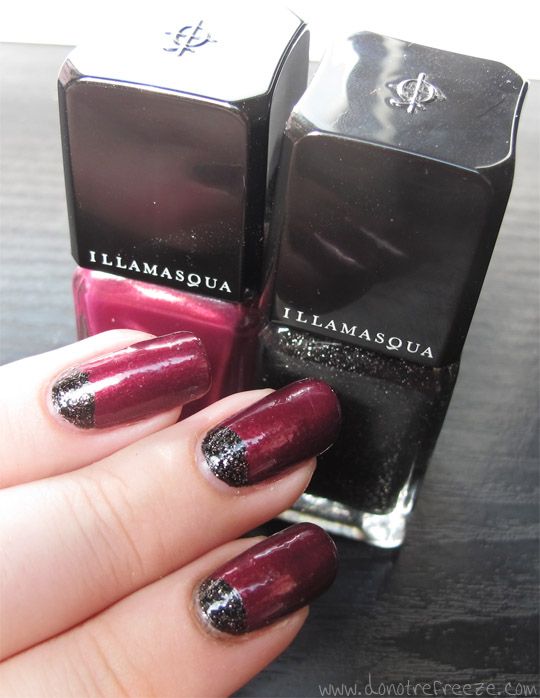 The nail looks in Illamasqua's campaign images are always really striking – and often quite simple to achieve. The last time I actually bothered to sit down and recreate one was the Theatre of the Nameless corset nails, but the gorgeous half moon manicure from Generation Q looked so easy that it would have been rude not to try it!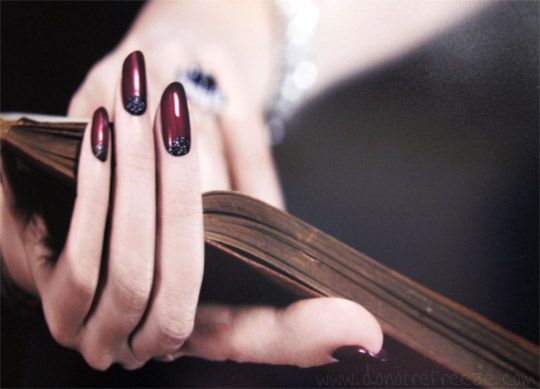 The two colours are Charisma* and Creator*, the new nail shades for the Generation Q collection. When I first saw Charisma, I thought it might be very similar to Scarab from 2010′s Art of Darkness collection but it's definitely not. Scarab was a little too brown for my liking, whereas Charisma is definitely more of a raspberry kind of shade. Creator is stunning, a deep rich black absolutely packed with silver glitter. Glitter often gets lost and hidden beneath the base colour if it's too dark or opaque, which is why many glitter polishes are jelly finishes that are best for layering. For that reason, I'm really impressed at how well the silver glitter stands out against Creator's black base!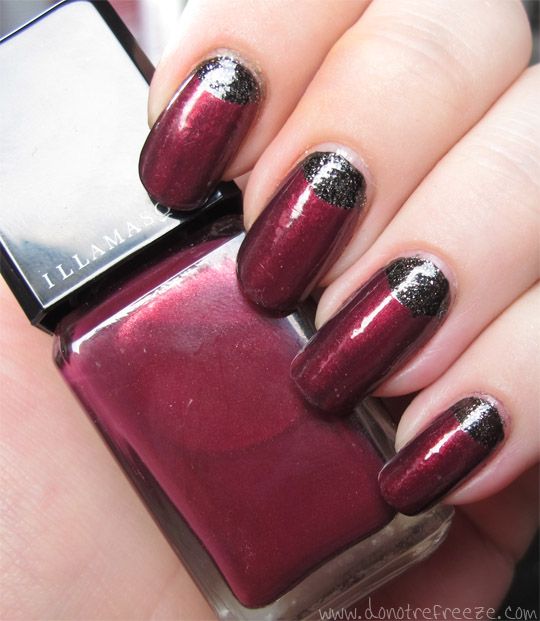 I'd never done a half moon manicure before, even though I'd always liked the look of them. If you're a serious pro, you could do it freehand but the cheaters smart people's way to do it is using hole punch reinforcers. I bought a pack of 500 of them for about £2 from Rymans. If you like, you can cut the reinforcers in half to double your money but seriously, 500 stickers equals 50 half moon manicures for two pounds.. so cutting them seems like more effort than it's worth!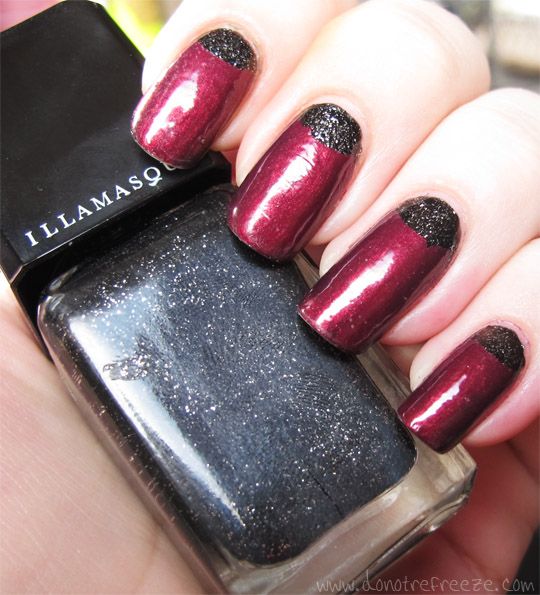 If you're not familiar with the process, paint your nails first in the colour that you want the half moons to be. Once that's totally dry (speed it up with a quick dry top coat if you like), stick a hole punch reinforcer on the cuticle end of each nail like in this gratuitous instragram pic. Before I stuck them on, I stuck each one to my skin and peeled it off a couple of times to get rid of the worst of the stickiness, as they're quite strong and I wanted to be sure they wouldn't lift any of the polish off when I removed them. Then just paint the rest of your nails using your second colour, and peel the stickers off. Add a topcoat, et voila!
After discovering first hand how seriously easy the half moon manicure is (even though this attempt was admittedly a little shoddy!), I'm quite looking forward to trying the look out with other colour combinations. Are you a fan of the half moon look? Have you ever tried it?
Apparently, the cat doesn't like it very much. She looks pretty unimpressed.