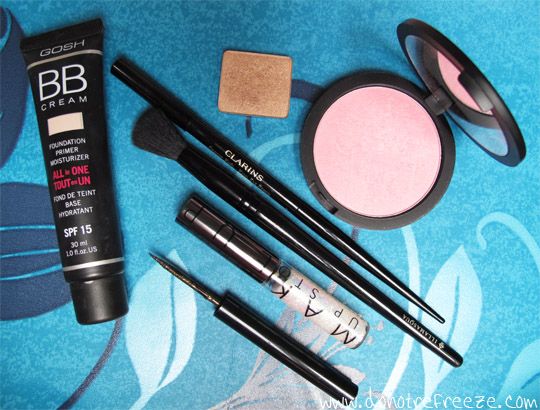 :: Gosh All-in-One BB Cream* – One of the nicest base products I've tried all year, and a great price at £9.99. I've been using it pretty much every day for nearly 2 months and I don't think I'm even halfway through it yet. I reviewed it in full at the beginning of August, so please do refer back to that for further raves!
:: Dainty Doll Powder Blush in My Girl – I'd never tried Dainty Doll before, but in early July I spotted the range on a 3 for 2 deal in Boots so decided it was about time I try it out. I've been meaning to post about the products I got for a while, in fact I've got the pictures all ready to go but just haven't written anything! For now, suffice it to say that I absolutely love this shade and will definitely be sharing it with you in more depth this month.
:: Inglot eyeshadow AMC Shine 11 – If you haven't yet seen my Inglot collection post, please go and perv at it now. This light yellowy gold shade is absolutely beautiful for everyday but can definitely be 'dressed up' for more of an evening look.
:: Illamasqua Precision Ink in Wisdom* – Only 5 days to go until Generation Q is released! If you're into eyeliner, this blackened olive green should definitely be on your wishlist. I featured this in a post with my other (complete!) collection of Precision Inks last month.
:: Illamasqua Blending Brush 2 – I bought this during Illamasqua's summer sale for £15 instead of the usual £23.50. It's similar in shape to a fluffy eyeshadow blending brush but it's a fair bit bigger than that – it's the perfect size for setting concealer. I hate wearing powder all over my face (even though I should really because I'm so oily!), but I do like to set the concealer under my eyes and around my nose and this brush is perfect for the job.
:: The Make Up Store glitter eyeliner in Queen – This is so, SO pretty. If you like glitter eyeliner, and you like multifaceted colours, this is definitely for you. I posted about it in full only last week so please do go and have a look there if you'd like to see more.
:: Clarins Kohl Eye Pencil in Extreme Black* – I've definitely been on a bit of an eyeliner kick lately, haven't I? I've mentioned it a lot, so you probably know that I can't go without black pencil on my waterline. I'd previously hailed Liz Earle's black pencil as the best eyeliner for my waterline, but I have to say that this Clarins one has well and truly stolen the crown. It's super black (extreme black!), and it actually lasts all day on my waterline. I can get home in the evening, look in the mirror and still see it on my waterline. I've NEVER experienced that before, so I'm a very happy bunny. I also like that it's got extra 'empty' length – meaning that when you eventually sharpen it down to the end of the pencil you won't be struggling to use a little nub as there's still a long handle for easy application. Sadly though, it is limited edition so I may have to get myself a backup or two before it disappears!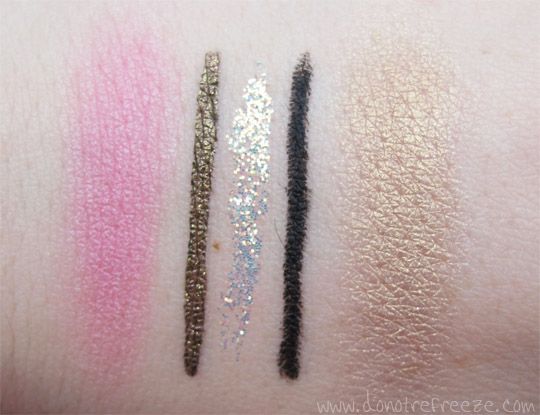 Dainty Doll My Girl, Illamasqua Wisdom, Make Up Store Queen, Clarins Extreme Black, Inglot AMC Shine 11
Like the look of anything you see? What have your favourites been recently?