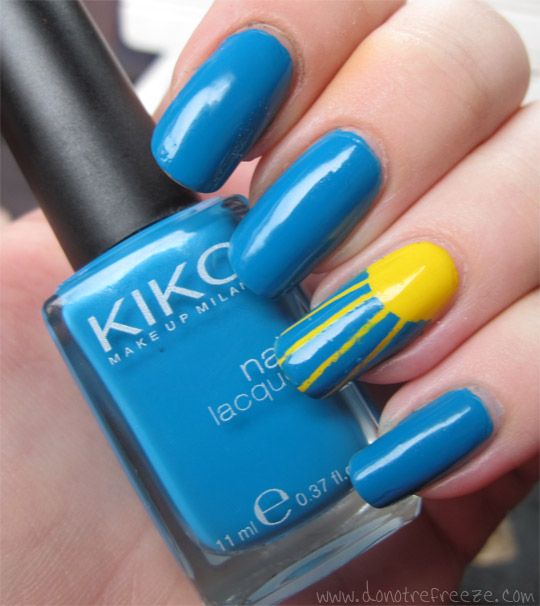 I know, I KNOW! I'm rubbish at doing these nail tutorials regularly these days. I just don't have as much time as I used to, which makes me sad. But when I do get the chance to do one, it makes me extra happy. Sunshiney happy! Even if I did do this one late at night so you'll have to deal with crappy flash pictures, I'm afraid.
It doesn't look as obviously like the sun as I hoped it would, but I think it's quite cute anyway and would obviously work in all sorts of colour combinations. There's also the option to do all of your nails like it instead of just the one accent nail!
What You'll Need
Clear base coat
Fast drying topcoat
Blue nail polish
Yellow nail polish
Hole punch reinforcers
Nail art striping tape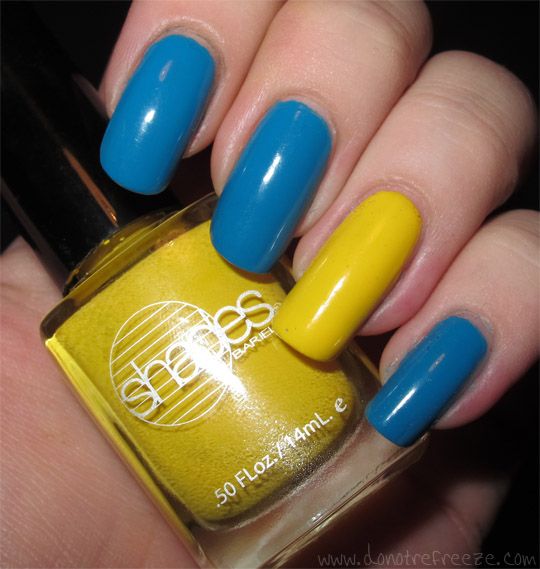 Start off with your clear base coat, then paint all your nails but one (on each hand) with the blue (I used Kiko 314). Paint the remaining nail on each hand yellow (I used Barielle Lemondrops) – this will be your accent nail with the sunshine. I always choose the ring finger as my accent nail but obviously, pick whichever nail you like!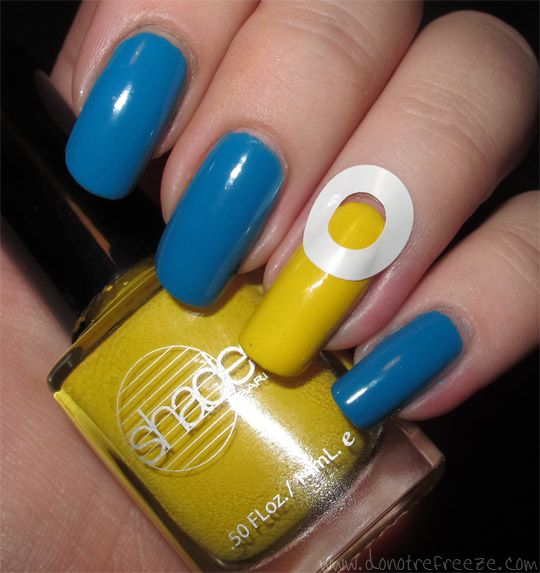 Once your base colours are properly, properly dry, you can move on. Use a quick dry topcoat to speed it up if you want to, but it's important that you don't start the next bit until it's completely dry as otherwise the stickers will lift the colour underneath and mess it all up.
Stick a hole punch reinforcer at the cuticle end of the nail. You can get these for a matter of a couple of quid for hundreds of them at stationery shops. You want to place this a bit further up the nail than you normally would for a half moon manicure, as it's supposed to be the sun so it needs to be quite big! I guess it covers about a third of the nail.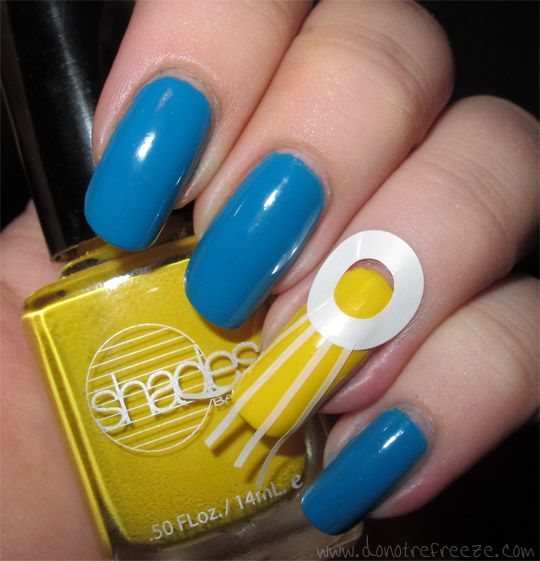 Then, take some nail art striping tape (see my nail art supplies page) – any colour, since you'll be painting over it – and cut some short strips. Overlap one end of these with the hole punch reinforcer, and stick them to the nail in a sort of fanned out shape, like the sun's rays. You want them to hang over the edge of your nail so you can pull them off easily later.
Now, I stupidly forgot to take a photo of the next bit, but you just need to paint over the exposed parts of the nail (avoiding the hole in the middle of the reinforcer!) with the blue that you used on your other nails. Quickly, before the colour starts to dry, carefully remove the striping tape and reinforcer. Et voila! The sun has got his hat on!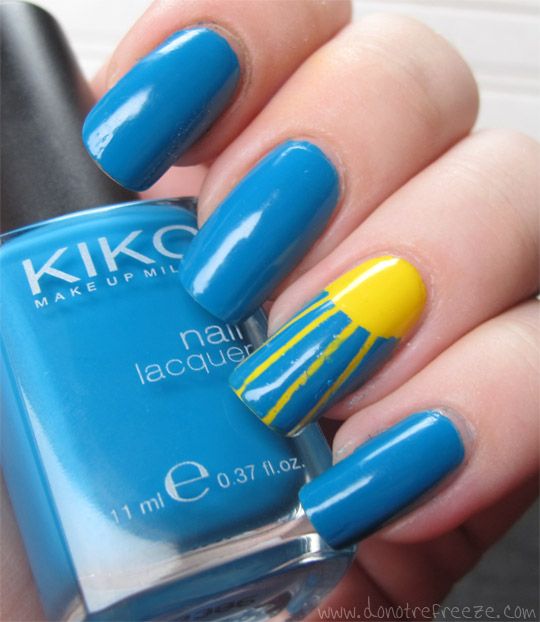 I hope you enjoyed this Easy Peasy tutorial – it's been a long time coming, I know. What colour combinations do you think this would look good in? I think it would be REALLY cool with black and a silver holographic accent nail!