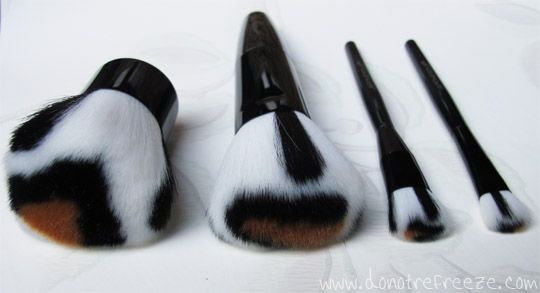 Aren't these just the cutest damn brushes you've ever seen? You've probably seen these Safari Chic Brushes by Japonesque* on several other blogs in recent weeks, but I think they're so adorable that I just had to share them.
You know I'm a sucker for anything animal print, so these are right up my street. Due to their small size, they're also really good for taking with me on the weekends I go back to Essex.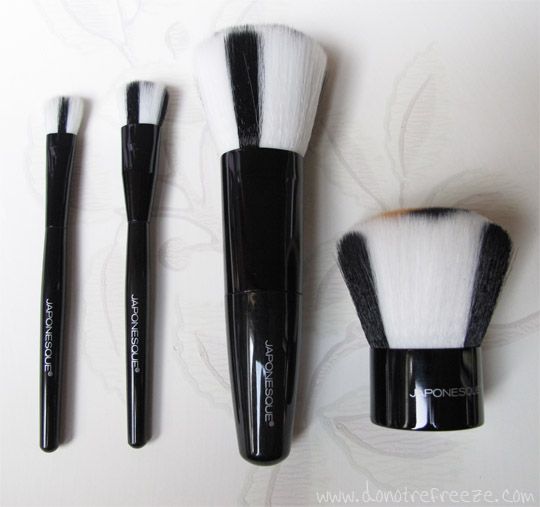 The Safari Brush Set comprises the Powder Brush, Shadow Brush and Crease Brush (the one on the right is the Bronzer Brush, sold separately). I've seen a lot of people say that the eyeshadow brushes are a little too big for them to work with but I like big fluffy brushes like this, they make blending an absolute breeze. They are a little floppy, but who ever heard of a stiff and fluffy brush anyway? I especialy love the powder brush, I use it for both bronzer and blush which again makes it ideal for travelling as it handles both tasks well. This set of 3 brushes costs £28 and comes in a cute microfibre case for even easier transportation.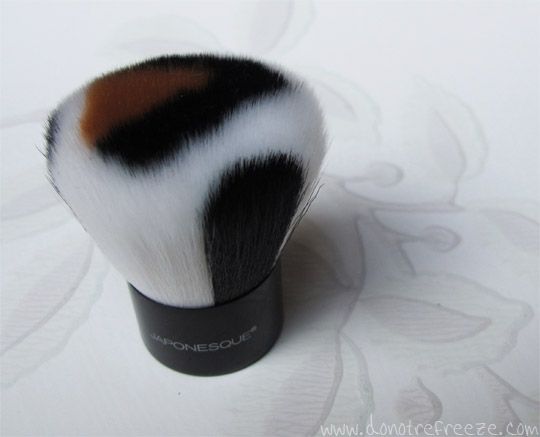 The Bronzer Brush is adorable! Although, as far as I'm concerned, it's not a bronzer brush, it's a kabuki brush. I prefer something a little less dense for bronzer, but I've found this to be ideal for both finishing powder, and mineral foundation. In fact, it's the nicest tool I've ever used for applying mineral foundation! It's dense, super soft and buffs product in perfectly. This one costs £19, and is definitely worth grabbing if you often wear mineral foundation.
More good news – the Japonesque Safari Chic brushes are made entirely with synthetic fibres so they're animal friendly. I generally prefer synthetic brushes anyway, as they hold their shape better after cleaning and tend to be softer than natural hair ones. Synthetic fibre brushes also work much better with cream products than natural hair brushes do. And they're much easier to clean, which is good because it's satisfying to be able to restore the brushes to their pristine condition when you've marred them with colour! In fact, these pictures were taken after I'd used and washed them (I know, I'm a terrible blogger – breaking the 'must not use before photos' rule!) so you can see that they scrub up perfectly. I lost a couple of hairs in some of the brushes on the first wash, but none since.
Makeup brushes are definitely something to be invested in rather than scrimped on, as good quality ones will last you a lifetime. Compared to other brushes of similar (or even not quite as good!) quality, these are excellent value for money and I'd definitely recommend checking them out. You can get them on HQ Hair.
What do you think? Do you prefer synthetic fibre or natural hair brushes? Are you a fan of leopard print on EVERYTHING? I am!