I first blogged about FashionistA's Custom Design palette system last December. I absolutely loved them at the time, but you know how it is when you get new stuff, older things get pushed aside and forgotten about..
Recently, I got a few more Custom Design bits through the post as a lovely surprise, and it's totally reignited my love for them. They're really lovely colours, so I had to share some swatches with you!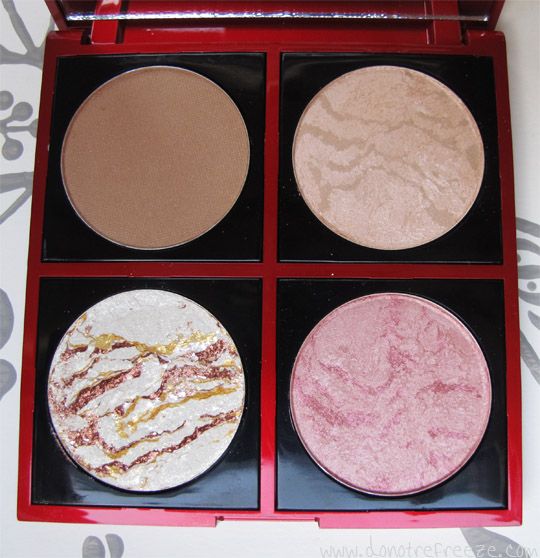 Let's go clockwise from top left…
First up, Custom Design Bronzer in the shade LA*. Until recently, I never EVER touched bronzer but brands seem to be coming out with more and more shades that work nicely on pale skin without making you blatantly orange or shimmery. This one is nice and buttery soft, a good shade for me although if I had to criticise it might lean just a touch too much towards the yellow/orange side. It's not noticeable in context though.
Then there's another bronzer in the shade Barcelona* – well, they call it a bronzer but it's certainly not suitable for the things you'd use a bronzer for. On the other hand, it makes a beautiful highlighter as well a great eyeshadow shade.
The gorgeous marbled pink blush is called New York*, and it's a stunner – a gorgeous baby pink shade with just the right amount of flattering shimmer. You know, the sort of satiny shimmer that lifts your cheeks without looking obnoxious and exacerbating large pores. This is probably my favourite of the bunch!
Lastly, there's a marbled eyeshadow in the shade Stylish* – this I'm not such a fan of. I'd hoped it would make another nice highlight but unfortunately not – the texture isn't something I'd like to put on my cheeks. It looks okay in the swatch below but it's just a bit too chunky and shimmery for cheeks I think. I'll still use it for its intended purpose as an eyeshadow though, but I might move it to another palette and fill the gap in this one with another pretty blush!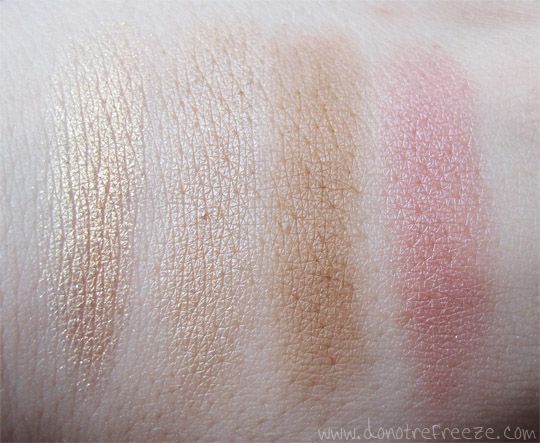 L-R: Stylish, Barcelona, LA, New York
As far as I'm aware, the prices of the FashionistA Custom Design system are the same as they were last year, so that's £5 for the empty palette and £4 for the eyeshadow and blush pans to go in them. Seriously, these things are great so get yourself down to a decent Superdrug store!