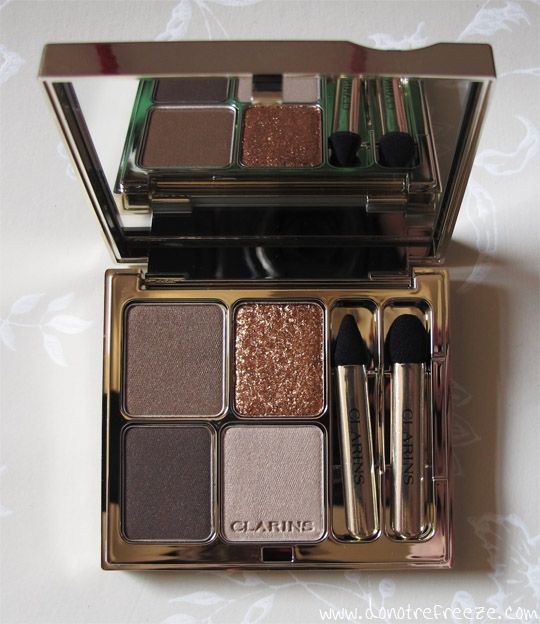 Just look at that! Isn't it beautiful? Quite recently, I went along to a launch event at Clarins HQ to have a look at their autumn and Christmas offerings which was interesting as Clarins is a brand that I'd not really paid any attention to before. I'm so glad to have been introduced to them though, as I now see what I've been missing out on!
This is the Odyssey Eye Quartet Mineral Palette*, part of the limited edition Odyssey Christmas collection. It comprises a shimmering light beige shade, satin finish taupe and deep cool brown shades, and a sparkling gold leaf. If the inside isn't gorgeous enough for you, prepare to fall in love with the packaging! Of course, the outer packaging is the signature red box, and the little velvet pouch that the palette is housed in really makes it feel like a piece of luxury. And that's before you even clap your eyes on the stunning mirrored gold palette itself, emblazoned with a gorgeous pattern.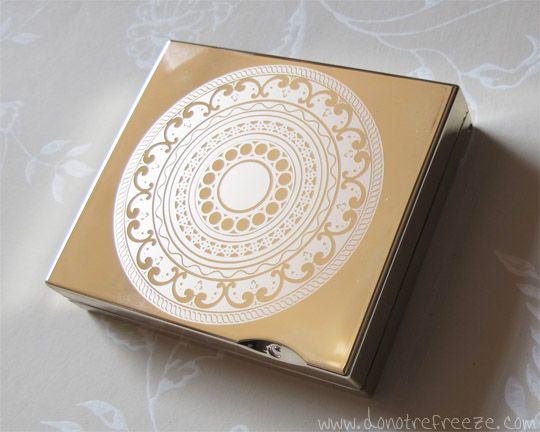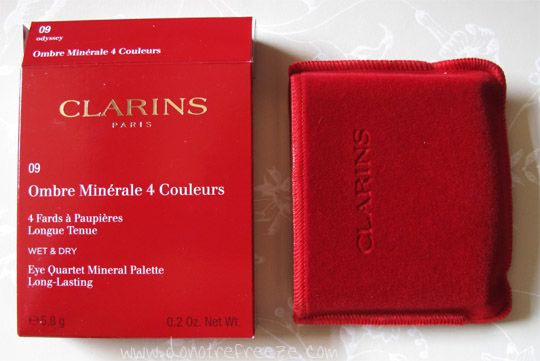 My only teensy little gripe with the packaging is the inclusion of sponge applicators. It's something I've come to expect in more affordable eyeshadow palettes, but surely if you're serious enough about makeup to pay this much for some eyeshadows then you'd have proper makeup brushes, right? Overall though I don't think the applicators cheapen the palette too much. They are much nicer quality than your run-of-the-mill everyday ones admittedly, and I guess some people might like to use them. Takes all sorts to make a world I suppose! ;-)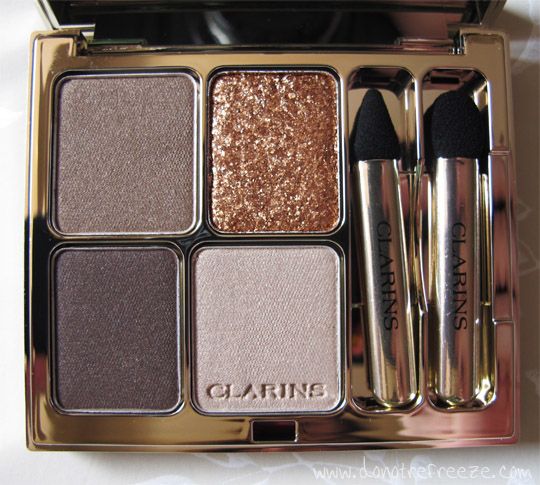 In terms of formula, they're fantastic. The beige, taupe and brown shades are so soft, almost silky even, and they apply and blend beautifully. They're not as strong in pigment as something like Inglot or Illamasqua for example, but somehow I feel that wouldn't really work. To me, Clarins are synonymous with more subtle, classic makeup, so it fits. That's not to say they're lacking in pigment though. The gold leaf shadow is different from the others – when you touch it, it feels almost exactly like a cream, but it's not. It's so rich and punchy, and serves to really add some interest to an otherwise very standard neutral look when teamed with the other colours. It can be a little flaky on application though, so watch out for fallout and maybe do your eye makeup before your base. The gold doesn't blend so nicely as the others, either – owing to its formula I'd say it's much more suited to little accents to your makeup here and there as opposed to an all-over lid shade.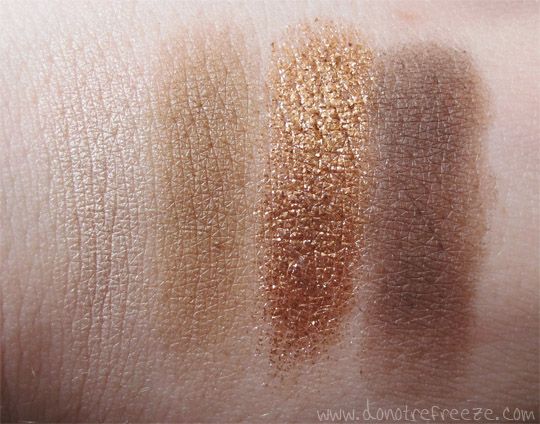 As a serious lover of gold eye makeup, you'd think that the gold leaf would be my favourite – but I'm going to surprise you and say it's not! I'm actually pretty enamoured with the taupe, it's quite an unusual shade of taupe and is unique among my collection (and I have HUNDREDS of eyeshadows). I do really love the gold though – out of all the gold eyeshadows I own this one is really unique in its formula and purpose.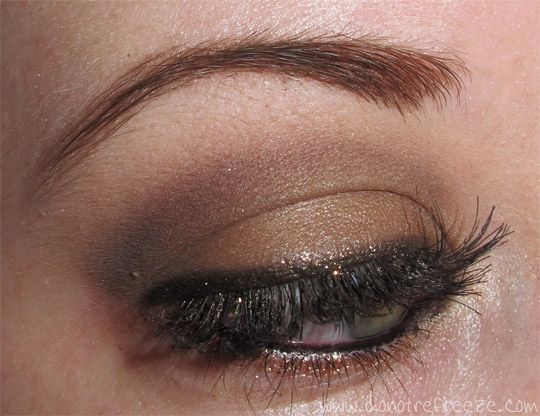 Here's a quick EOTD. The picture is awful, I'm sorry – it was quite late when I did this so no natural light, and my scabby lash extensions are still hanging on for dear life, but you get the idea. I used the taupe all over the lid, the light beige on the inner corner, the brown in the crease – pretty standard. I used the gold leaf on the lower lashline (not that you can see it since I'm looking down..), and also to add some subtle sparkle to the eyeliner. I used the Clarins kohl pencil in Extreme Black to line the upper lid, then smudged it out a bit and worked a teeny bit of the gold leaf over the top of it..
Overall, I'm really pleased to own this. Whilst it's not cheap at £30, it's not exactly extortionate either. I would definitely recommend it as a payday treat for yourself, or even something to put on your Christmas list (it's not that far away, you know!). It will be available on counter from October, along with the equally beautiful limited edition Odyssey Face Palette which Lily has reviewed.
Will you be picking up the Odyssey eyeshadow palette? Or begging Santa for it?