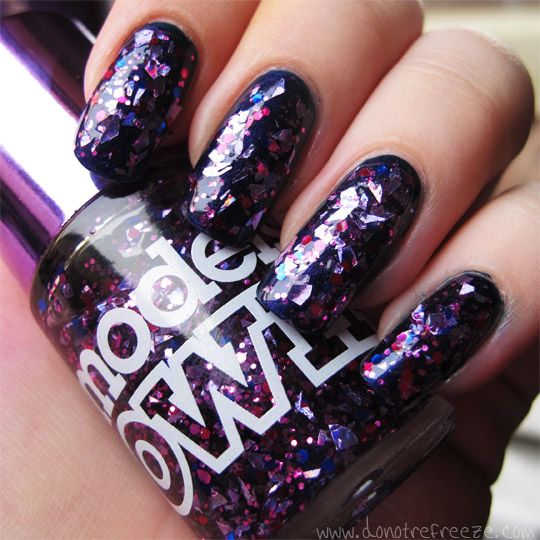 You know I am an absolute slag for glitter nail polishes, so when I first got wind of the Models Own Mirrorball collection I knew it would be mine. They're so interesting with all the different shapes and colours of glitter in each one. They seem to be quite heavily inspired by the indie polish scene as these are the sort of thing I'd expect to see from them rather than a bigger brand! I ordered the box set (all 5 polishes plus topcoat for £20) the day it was released online, and received it 2 days later – awesome.
Each of the Mirrorball polishes has a metallic coloured lid in line with the colour of the glitter, which is a nice touch (but also slightly annoying because I store most of my polish in wall racks so I like all the lids to look the same!) and I especially love the names, they're all named after classic disco songs and I'm very much looking forward to posting about each of them with lyrics as titles! ;-)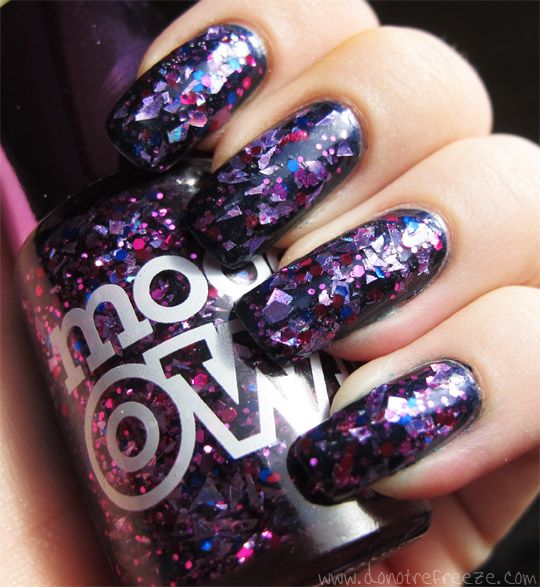 Boogie Nights is the one I was immediately drawn to and had to apply first. It's packed full of little randomly shaped shards (I believe they're hand cut?) of holographic lilac glitter, medium sized fuchsia and blue hex glitters, and smaller pink hex glitters. Despite having so much going on, it's relatively easy to apply although some 'dabbing' is required for an even distribution as opposed to just a painting motion. I applied two coats of it over OPI Russian Navy and I think it looks absolutely AMAZING. Apparently other people do too, because this attracted more compliments than I think I've ever had on a nail polish before (including ones from Alesha Dixon and Pixiwoo!).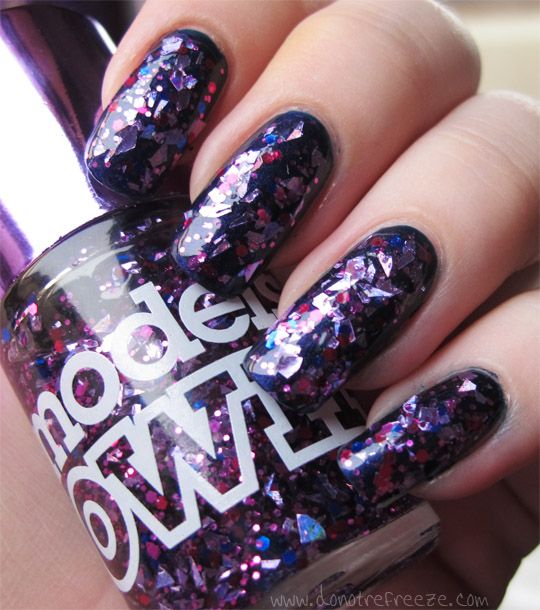 Since the assortment of different glitter pieces leave quite a textured finish, I used two coats of topcoat to seal it in as much as possible. Some of the lilac shards will still stick up a little bit but not enough to do any damage – I wore this for over a week without getting the shards caught on anything or scratching myself, so it's not really an issue. Also, it's not visible if any pieces are peeking through the topcoat – you can just feel it if you run your fingers over your nails. Another gripe, but one that's to be entirely expected, is that it's an utter pain in the arse to remove. Even with the foil method it's pretty time consuming. Don't even think about trying to remove this with an acetone free remover, 'cause trust me it ain't gonna happen.
I had to see what it would look like over some other colours, so below you can see it swatched over white (China Glaze White on White), black (China Glaze Liquid Leather), purple (Illamasqua Poke) and pink (Kat von D No Regrets). The top photo is with one coat of Boogie Nights, and the bottom one is with two coats.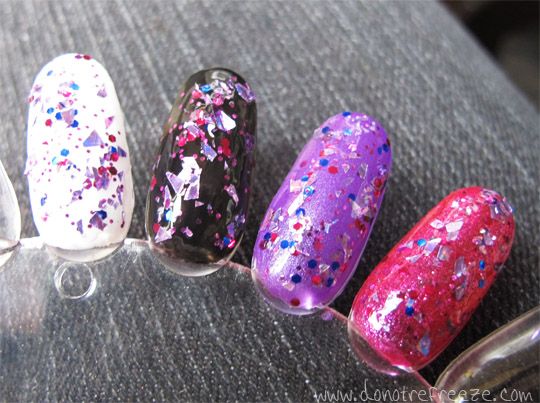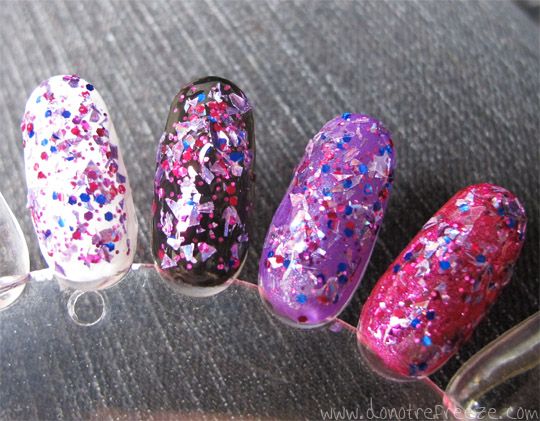 To sum up, I absolutely LOVE this and can't wait to try the other colours. The Models Own mirrorball polishes cost £5 each and are also available in a set of five plus topcoat for £20. Unfortunately, the Mirrorball polishes (both individual and the set) are completely sold out and won't be back until early October, which is a massive pain since there's currently a 50% off sale!
And yes, I was listening to Heatwave on repeat the whole time I was writing this post.