My mum was an Avon lady (sorry, Avon representative) when I was little. I remeber being so excited by the little Colour Trend lipglosses and nail polishes I would get, in fact, Avon was probably the first brand of makeup I ever had an experience with which means it has a special place in my heart. As I grew up, tried new things and, I hate to admit it, eventually became a makeup snob, Avon fell by the wayside and I dismissed it as being a bit rubbish.

How bloody wrong I was! I am honestly kicking myself for turning my back on the brand for so many years. They have some seriously good products. Last week, I attended a rather wonderful event at the Mayfair Hotel to check out Avon's winter collection, Arctic Goddess, and was blown away by the quality of the products I played with.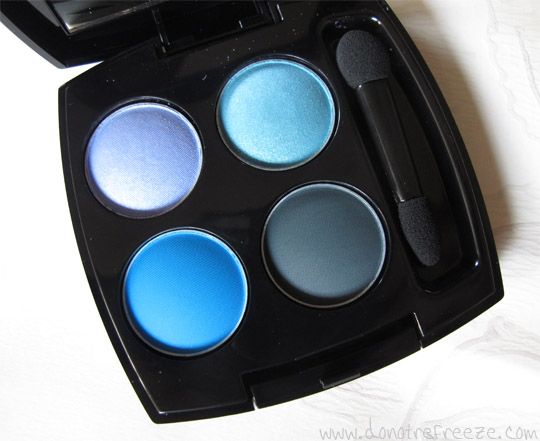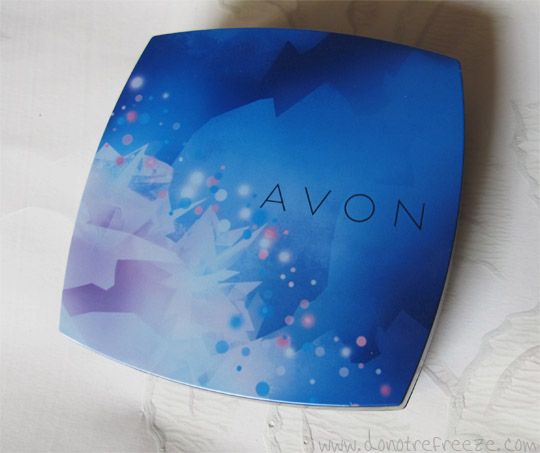 This is the Arctic Goddess eyeshadow quad*. I've mentioned before that I don't tend to wear blue on my eyes as I don't think it suits me (and I'm still not convinced that it does), but the quality of the shadows far surpassed what I had imaginged. The outside of the compact is adorned with some nice wintery abstract graphics, and the colour inside definitely look icy cool.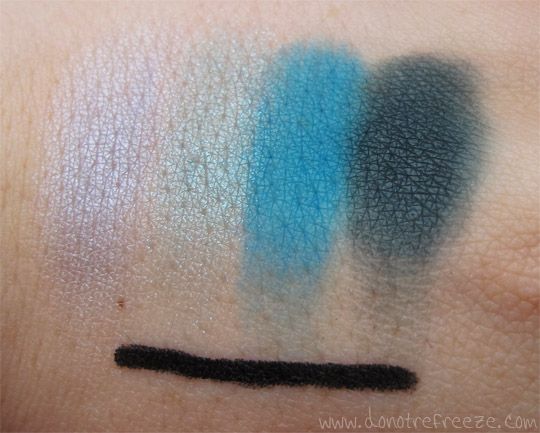 These swatches are on bare skin, so you can instantly see that the matte bright blue and deep teal are hugely pigmented. They're also really soft and smooth, which is rare for matte eyeshadows. Even in higher end brands, it tends to be that pigmentation is traded off for a chalky texture but these are lovely. The two lighter shimmery shades aren't much to write home about on bare skin, but over an eyeshadow primer they really come into their own as you'll see in the EOTD below. Also swatched is the Supershock gel pencil*, an absolute steal at £6 and coveted by none other than Sam and Nic Chapman. Once again, I'm kicking myself for not having tried this before. It's not quite as long lasting as my beloved Clarins eye kohl, but at less than a third of the price it's absolutely outstanding. It's seriously inky black and shows up so well on the waterline.
Anyway, the EOTD. I used all four of the eyeshadows and the Supershock liner in this look – you can see what I meant about the lighter shades faring much better over an eyeshadow primer now – along with a silver glitter liner from The Make Up Store for extra frosty arctic goodness.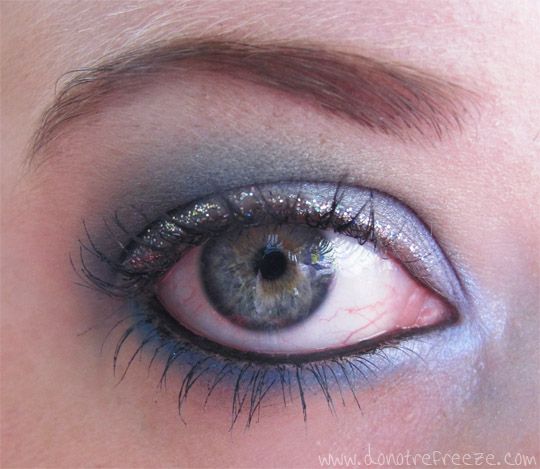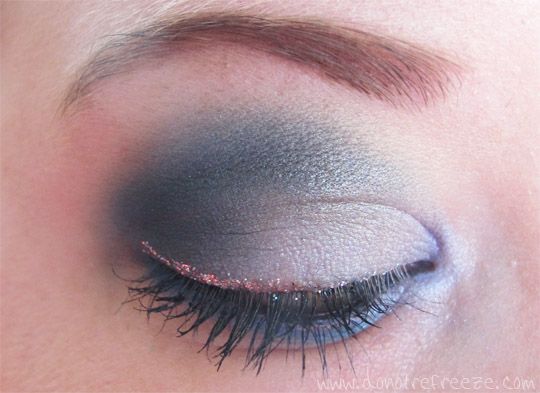 Whilst I still don't think that blue eyeshadow suits me, trying this has given me a real need to try some of the other True Colour eyeshadow quads from Avon. If you have brown eyes, I think the Arctic Goddess palette would look amazing on you. I'm not 100% sure of the price on this yet (or the release date, but I'm assuming next month), I'll hazard a guess that it'll cost £8.50 like the rest of the True Colour quads.
Even though you can buy Avon products online these days, I think I'm going to have to find out if there's any representatives in my area as I really want to recapture the magic of ordering from the catalogue! That's pretty lame, isn't it?
I'll leave you with a couple of shots from the event, where I was lucky enough to meet Alesha Dixon who I have always been a big fan of (you know when you used to pretend you were in a girl band with your friends when you were a kid? Shut up, I know you did it too. My friends and I used to cover Misteeq and I was ALWAYS the MC. Just sayin'). She was absolutely lovely and made a real effort to chat to everyone, and who could ever get enough of that infectious dirty laugh? What a babe. It was also great to chat to Sam and Nic Chapman again, who I've had the pleasure of meeting a couple of times before. Also, how gorgeous does Sam look with her new fringe?