So, something has been puzzling the crap out of me lately.

I've been writing this blog for almost 3 and a half years now. It's taken me LOTS of time, lots of money, lots of hard work and lots and LOTS of nail polish to get Do Not Refreeze where it is today. I may not have been an overnight blogging sensation, but I worked damn hard to get to this point and I'm very proud of it.

Recently, I was reading through some of my older posts and noticed something funny. Naturally, over the years, my followers and page views have increased exponentially. The comments I receive however have really, really decreased. I've been slowly noticing it for a while actually, but it wasn't until I remembered how much feedback I used to get that it really made me sit and think. I've never outwardly complained about it, but it does make your heart sink a little bit when you've been really proud of a post when you hit the Publish button and no one has anything to say. I know you lovely lot are reading – that's what Analytics is for – but why is no one commenting any more?

I know it's not just me – it seems to be quite universal amongst those who've been blogging for a long time. We all just seem to get less comments than we used to. Like I said, obviously our followers and views have increased, and presumably our posts have improved in quality, but our comments have dwindled. Why is that? My instant thought was that maybe because there's just SO many blogs out there now, we have so much more to read and therefore less time to comment. I'll be the first to hold my hands up and admit, I only comment on about 5% of blog posts that I read these days whereas a couple of years ago it used to be more like 50%. Is it karmic retribution that my posts (which really weren't very good back then) used to get a ton of comments a couple of years ago, but now I consider it a good day if I get a handful?

I wanted to know what other people thought. So I asked on Twitter:

People who've been blogging a long time – do you find that even though your followers and stats/views have increased over the last couple of years, that you get a lot less comments than you used to? People definitely don't seem to comment as much, and I wonder what the reason is? Is it because there's SO many blogs to read now that commenting is too time consuming? Answers on a postcard!

Here are some of the responses I received: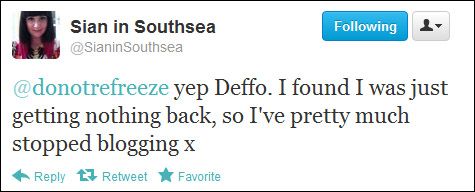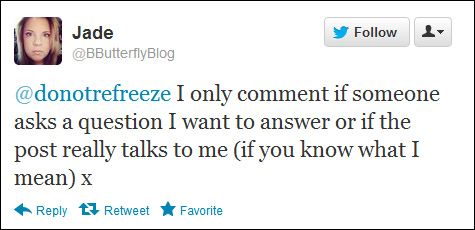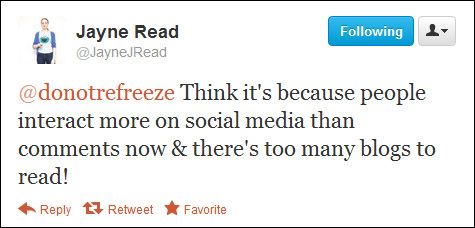 It seems that others have the same explanations as me. Jayne's thought that more of our interaction with each other happens via social media these days is very interesting – and there's a lot of truth in it.
Before I go any further I just want to say that this whole post is NOT a complaint. I'm always grateful for the support I do have – my blogging life is great. I just can't quite get my head around how our followers and views can grow but not our comments – once the three of those would have gone hand in hand but that doesn't seem to be the case any more. Even if I do end almost every post with a question (always have done) in an effort to engage the people who've taken the time to read the post and encourage interaction.
So, a question to answer: if you find that you comment on blogs a lot less frequently than you used to, what are your reasons for that? I'll start – it sounds like a pathetic excuse but it's exactly like I said at the very beginning of this post. There are just SO many blogs to read now that I couldn't possibly have time to comment on them all. I do make a bit of an effort, but not nearly as much as I should or as much as I used to. I also do a large chunk of my blog reading using Google Reader on my phone whilst travelling to and from work, and I can't comment using that. How about you?
I will never, ever stop blogging because I don't feel like I'm getting enough attention. That's not what it's about for me – I do it because I bloody love it and it's a wonderful justification for the amount of money I spend on products. But I will definitely admit that it's discouraging at best to receive minimal feedback on something I work so hard on. And I'm sure there's dozens (hundreds? Thousands, even?) of you who feel the same!
We all put a LOT of time and effort into our blogs, and I think we need to appreciate each other's hard work more than we do these days.
I, Leanne Parsons, hereby pledge to comment on as many blog posts as I possibly can instead of just reading them. I pledge to outwardly show my appreciation for what others do on their blogs rather than just thinking about it. Cross my heart and hope to die!