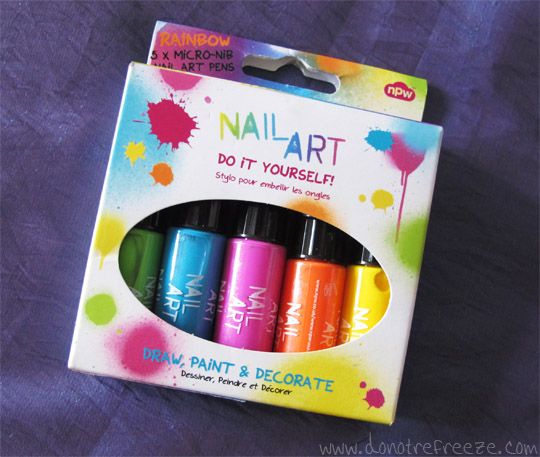 I bought these cutesy little nail art pens in Topshop a while back. They're not actually Topshop branded, I had a quick google for 'npw' as seen on the box and it's just a general gifting website. So, as far as I'm concerned these are Topshop nail art pens!
Anyway, I've been through about a million and five nail art pens in my time – my grandparents bought me my first set when I was 8! Since then I've used many different ones from eBay, which at face value seem like a bargain for the amount of colours you're getting but it's not exactly unusual to end up disappointed by their lack of pigmentation and watery formulas.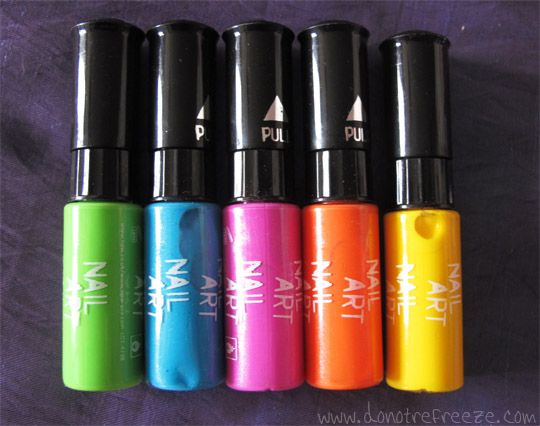 These Topshop ones cost £10 for 5, and they're colours that I don't really have already (at least not in pen form!) so I figured, why not? Obviously at £2 each they work out a fair bit more expensive than eBay ones but if they're better quality, it's obviously worth it.
£2 is also a lot cheaper than the likes of the Models Own/Wah Nails pens . The Models Own ones do have a striping brush inside the cap, unlike these Topshop ones or the Nails Supreme/Migi ones. While stripers are extremely useful and versatile, it definitely shouldn't be a deciding factor when buying nail art pens. Just get a set of striping brushes from eBay (like these ones for a couple of quid) and then every polish in your collection can be used for striping.
So if a striper isn't important in a nail art pen, what is? Simple answer: a formula with a good amount of viscosity (so it doesn't gush out of the tip!), and opaqueness. The real test for opaqueness is whether or not they show up well over a black base. Below I had a little play with the colours over both white (China Glaze White on White) and black (China Glaze Liquid Leather). I must say, I'm impressed!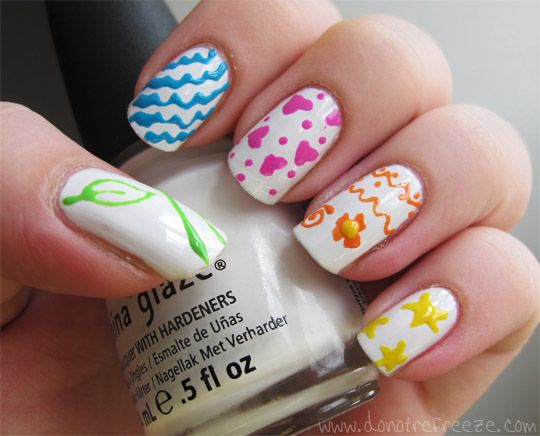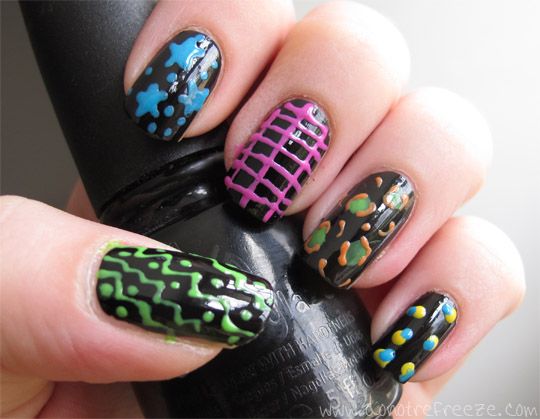 So while decent quality nail art pens might not be the cheapest things you can add to your nail art arsenal, they aren't exactly bank breakers and they are infinitely useful for details and really, just for fun. In a fit of laziness, when I eventually got round to doing a full manicure with these I only used a black pen but I used the colours from these pens for some leopard print on top of China Glaze Pink Plumeria for a serious neon rainbow manicure!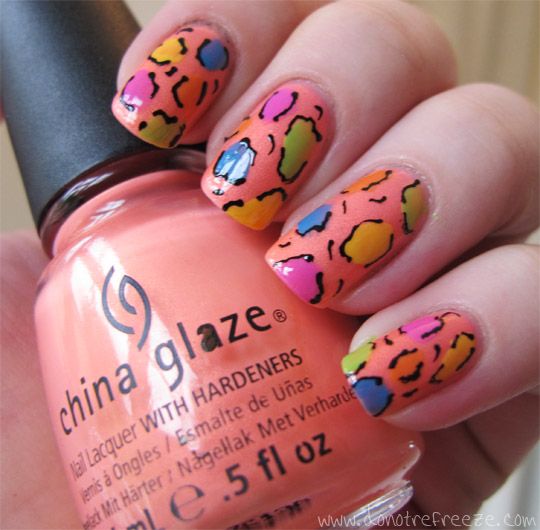 Are you a fan of nail art pens? What are the best (and worst!) ones you've ever tried?