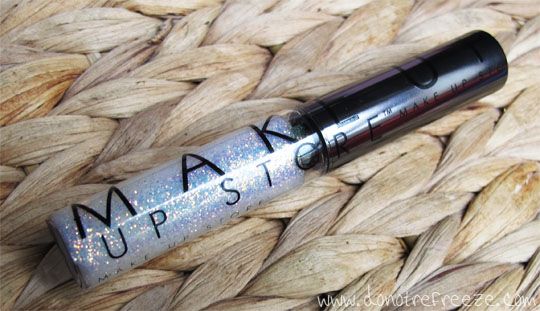 You should know by now that I LOVE glitter eyeliner. It's my thing. Along with gold eyeliner. Therefore gold glitter eyeliner is definitely my thing – and this beautiful liner from The Make Up Store is a really unusual twist on the usual gold and has rapidly become one of my favourites. I love the packaging too, how the brand name is written over the tube.
The particles of glitter in Queen are absolutely insane – they flash so many different colours in the light. Almost white, nude, yellow, rose gold, pale lavender; it's so, SO pretty! The gel base is more or less clear, but the glitter is quite densely packed so you can make a completely opaque line on the lashline with just two layers. In the swatches below you can see what I mean about the colours. The swatches are one layer too, you can see that it's almost opaque like that so one more layer on top makes it perfect.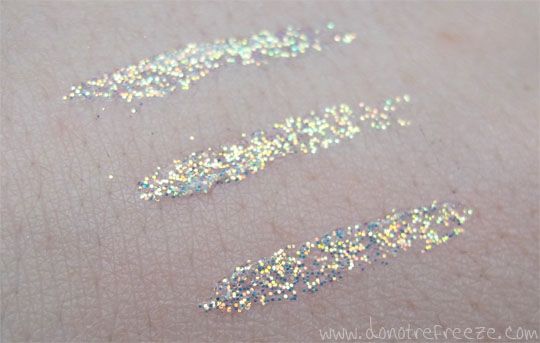 So far I've only really worn Queen with quite subtle eyeshadow looks – you know, champagne, very light golds and stuff like that. But I bet it would look awesome to offset a smokey eye much in the same way that Illamasqua's Glister Precision Ink does. Below are a couple of eye shots with Queen – they were taken quite a few weeks ago, pre lash extensions – they look so stubby! Haha.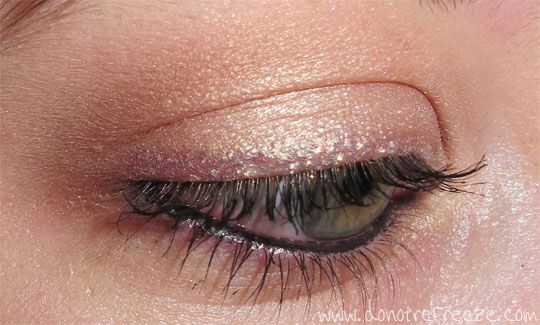 All in all, I wouldn't hesitate for a second to recommend this to you. It costs £13, and it's worth every penny. There are some other really gorgeous looking colours in the range which you can see here – think I'm going to get Diamond next!
And, just because I don't think the swatches above did enough justice, please revel in the sparkly multichrome glory of the moving swatch below!
Have you tried anything from the Make Up Store? Can you tell I'm becoming a bit of a fan girl? ;-)