Since it's my birthday today (hooray! Don't worry, I schedule in advance!), it seems only fitting that I should talk about one of my all time favourite products from my all time favourite brand.
I am a HUGE fan of Illamasqua's Precision Ink liquid eyeliners. You should know this. Best liquid liners EVER. Ever. There are currently 5 shades available, with a sixth one launching next month as part of the highly anticipated Generation Q collection. I have all of them now, which makes me a very happy bunny indeed!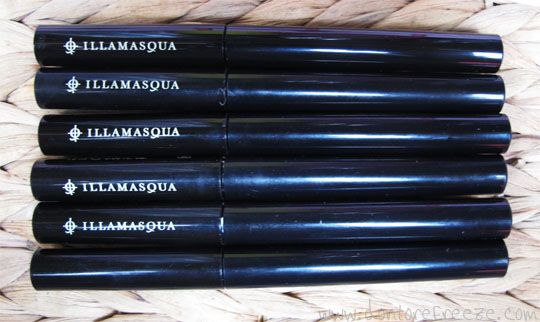 See the one at the bottom? That's Wisdom, the new Generation Q one – when I got this sample, it was so hot off the press that it's in plain black packaging without so much as a logo on it. Very exciting!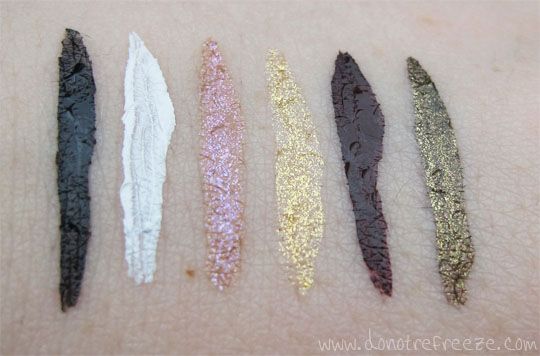 Aren't they just beautiful? So rich in colour, so smooth and easy to apply thanks to the perfect applicator, and so long-lasting. They literally don't budge, you can cry your eyes out or get stuck in a torrential downpour and these badboys won't move so much as a millimetre until you want to take them off, but you don't need to fight to get them off with make-up remover either.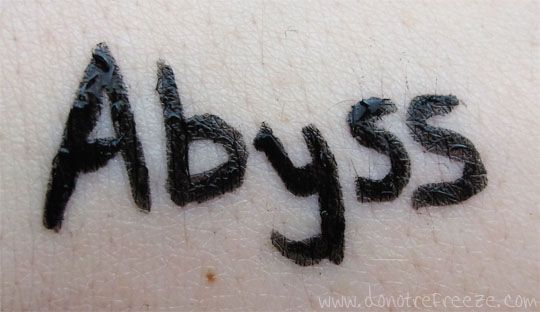 You can see that Abyss looks a little watery in some parts in this photo – this one in particular does need a good shake before use which I stupidly didn't do before this swatch. You can still see that it's the blackest damn black liquid liner EVER. This was one of the two original Precision Inks, along with Alchemy, which both came out with the AW10 Art of Darkness collection. It still retains a shiny wet look finish when dry and it's so much more interesting than a flat matte black.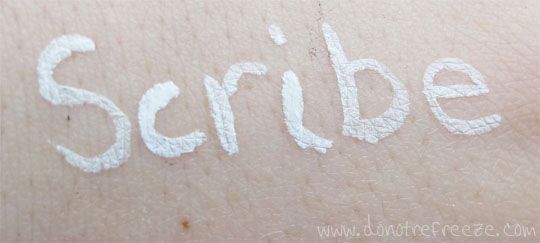 Scribe* is from the SS12 Human Fundamentalism collection. I absolutely love it simply because it's the polar opposite to Abyss – it's pure unspoiled white, and it dries quite matte. Even though white is a really unusual colour for liner, something about it still looks so classic and amazing – I posted about Scribe separately here and in an FOTD here.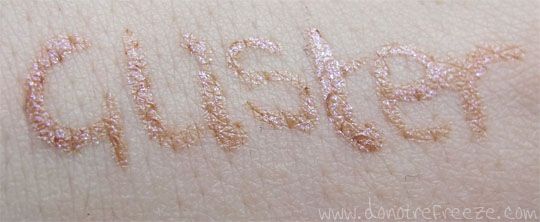 Glister is actually the first one I ever got, as part of the SS11 Toxic Nature collection. It's not something you see everyday – a nude coloured liquid liner packed with pinky purple shimmer. I absolutely used this to death for such a long time, it looks so unusual and beautiful. Equally good on it's own with a bare or very understated neutral eye, or as an eye-catching offset to a dark smokey eye. You can see it on top of smokey eyeshadow in this post.
This photo does Alchemy no justice – but I did do another post about it (comparing it to Make Up Forever's Aqua Liner in Diamond Gold) a couple of weeks ago. If I had to pick one favourite out of all the Precision Inks, this would probably be it because I just LOVE gold eyeliner and it doesn't come much better than this!
Havoc* came out with the AW11 Theatre of the Nameless collection, and I absolutely love it with so many looks. It's a really deep blackened maroon/aubergine sort of colour, but it's still noticeably not black. It makes a really interesting alternative though, and because it isn't a million miles away from black it goes with practically everything. You can see it in an EOTD here and an FOTD here.
Last, but certainly not least, is Wisdom*. As I mentioned, this will be released with the AW12 Generation Q collection on the 6th of September – and if you only get one product from that collection, I urge you to choose this. It's a stunning blackened olive green with gold shimmer, again really unusual and so, so pretty. I love it for the same reasons as Havoc – it's not too outlandish in its difference, but just adds something extra and unusual to your makeup. I haven't yet featured this one in an EOTD but I will do just as soon as my lash extensions have fallen out; I'm trying to avoid liquid liner (which does pain me) while they're in 'cause I don't want to bugger them up with liner removal!
So, there you have it. My favourite eyeliners of all time. Illamasqua Precision Inks cost £17.00 each (worth every penny) and can be purchased at Illamasqua counters, Illamasqua standalone stores and online.
Have you tried Illamasqua Precision Inks? Do you love them as much as I do? What are your favourite eyeliners of all time?