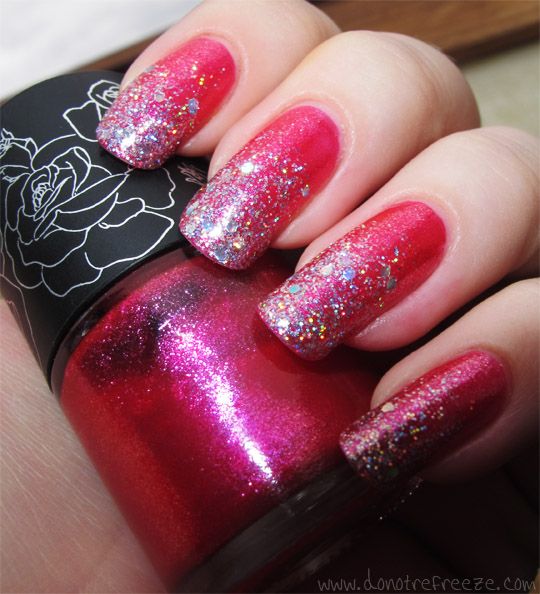 When I did these, I fancied something easy and sparkly – and it doesn't get much easier or sparklier-erer than a glitter gradient. While we're on the subject – THIS IS NOT AN OMBRE! I am a stickler for nail terminology, and I keep seeing people calling gradient manicures, ombre manicures. THIS is an ombre manicure – where a light to dark colour scheme is used across the 5 nails on each hand, and each nail is a separate colour. THIS is a gradient manicure, where the colour at the base of the nails graduates into a different colour at the tips.
Now we've cleared that up…! :-)
I used my beloved Kat von D No Regrets polish as the base colour here, a beautiful glass-flecked pink that really glows. You can see it's a love of mine – I've actually used a noticeable amount of it!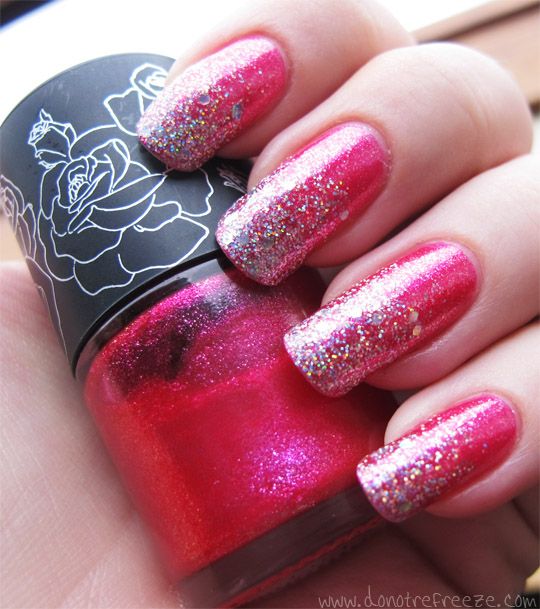 The glitter I used for the gradient is Topshop Adrenaline, which I picked up on a whim a few weeks ago just 'cause it looked nice in the bottle. Luckily it looks just as lovely on the nail – a pale lavender-pink glitter with plenty of holographic bits in there too to keep it interesting. I didn't even bother sponging this on – I just applied a thin coat of it from about halfway up the nail to the tip, then a second closer to the tip to intensify the colour there. Although I guess it was more dabbing motiong than actual painting, but I know you know what I'm talking about.
To finish it off I used Inglot XL-1 before my topcoat, which is a clear polish with a ridiculously pretty effect. It's like, the world's tiniest pieces of glitter that flash in the light, and it helped to blend Adrenaline into the base colour a bit more smoothly.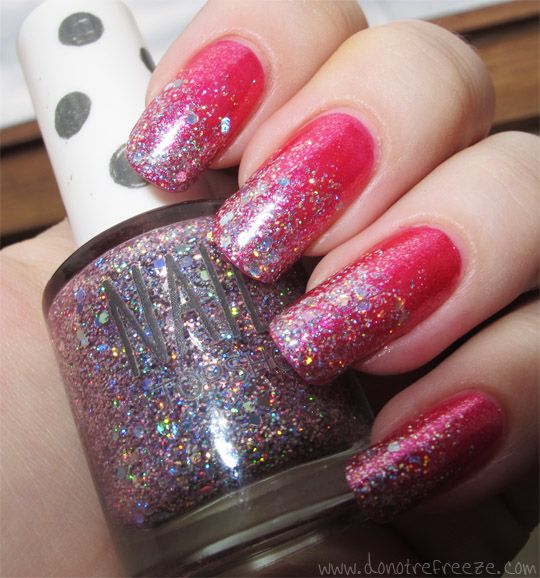 So, even though the pictures are a bit crapola (crappy overcast day when I did these!), what do you reckon? Are you a fan of gradients? Do you find them easier to achieve with glitters than with two creme or shimmer colours? I do!
Hope you like :-)