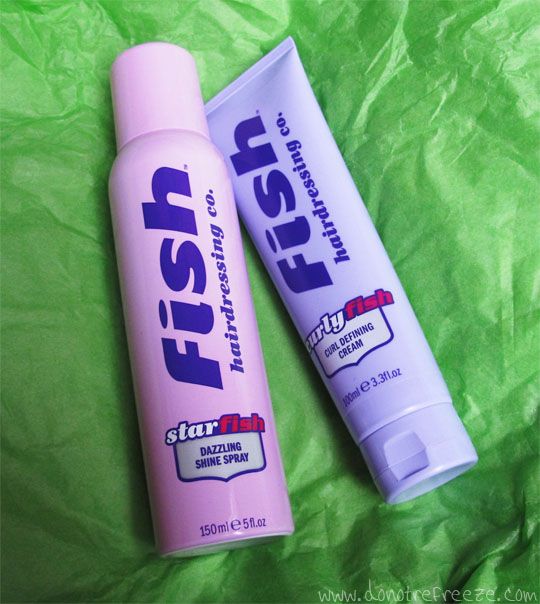 …In a good way! Fish is an absolute bargain brand for hair styling products, albeit one that gives me a bemused look on my face thanks to the funny name.
In my last hair post, I mentioned the Paul Mitchell Round Trip curl definer, but since trying the CurlyFish Curl Defining Cream* I've fallen in love with it and it's quite a bit cheaper than the Paul Mitchell at £3.99. It's also a nicer consistency, the Paul Mitchell was a bit sticky but this is wonderfully creamy. I have a LOT of hair, and I squirt about a 10p sized amount of CurlyFish in my hand, rub it between my fingers and apply through my hair while it's still damp. If I feel I need a bit more definition when its dry, this product also works great on dry hair despite being so creamy. I love the smell too, it smells like coconuts!
I also gave the StarFish Shine Spray* a go – my hair tends to be quite shiny anyway when it's curly but since I got it cut quite recently I've been straightening it sometimes, and when it's straight it lacks lustre. I'm still on the fence about this one – it does make my hair look a little shiny but more glittery than anything else and also kind of greasy.. perhaps one to avoid if you have oily hair like me. This one's £3.49.
I definitely recommend the CurlyFish Curl Defining Cream for other curly girls, and the StarFish Shine Spray might be worth a go for a night out, particularly if your hair doesn't tend to ever look greasy. You can buy Fish products in store at Boots, or online at Keep Me Inspired.
Have you tried any Fish hair products before?