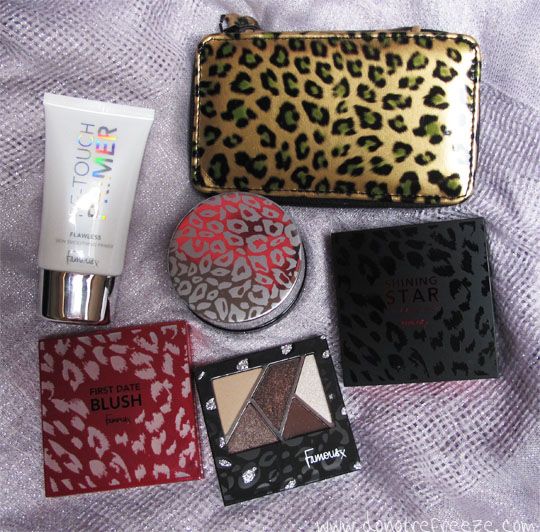 Back in September last year, I finally tried a few things from the Famous by Sue Moxley range and had mixed opinions on the products. When I bought those products, they were half price in Superdrug so I guessed they were being discontinued – turns out I was right, and this year they are relaunching with a serious overhaul of packaging and some of the formulas. In this post I just wanted to share some of the new bits and pieces and what I think of them!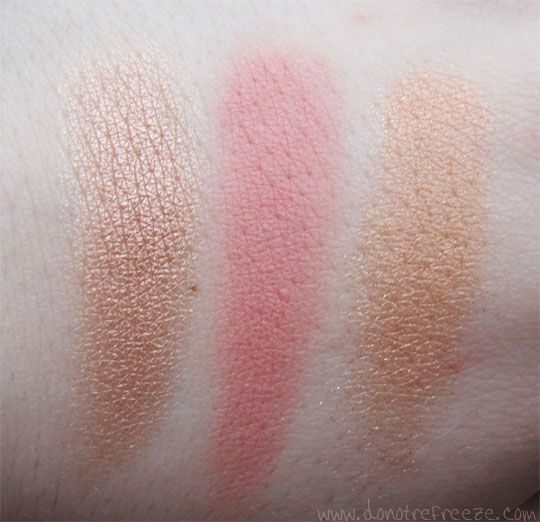 Re-Touch Primer* (£7.99) – This is pretty standard as far as primers go. Heavy on the silica but it works, although there are probably cheaper alternatives. I really like the rainbow reflective writing on the tube though!
Shining Star Shimmer Brick in Rihanna Shimmer* (£6.49) – All the shimmer bricks and blushes are named after gorgeous famous ladies now which is quite cute. I do like this, as I liked the pink one I tried last year – and it's good for the price, too. These are pretty much perfect dupes for the Bobbi Brown ones which cost around £30. Lovely for highlighting the cheekbones but this particular shade doesn't suit my skintone enough to highlight elsewhere.
First Date Blusher in Angelina* (£4.99) – Again, really good for the price. I love the colour of this one too, a flattering pinky peach that's great on my skintone – swatched in the middle above. Super soft to the extent that it almost feels creamy. It's nicely pigmented, blends well and lasts well on the cheeks. Definitely recommend, and I'll be keeping my eye out for some more shades!
Baked Bronzer in Bali* (£6.49) – Not such a fan of this one – and I doubt you will be either unless you like your bronzers to be orange toned and glittery! Whilst it looks pretty in the packaging, the glittery golden veins make it a no-go for me. You can see what I mean in the above swatch on the right.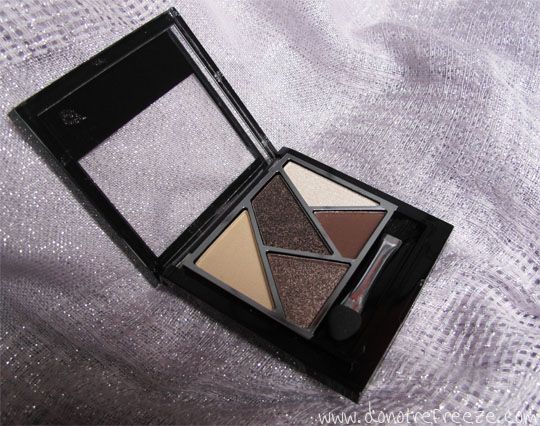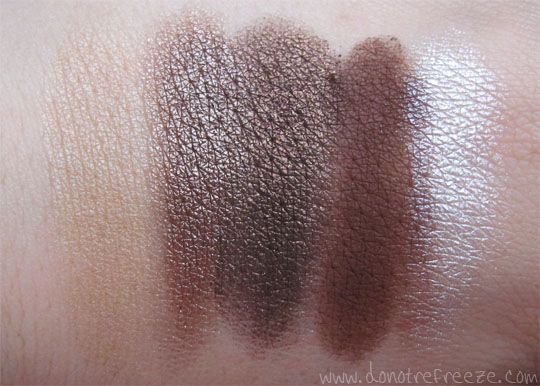 High Five Shadows in Exposed* (£4.99) – This is more like it! I did like the eyeshadows I tried from the range pre-revamp, but had an issue with how flaky they were on application, causing a lot of fall out. They've totally fixed that with these though – gorgeously pigmented, soft and blendable and all really lovely colours. I love the inclusion of a matte brown too, it's nice to have a bit of variation in texture. The nude colour is also more of a satin finish which is quite nice as a brow highlight, so you've definitely got a complete eye look in one convenient compact here. Not to mention it's a bargain for a fiver! Definitely recommend and, like the blush, I will be looking at more shades.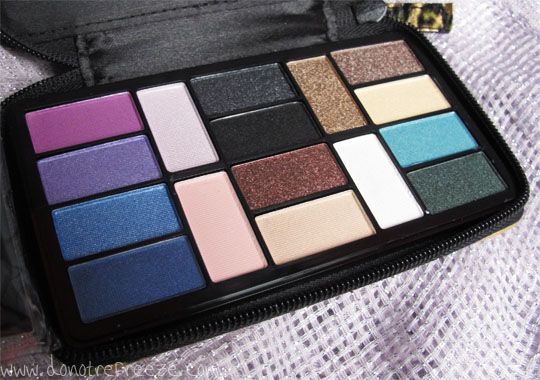 The Big Cat Eye Palette* (£8.99) – There's a couple of dud shades in here that are lacking in pigment, but the vast majority are consistent with the quality of the shadows in the High Five compact. There's some really interesting shades in here, particularly on the far right (bottom swatches), loving those. Also loving the shades right in the middle of the palette (middle swatches); perfect for a bronzed smokey eye. If you already have a lot of coloured eyeshadows I probably wouldn't bother with this but if you want to try experimenting with some different colours, this is a good place to start.
So overall, like before, a bit of a mixed bag from Sue Moxley. A few 'meh' products that I could quite happily pass over, but also some really excellent must-haves in the form of the First Date Blushers and High Five Shadows. Not to mention Sue is a lovely lady who knows how to throw a good launch party! And just because I want to, here's a photo of me and Jaz Ellington from The Voice who provided some great entertainmet. What a sweetheart!