Can't believe it's that time again! How on earth are we halfway through 2012 already?! Well, here are the products that have been most frequently gracing my mug for the last couple of months.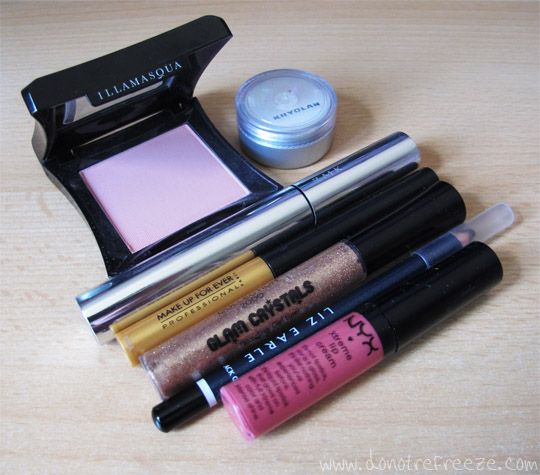 :: Kryolan Glamour Sparks Copper – Glitterrr. Glitter glitter glitter. Doesn't look like much on its own (you'll probably barely notice it in the swatches below) but it looks SO lovely over other base colours, particularly golds and browns. It has a bit of a pink flash from some angles and it's gorgeous. Full review here!
:: Illamasqua Powder Blusher Naked Rose* – my single favourite product from the new Naked Strangers capsule collection! I have more pink blushes than I care to mention, but this one is such a neutral pink that it complements any look perfectly. It's showing up way too light in the above photo, by the way. So easy to just whack on regardless of what's on my eyes or lips without clashing or interfering, absolutely perfect for my skintone and I just LOVE IT.
:: RMK Separate Curl Mascara – I just did a quick search on my blog to see if I've reviewed this before, and amazingly I haven't! Although it was featured in a monthly favourites post a little over a year ago, and in this EOTD. I'm on my third tube of this now, it's serious HG material for me. I have such a hard time finding mascaras that hold a curl in my lashes since they are perpetually poker straight, and this one does. Adds some nice volume at the roots without clumping and yeah, it's pretty much perfect for me. Even though it's more than £20 I will continue to repurchase!
:: Make Up For Ever Aqua Liner #1 – I am a huge fan of gold eyeliner. HUGE. This one is so rich in colour with a beautiful shimmer and a true gold shade, not leaning to yellow or too bronze. It lasts absolutely forever too, in fact you really need a good eye make up remover to get the bugger off. My favourite way to wear it is with Collection Glam Crystals in Funk (below!) layered on top, as in this FOTD.
:: Collection Glam Crystals Liner Funk – I professed my long-term love of Collection's Glam Crystals glitter eyeliners in this post, and Funk is probably my favourite shade of them all. Whilst I love all the colours I have, this gold one is a little less 'loud' and looks amazing layered over the MUFE liner mentioned above.
:: Liz Earle Color Eye Pencil Black* – You are probably aware (since I've mentioned it on numerous occasions) that I feel utterly naked without black pencil on my waterline, and this has rapidly become my most favourite of them all. Shows up the blackest of black on my waterline and only needs reapplying towards the late afternoon – which is better than most I've tried. I absolutely love this and it's a really good price at £11, I think. I talked about it in more detail in this post
:: NYX Xtreme Lip Creme Pinky Nude – I bought one of these lip cremes (much like the Collection Powder Puff things) at IMATS this year, and loved it so much that I asked my new friend Danille to bring a couple more shades over from the US when she came to London last month. I will definitely do a blog post on these soon, lovely non-drying formula, super pigmented and really long lasting too. Although I have to say I think this shade is a touch too bright to be called Pinky Nude!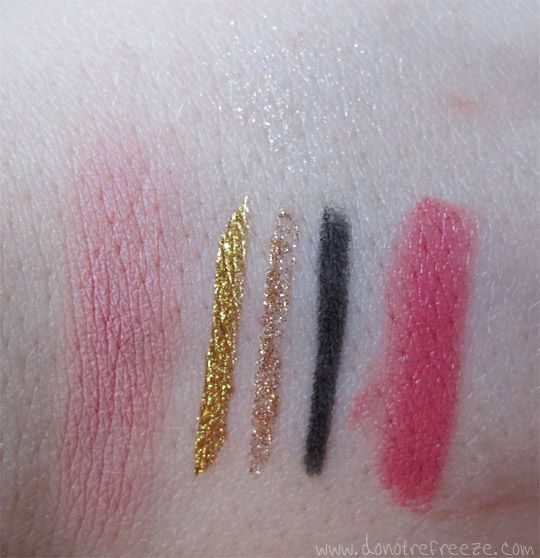 What have your favourite products been recently?