Since I bought it in Sephora last year, I've been quite the fan of the Kat von D True Love Palette but none of the other palettes really called to me in terms of colours. When the High Voltage Lacquers were released for Spring 2012 though, that was a different story. I knew I needed to try them, and my lovely New Jersey friend Danielle came to the rescue and brought 2 over for me on her recent London trip. Thanks Danielle!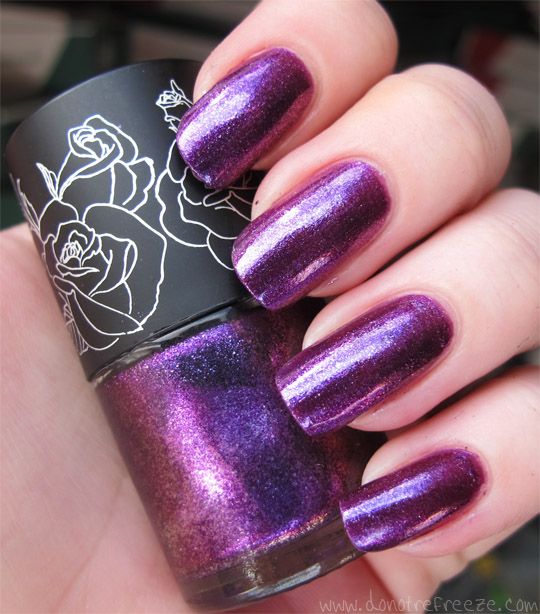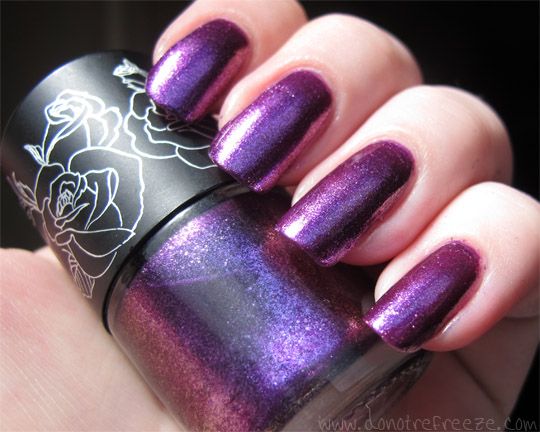 This is Wonderchild. GODDD. It's SO PRETTY. Definitely a bit of a duochrome-y purple with a beautiful glass fleck finish. It's purple in most lights, but from the right angles you can see flashes of fuschia and blue – absolutely lovely stuff.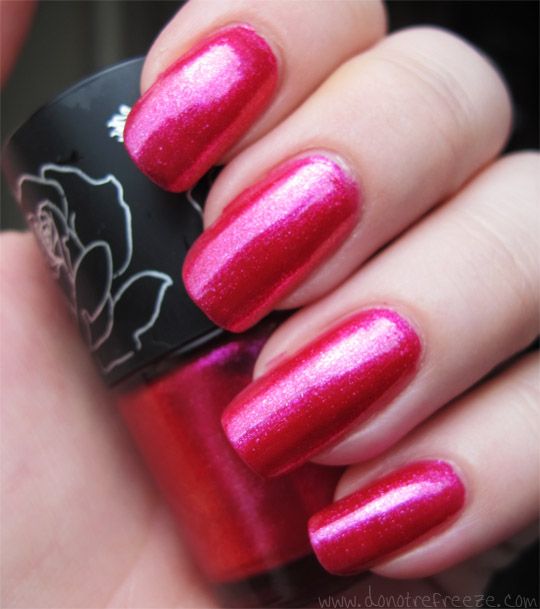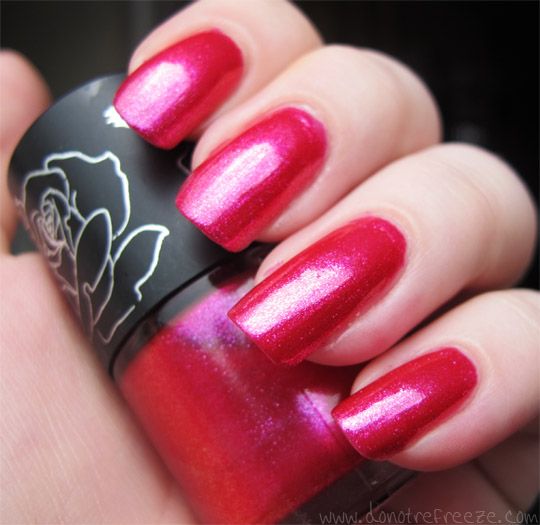 This is No Regrets. I'm not even sure which one I like more, they're both so lovely. Another gorgeous glass fleck, but this one doesn't have quite such a noticeable duochrome as Wonderchild. Amazing shade of pink though, with hints of red flashes from some angles. The glass fleck finish makes it look so bright and glowy.
The formula on these is brilliant – quite thin, but certainly not runny or watery. In fact the thin formula lends itself well to a perfectly smooth, shiny and quick drying finish. The first coat of each one was sort of sheer, but they were both perfect on the second coat. I love shiny and sparkly they are in the sunlight – really stunning!
If you're in the US, you can get these (and two others in the range) for $12 from Sephora – but I'm pretty sure they're Limited Edition so I'm not sure how much longer they're going to be around! As for those of us in the rest of the world, I had a quick Google but can't immediately see anywhere else that sells them. Time to get onto your American friends for a custom purchase!