HOW awesome is this? I'd been wanting to try out a splatter manicure for quite a while – you know, the one where you dip a drinking straw in nail polish and blow it sharply across your nails. I finally got round to it last weekend, and decided that a selection of holographic polishes would make the most awesome finish.
Unfortunately I just couldn't get the hang of it! In the end, Colin helped out and pretty much did it all for me – but we still managed to make a massive mess! I taped my fingers off beforehand the same way you would for a water marble, because I knew it would be a bit messy but I didn't expect THIS much mess…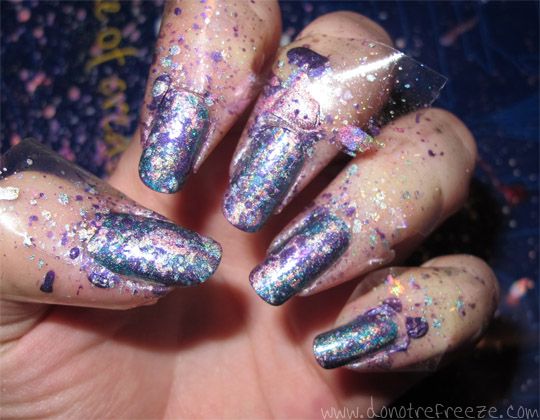 See?! Haha, ridiculous and a HUGE waste of precious (expensive!) holographic polishes but it was fun and frankly, it looks amazing. I can say that because I didn't do most of it. ;-)
The base colour is Charmaine from The Make Up Store, and the splatter colours are The Make Up Store's Britta (pink), GOSH Holographic* (silver) and China Glaze LOL (purple). I'm loving the Make Up Store polishes recently, I'll definitely be posting about those soon!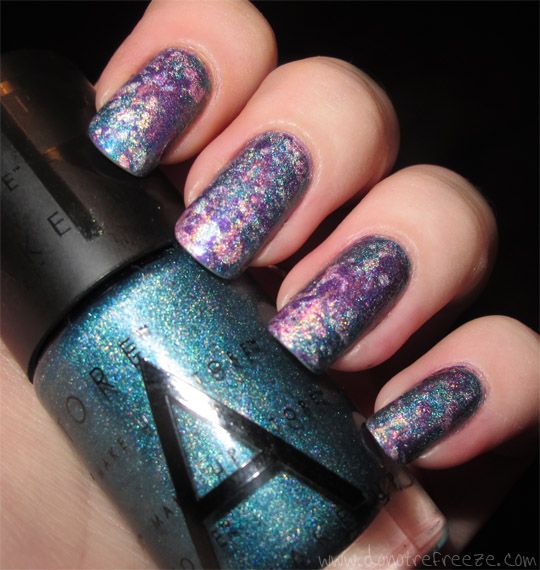 Have you ever tried a splatter manicure? What did you find was the best way to limit the amount of polish waste and mess?