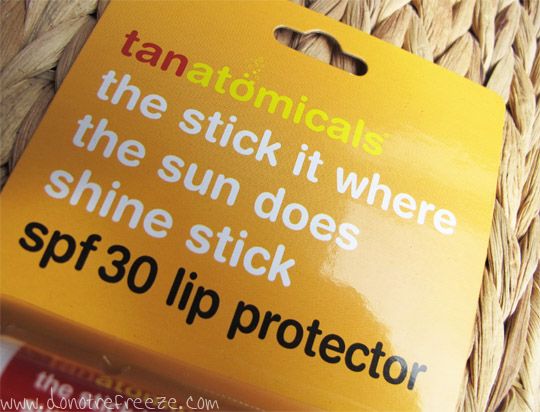 You're probably aware of my love for Anatomicals and their brilliant product names, but I'm yet to take much of a foray into their twin Tanatomicals brand. I've actually got two of their reportedly wonderful sunless tanning products sitting shamefully unused in a drawer, simply because I am too scared and have never had a tan real or otherwise in my life. This leads me to believe that I would look an utter knob with a tan. Besides, I like being pale!
Being so pale though, I do have to be especially careful with sun protection. My dad calls me Day Walker (South Park fans will get it), even though I'm no ginge I instantly fry in the sun. Never cool. I've got some real horror stories I could tell you about the miscellaneous sunburn incidents I've had over the years, but that's something for another day – preferably one that isn't pissing with rain.
Rambling aside, Tanatomicals kindly sent me this hardcore SPF30 lip balm. I need SPF50 for my body, but 30 is excellent for the lips. I know the weather's crappy at the moment but we all know that the sun's harmful UVA and UVB rays can sneak-attack even on a cloudy day.
SPF for the lips is something that most of us tend to forget about. I don't tend to bother with it in bad weather but the sun can REALLY burn my lips – even if I'm not wearing a lip balm with added SPF I will actually put sun lotion on my lips even though it tastes disgusting. I do it because one year, my lips got sunburnt to the extent that I couldn't eat or even close my mouth around a straw to drink without searing pain for a few days. REALLY not cool.
Now I've got this though, I've been sticking it on my lips in case the Sun Does Shine and I absolutely love it. Whilst its not had a chance to flex its superhero SPF muscles yet (what is this rain in June crap all about anyway?!), but I have to say it's actually become my new favourite lip balm. It's tasteless, scentless, flavourless and colourless – but it's actually softened my lips more than ever before. LOVE it. Right now, I'm loving it even more than my Burt's Bees ones – and you KNOW that's saying something! The Stick It Where The Sun Does Shine stick is available for just £3 from Asos. A serious summer essential, trust me you need this one.
Are you vigilant with SPF on your lips or do you tend to neglect it?