ARGH! A bittersweet moment!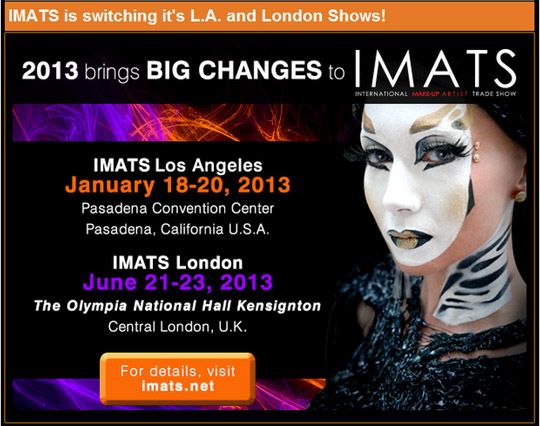 You probably know that I'm a huge fan of the International Makeup Artist Trade Show. It's absolutely the highlight of my year, I get more excited in the run-up than I do about my birthday or Christmas! But IMATS 2013 will be bringing some big changes.
IMATS London is always at the end of January (although this year it was the start of February) and IMATS Los Angeles is always in June – in fact LA just had their IMATS a couple of week ago. Next year though, they'll be swapping round. Kind of looking forward to having it in the summer actually, it will be nice not to have to leave the house 2 hours before sunrise!
I'm also quite looking forward to it being at another venue. Whilst I enjoy it at Alexandra Palace (especially this year since they moved it to a bigger exhibition hall), I've actually never been to Kensington Olympia (teehee at the typo on the IMATS image) for anything before so it'll be interesting to see how I like that as a venue instead. It's also ever so slightly quicker for me to get to – and no extra bus journey required after the tube!
So whilst the changes are quite exciting, there is a HUGE downside, a real kick in the teeth for my patience – or lack thereof. Los Angeles just had their IMATS, and they get their next one in 7 months. We on the other hand have already had 6 months since our last IMATS, and now have to wait ANOTHER WHOLE YEAR! Damn. I might just hibernate to pass the time. Wake me up in 12 months, yeah?